The most critical aspect of industrial marketing or B2B marketing is that you target the needs and interests of an individual who is purchasing on behalf of an organization, so he is more focused on ROI. He is primarily driven by logic and financial incentives rather than emotions, as is individual customers' case.
While devising an effective industrial marketing strategy for your B2B customers, you certainly consider factors like their purchase motivation, process, and purpose. However, for the appropriate execution of your strategy, integrating digital marketing techniques into it is of paramount importance.
Why is Digital Marketing Vital for B2B Industries?
The rising importance of digital marketing for industries functioning in the B2B segment has been rightly emphasized by the striking findings of research conducted by the CEB Marketing Leadership Council in association with Google. For the research, 1500 decision-makers and influencers of 22 B2B organizations were surveyed. It was found that B2B customers tend to self- progress and complete nearly 60% of their purchase decision-making before actually engaging with a sales representative.
This research's fundamental implication highlights that B2B customers are readily turning to publicly available information on digital and social media channels to form an opinion about the solutions or services available. As a B2B company, your industrial marketing strategy should focus on not losing the mindshare of these self-aware decision-making potential customers who are increasingly relying on online information. In this context, to show up strong in the digital space, you need a digital marketing strategy.
What Components Make a Successful Digital Marketing Strategy for Industries?
In the current times, you can't afford to have an industrial marketing plan without incorporating the digital aspect into it. Increasingly, marketing professionals are relocating their traditional marketing budget to digital marketing for reaching out to a maximum number of customers in a more cost-effective way.
Considering the indisputable relevance of digital marketing for industries, let's look at the five key components that make up a successful industrial digital marketing strategy-
1.

Brand Positioning Or Value-Based Messaging:
Everything starts with creating the core messaging that rightly positions your brand among your targeted leads, prospects, and customers. As a brand, it is important to be clear about what you want to communicate and to whom you want to communicate. You know that you are competing in a congested space, so what will be your unique value-based messaging to get heard. What is your objective - website visits, social media engagement, lead conversions, sales qualified leads, etc. These are a few important questions that need to be answered first, as based on these, only you will be creating your digital content.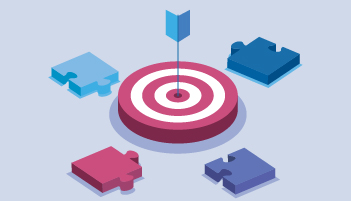 The next important thing is to build your digital presence in the form of a website. Your website must represent your goods and services as proficiently as your salesperson would do. It should provide a streamlined navigation journey to the visitors, and should be engaging enough to convert a visitor into a sale-qualified lead. Here are a few major building blocks of a good website:
Content Management System for adding new pages or modifying the content without IT support
Learning Center as a repository of all the customer-centric content
Lead Generating Tools like a form, live chat or chatbots, call to action button, landing pages, etc.
On-page and off-page SEO
Responsive design

3.

Automation With Technology Stack:
You must automate your marketing and sales activities with the aid of three major software tools:
CRM (Customer Relationship Management): This is your sales tool that you can customize to take care of your sales functions like assigning accounts to salesmen, task reminders, tracking the lifecycle of a deal, and much more.
Marketing automation: Digital marketing for industries requires marketing automation for sending automated or manual email campaigns, collecting lead intelligence, scoring and segmenting leads, and for handling various marketing activities.
Website analytics: This will give you a detailed analysis of how your website performs, the traffic records, and insight into visitors' activity on your website.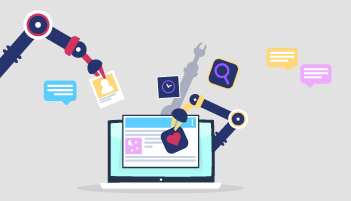 The two main objectives of content marketing are brand awareness and lead generation. Digital marketing gives you the privilege of dealing with various content such as Articles or blog posts, White papers, Buyer's guides, Leadership content, Email Campaigns, Press releases, Videos, Webinars, Podcasts, Case studies, ROI calculators, etc.
You can utilize these pieces of content for Industrial lead generation through inbound and outbound marketing. For instance, blogs help you with inbound marketing and improve your position on search engine results. In contrast, email campaigns help you with outbound marketing, where you aim to reach out to a targeted customer's profile directly.
In the funnel of industrial marketing, a well planned digital strategy should also define the methodology of sales enablement so that the sales team can effectively utilize the digital processes, technology, content, and data to optimize their time manage their sales pipeline.
Final Words:
At Amura Marketing Technologies, we understand that you are dealing with smart customers who deep-dive the digitally available information, creating a well analyzed, calculated, and filtered opinion. Taking the cue, we devise end-to-end industrial marketing strategies to help you stand strong in the digital space. We offer digital growth marketing for industries like real estate, FGMC, Pharmaceutical, Health Care, BFSI, Education, among others.