Introduction to Growth Marketing
Digital ad spends in India is expected to increase to $21 billion in the next five years, resulting in fierce competition among businesses. To stand out in this scenario, businesses must adopt a growth marketing strategy that focuses on intelligent, iterative, engaging, and creative tactics to quickly and efficiently grow their businesses. This blog covers effective strategies and tips, including content marketing, SEO, social media, and influencer marketing, for achieving sustainable growth in today's competitive market.
What is Growth Marketing?

Growth marketing is a data-driven, iterative approach to marketing that focuses on finding and scaling efficient marketing channels to drive sustainable business growth.
Unlike traditional marketing, growth marketing is a comprehensive marketing approach that helps drive value throughout the consumer funnel. It helps attract, engage, retain, refer, and drive higher revenue. The objective is to achieve optimal profitability with minimum resources.
Growth Marketing is data-driven and agile, where teams create hypotheses on a particular strategy, execute various small-budget experiments and, after analyzing the data, ultimately scale the tactic that has worked the best.
Sounds interesting? Let's deep dive into growth marketing key aspects, implementation strategies, examples, and more….
Growth Marketing vs Traditional Marketing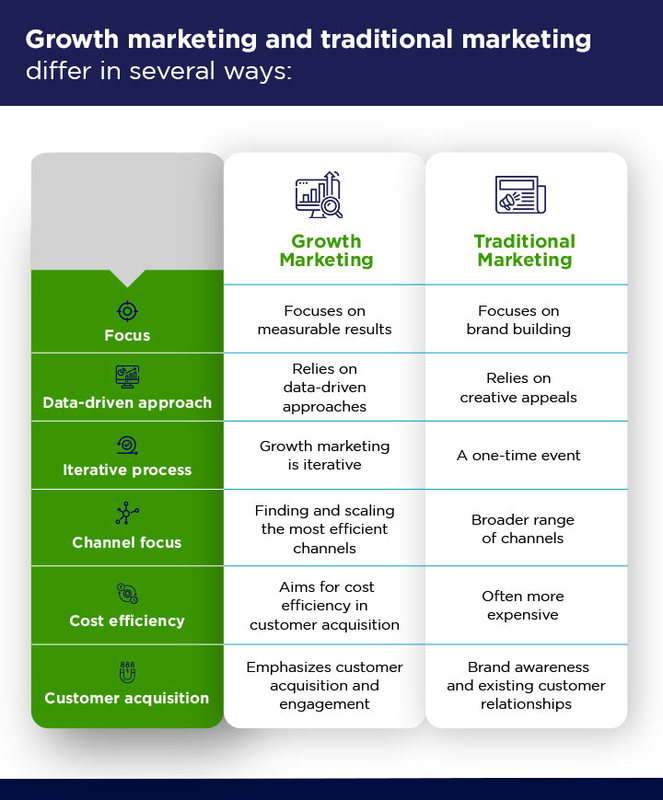 Ultimately, growth marketing is a more focused, data-driven, iterative, and cost-efficient marketing approach emphasizing business growth. Traditional marketing is a more broad-based approach focusing on brand building and customer relationships.
Pillars of Growth Marketing
North Star Metric:

Defining the measure of success is mandatory before exploring tactics, strategies, and tools.

FExperimentation:

Exploring alternatives with different channels, audiences, and communication routes

Data and Analytics:

Assessing data to make informed decisions about further actions on offerings or marketing

User Journey Analysis:

Mapping gathered data to user journey to identify bottlenecks and implement solutions to improve the conversion rates across the funnel

Traffic Analysis:

Examining where your users come from and how to leverage your channel mix to drive qualified traffic to your business
Key Components of Growth Marketing Campaign

Team efforts:

In growth marketing, everyone in a company works toward the growth goal. Marketing teams act as a hub where data from other teams is combined and analyzed to create campaigns. Teams such as product development, analytics, and customer support gather relevant marketing information for marketing efforts.

A/B testing:

With digital marketing, it is possible to compare results from different marketing efforts directly. A/B testing involves creating two versions of a marketing effort, such as an email newsletter, and sending each version to a portion of your audience. The results show which version met the marketing goals, allowing marketers to direct their efforts to the winning version.

Customer feedback:

Digital marketing provides many ways to analyze data and gather customer feedback. To gain valuable insights, companies should create opportunities for engagement with users and solicit feedback through surveys, automation, and other methods. Feedback can help improve the customer experience and guide product development and marketing efforts.

Continuous improvement:

By tracking and analyzing results from A/B tests and customer feedback. Companies can compare their old strategies with new ideas and make data-driven decisions about improving their product and marketing efforts.
Examples of Growth Marketing Campaigns
In this section, we will examine several examples of growth marketing campaigns. Growth marketing strategies can help you reach various goals, such as motivating existing customers to join referral programs, capturing new customers, and increasing top-of-funnel engagement.
Loyalty

Retaining customers is essential to make sure they continue purchasing your products and services. With many options, customers can choose where they want to buy. Brands must earn the trust of their customers. Demonstrating to customers that they are valued can enhance brand sentiment. Loyalty campaigns can help keep your customers coming back. For instance, if your brand has a membership program, find ways to reward customers for their loyalty, like exclusive access or sneak previews. By reinforcing positive customer behavior, your brand can stay relevant to your customers.

Referral Programs

Referrals from friends and family are the most trusted source of advertising, according to Nielsen. A strong referral can help you attract new customers. To test referral offers, consider dividing audience groups and offering different incentives to each group. The goal is to find the optimal balance between referral conversions and cost. Dropbox's two-sided referral program is a great example. Dropbox offered 500MB of storage space to both the existing user and the referred user after the referred user signed up. The company was able to reduce its ad spend and increase sign-ups by 60%.

Onboarding

Once a new customer signs up, it's an excellent opportunity to engage them with your brand and collect more data. The goal is to improve the customer journey for new users, so deploying a multi-channel onboarding sequence they are likely to engage with is essential. For example, the first message could be welcome, followed by a message asking about their product preferences. Another message could ask about their preferred notification method. You can continue the sequence and optimize future offers based on the customer's preferences to maximize engagement.

Top of the Funnel Engagement

Pushing for an immediate sale when trying to attract new customers can turn them off. Instead, you want to build a long-term strategy that helps them get familiar with your brand so they can take the next step on their terms. Content marketing can help your brand demonstrate its expertise and engage new customers who might want to buy from you in the future.

Build buyer personas to understand your prospects and develop content that appeals to each of them. Call-to-action could be signing up for your email newsletter or getting a free ebook or checklist offered. You can attract your target audience through organic social media channels, paid social ads, and retargeting. Use A/B testing to optimize social sharing, ads, and content headlines to maximize engagement and conversions.

Growth marketing is within reach of every marketer with the right tools and technologies. The focus should be continually testing and optimizing for higher engagement and a better customer experience, using strategies personalized to each customer's preferences. Collect data as you experiment with new strategies to build, test, and iterate to enhance the customer journey continuously
How Can Growth Marketing Be Implemented?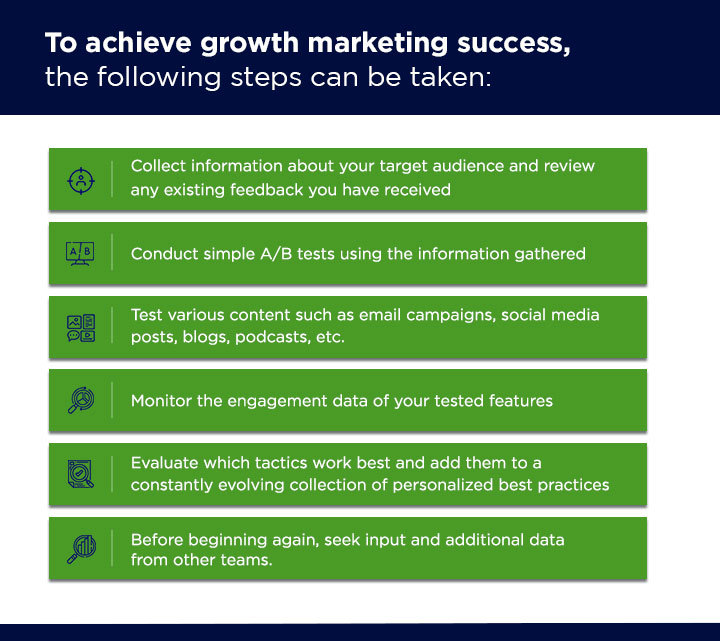 Choosing the Right Experiment
To determine the appropriate type of experiment to run, a dedicated growth marketing team should be responsible for pinpointing areas to be tested. If such a team is absent, employees from other departments can approach the growth marketer with suggestions for improvement.
When selecting experiments, it is crucial to consider the potential impact of the experiment. Will it affect many people, and will they reach the stage that the experiment is focused on?
For instance, if the welcome message of a chatbot receives high engagement but users are not proceeding beyond the third message, it would not be productive to experiment with the fourth message. It would be more beneficial to focus on a higher step in the conversation to guide users to that message in the first place.
Additionally, the experiment's sample size must be large enough to produce conclusive results. Suppose the experiment is focused on a feature with limited engagement. In that case, it may be necessary to extend the duration of the experiment to gather data from a sufficient number of users.
Use Growth Marketing to Your Advantage Today
An effective growth marketing team should approach every aspect of your company with a marketing-focused lens, seeking out opportunities to gather feedback and data. Continuously refine your marketing plan to drive growth.
Growth marketing encompasses a wide range of marketing tactics, including both traditional and digital methods, aimed at building strong relationships with customers, boost loyalty, and encourage repeat business. It requires a deep understanding of your customers, which can be achieved through gathering feedback on your products and services and conducting A/B tests.
Having a well-designed growth strategy is essential for success in today's competitive business landscape. With Amura's growth marketing tools, you can make customer satisfaction the core of your operations.
Being a growth marketing agency for the past ten years, Amura has been helping clients grow their businesses with a dedicated team of marketing experts focused on growth. Our highly involved strategies cater to the entire funnel; we try newer hypotheses, put them to the test, and quickly zero in on what works. To see how we have helped reputed brands grow their business, check out Amura's case studies.

FAQs
What is growth marketing vs. traditional marketing?
While traditional marketing primarily aims to sell a company's products or services, growth marketing is a more comprehensive approach. Growth marketers, also known as growth hackers, are not solely focused on generating sales; they are also committed to discovering the most efficient ways to drive revenue and growth in a business environment.
What is the objective of growth marketing?
The primary objective of growth markets is to establish strong customer relationships and cultivate loyalty. It is a long-term strategy that relies on authenticity and engagement to create brand advocacy and organically increase customer lifetime values.
What does a growth marketing manager do?
A growth marketing manager typically reports to the CEO, VP of Product, or Marketing and drives business growth through customer acquisition, activation, retention, and referrals. They must develop and implement a growth plan to boost revenue and achieve their objectives.
What are the four growth strategies in marketing?
The four strategies identified by Ansoff are market penetration, product development, market development, and diversification.