Digital marketing for industrial products is a whole other ballgame compared to traditional B2C marketing. It's primarily B2B-driven, and business customers typically care more about the functionality, utility of a product/service than the user experience, as opposed to a retail customer. As long as it gets the job done, business customers are happy. For them, a good UI/UX are bonuses, not deal-breakers. Consequently, industrial marketing requires a deeper understanding of your customer's business needs. Matching these needs with your product benefits is the key to clinching a deal. These benefits need to be articulated in a manner that ticks all the business requirement checkboxes. Usually, the parameters that matter to a business customer are:
Quality Assurance - It should just work as advertised.
Lead Times - Turnaround time between a signed purchase order and solution delivery should be short.
Warranty - An excellent after-sales service and 24/7 technical support go a long way in establishing brand loyalty.
Function - Product should not break down, should be low-maintenance. Service-level agreements should have uptime guarantees.
A crucial aspect that sets industrial product marketing apart is the average sales cycle duration, which can stretch for months or sometimes even drag on for years. Since the order volume and the ticket size is generally large, it warrants a lot of meaningful relationship building, which takes time. But once relationships are established, you've built a moat since business customers have tremendous switching inertia.
Objectives of Industrial Marketing
Diversification of Customer Base - In the pre-Internet era, industrial companies relied heavily on offline strategies to reach their target audience. Now, with the ubiquity of digital marketing, brands are widening their customer base through targeted online campaigns.
More Bang For Your Buck - Because of its targeted nature, digital strategies allow you to invest money in the right places that yield outsized returns
Boost Brand Visibility - Even business customers hang out online frequently, so having a good web presence is a great way to capture mind-share.
Now that we have understood the WHY, let us look at the HOW. Here are 5 marketing strategies for industrial products that you can explore:
1.

Trade Shows / Industrial Expos / Conferences / Symposiums
Trade shows are the perfect opportunity to approach your target audience. You can set up an attractive booth replete with banners, standees and flyers to catch the eye of potential customers. Remember, the goal is industrial lead generation, so try to get contact information, by having a notebook or a bowl for collecting business cards. Industrial products are generally complex so if you can't demonstrate it in person, play a video showcasing the product in action on loop. Sponsoring the event or paying for a speaking slot is also an effective way to get in front of more eyeballs and pitch your product more convincingly.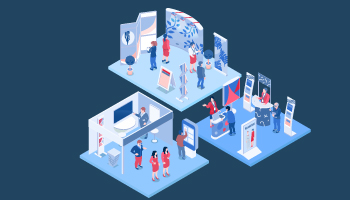 When it comes to industrial marketing, old-school tactics like cold calling can work wonders. Make a list of potential companies who would be interested in your product and the relevant point-of-contact (POC). Make sure you get hold of a decision-maker like an operations manager who can be your internal champion; otherwise, you'll be stuck in bureaucratic limbo. Once you establish contact, get straight to the point, no fluff. Explain your value proposition in a crisp, concise manner, and how your product can seamlessly integrate into their business' existing infrastructure. Highlight how the customer can benefit in terms of increased efficiency, reduced costs, safety, etc. Remember, you're not selling your product, you're selling a better, hassle-free way to work.
3.

Search Engine Optimisation (SEO)
All searches - be it seeking information or solutions to problems - start on Google. You can be sure that your potential customers are frantically searching for answers to issues that you can solve, as we speak. Ergo, your SEO game needs to be so strong that you pop up whenever someone searches something relevant. You need to rank on the first page for important keywords in your domain. But remember that SEO is a marathon, not a sprint. You need to consistently put out high-quality content so that search engines recognise your domain authority and prop you up in the SERPs.

Contrary to reports that it's dead, the humble email remains one of the best channels for outreach, potentially driving an ROI up to 4400 per cent! Curate an email list by incorporating signup forms on your landing page or generate leads through chatbots. You can also get prospect emails by asking them to subscribe to your blog newsletter. You can then schedule drip email campaigns to convert leads into customers. Attach a case study in the email to give social validation.
Social media marketing entails both organic posts as well as paid ads. Platforms like Google, Facebook, LinkedIn, Twitter offer detailed targeting criteria so that you can reach qualified people only. And even if they don't convert right away, it is a great medium to build brand following and recall, fostering familiarity, trust, and brand awareness along the way. Since social media is so visual, make sure to include photos, videos and other visual content in your strategy.

This is just the tip of the iceberg. There is room to get more creative with digital marketing for industrial products. Hopefully, this guide can help you get your brain whirring to come up with innovative industrial marketing campaigns. But still, if it does not, don't worry. Amura has your back. We offer customized, end-to-end digital growth marketing and sales solutions across real estate, pharma, industrial, healthcare, and hospitality verticals. Our swift, data-driven approach focuses on the complete sales funnel and ensures long-term value for the brand. Get in touch with us today!