Industrial marketing can be defined as the marketing of goods and services by one enterprise to another. The nature of industrial marketingis such that it focuses on marketing to other businesses rather than individual customers. The term industrial marketing has now been replaced and commonly known as business to business marketing or B2B marketing. To help organizations with industrial marketing, a new market for an industrial marketing agency is developing and seeing exponential growth in the past few years.
Now, let's discuss the concept of industrial marketing in detail
Nature Of Industrial Marketing
Let's consider a simple example to understand the nature of industrial marketing. Consider the differences between a small ice cream parlor that serves a limited number of ice cream flavors to their local customers(business to customer model) and an ice-cream manufacturer that produces hundreds of flavors on a large volume to customers from across the country and the world. The manufacturer doesn't directly sell its products to the customers. Instead, it sells them to different ice cream parlors(business to business model), who, in turn, sell it to the customers. Selling ice-creams to individual customers is relatively easy if you have good salesmanship and knowledge about customer preferences. However, selling ice-creams to multiple stores is much more challenging. It requires the ice cream manufacturer to market its flavors in a manner that is appealing to a large number of ice cream stores across the world, each requiring unique marketing strategies based on location, demographics, and operating costs. Thus we can see that industrial marketing is very different from B2C marketing in terms of decision making, marketing strategies, and customer relationships.
Scope Of Industrial Marketing
Industrial marketing provides a broader scope to businesses when compared to B2C companies. With B2B marketing, businesses not only can connect with other businesses directly but also with their customers indirectly. It helps create increased growth and brand recognition as businesses can easily connect with other businesses without geographical boundaries. Let us look at an example to understand what we mean. If you are directly marketing your products to customers, you may find it challenging to penetrate other markets. It will require you to do a lot of research into understanding the demographics, customer sentiments, financial implications, and other business operations' viability to make inroads and decide whether it is the right decision. However, with industrial marketing, you have to focus only on the business you intend to enter into a partnership with. It is then the other business's responsibility to look after the product's marketing and sales to the customer. Thus, your marketing strategies need to be focused only on the other business and not the customers.
Now that you've understood the nature and scope of industrial marketing, let us look at some of the challenges faced in industrial marketing.
Challenges In Industrial Marketing
Two of the profound challenges faced by businesses in industrial marketing are:
1.

Online Lead Generation
Having other businesses discover you online is a herculean task today. There are hundreds of similar businesses vying for the opportunity to be discovered by potential customers through organic and inorganic methods. Thus, one needs to have the right digital presence and marketing to attract a large number of customers. Businesses need to have the right digital marketing strategies in place. It includes search engine optimization, social media marketing, targeted ads, and local optimization to help bring traffic to your website. You need to focus on creating the right content using the right platform that can help other businesses find you and trust you easily and take the communication forward.
2.

Creating A Brand Identity
Once a potential client has discovered you online, it is necessary to provide them with a unique experience that can help in brand retention, brand recall, and credibility. Creating an identity that can help set the business apart is what most organizations struggle with. They get lost in the sea of similar businesses, which limits their growth opportunities. So, ask yourself the question, 'Why would anyone want to choose me when hundreds of others offer the same services?' The answer is creating a brand identity for yourself that can be easily retained by clients and help build your credibility as an experienced organization. For creating a brand identity, you need to create an engaging and simplified website for enhanced user experience and satisfaction. Similarly, weave your brand and your product's story in a manner that users can easily connect to. This will help increase your business prospects.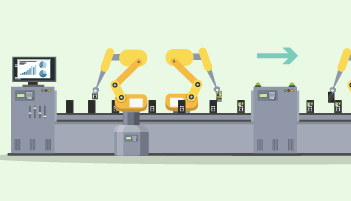 We hope that this blog helped you understand the key concepts, such as the nature and scope of industrial marketing. We have also outlined the challenges you are likely to face and have provided the solutions for them as well to help you easily mitigate them.
Do you need the help of an industrial marketing agency to develop marketing strategies that can help your organization's growth? Amura is a leading growth marketing agency that has helped several B2B organizations achieve substantial, sustainable growth over the past decade. Feel free to contact us if you have any questions, doubts, or discussion points related to your industrial marketing strategies. We will be more than happy to serve you.