Are you one of those industrial companies that have been focusing on products or services and believe that it is the strategy to gain customers, build trust, and ensure customer loyalty? Or a bit next-generation company that has additionally invested in a marketing team, a website, and a social media handle that has details about your company and is updated once in 6 months? You are right in both cases! Just that it was right ten years ago or if you have the market monopoly.
In today's time, customers have plenty of options for almost everything. Competition is fierce. While reaching customers is important, below 3 Ws are to be considered carefully, and once you have answers to these, comes the most crucial part of how to reach?
Whom to reach (Influencer or decision-maker)
When to reach (periodicity of reach-out)
Where to reach-out (channel of reach and engagement)
Whether it is an email or an e-brochure, website, or virtual visit video, anything you make for industrial marketing needs content. Content marketing is the soul of today's business. Therefore, to set-up a successful content marketing plan, it is important to understand the business life cycle for industrial companies or manufacturers.
Let's look at the business cycle that typically starts like this:
Active hunting by customers or a passive pitch by the manufacturer. Where does this happen? The most common finding ground for both parties is a google search.

Action: Digital presence is important. Get discovered online. It could increase your reach exponentially.

Engagement with details or product or service. How does that happen? Your content plays the game here. Is your content self-explanatory? Does it provide a complete understanding of your capabilities? Does it instill trust towards your brand/service/product etc. are few of the points to consider.

Action: Create a holistic content that responds to a customer's anticipated queries too. Position yourself as an expert in your area of work.

Conversion to business and beyond. When does this happen? Once the customer is satisfied with the first two stages, they discuss the quote, and after an agreement, the business is awarded. During conversion, support materials make a difference, e.g., a quote is text or detailed with case studies. This is a key consideration in industrial content marketing and business conversion, as most of these are technical approach driven. Post conversion engagement is important for repeat business.

Action: Give your content a tone and storyline that flows across channels of marketing and reaches a customer in a simple yet effective manner.
Now that we know a lot more about our customers, their (as well as our) journey to a business, and the significant role of relevant content, let's get our success strategy carved out with these three leaps:
Leap 1: Be A Solution Provider
Content has the power to position you as you want to. Think of yourself as a manufacturer or a solution provider to customer's problems. Which one is appealing? Now think the same from a customer's perspective. A solution provider and that too customized for each customer or category of customers (small, medium, or large customers) are what attracts customers because then it is about a solution and not a mere transaction for a product or service. Get your content to talk about problems and their solutions that you created. It could be as simple as five types of bolts and nuts for different applications but put it as a case study and get the impact on your customers.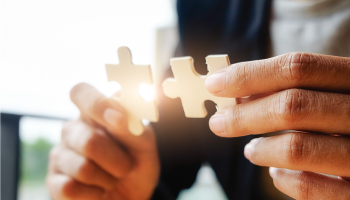 Leap 2: Create To Convince
Content marketing for industrial companies needs to instill trust, be convincing of the claims, and there needs to be proof of capability. How do we do that? Think of a storyteller you are listening to and then think of another storyteller you are listening to and watching a drawing of the story, its characters, etc. Which one is likely to incite interest? The visual aspect of content is as important as the words. So supplement your content with videos, customer interviews, manufacturing site tours, e-visits, catalogs, etc.
Today's customers are looking for the problem solver, one who has the capability, both in infrastructure as well as technical skills, and a thought leadership position. This becomes very important in industrial companies as it is a rapidly evolving sector. Therefore, it is important to make your company a thought leader who shares industry trends, relevant latest updates, e-books with good information on the subject matter, etc. Use platforms like blogs, trade show panel discussions, business journals, etc. to create that positioning through relevant content. Leave the reader with an option to reach you or your company.
Get started today. Reach us to devise your content marketing strategy and see how an industrial company can grow by leaps.