Most realtors struggle with generating leads from their marketing strategies in the face of intense competition. Real estate social media marketing can revolutionize the way realtors expand their outreach, build a following, and make deals. Effective real estate social media marketing entails giving the homebuyers and sellers exactly what they are looking to leverage from a real estate agent's social media presence. Using intelligent marketing solutions and strategies through best social media channels, realtors can craft tailored outcomes for their target markets and gain a competitive edge.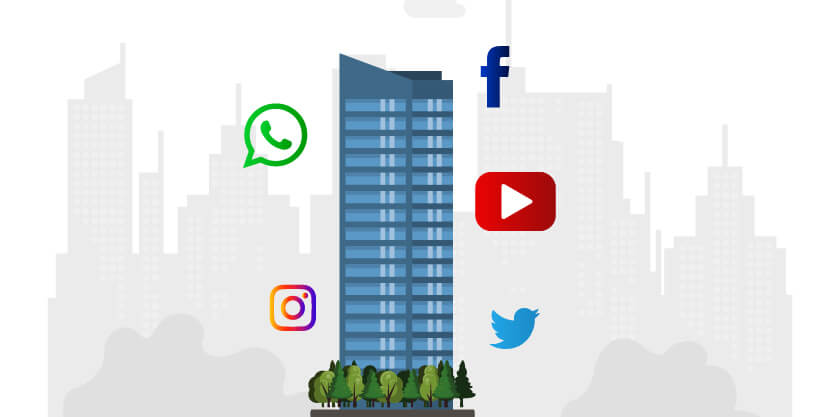 Build a Wholesome and Informative Social Media Experience

For buyers, details about the locality and the town are of equal importance as the property itself. They would be delighted to know the wholesome picture before they make any hefty real estate purchases.

Your real estate social media marketing strategy must feature the best and the worst of all the aspects of a property and its surroundings. Upscale your social media handle and give your buyers more than the basic demographic statistics and help them understand the kind of markets you cater to.

This helps you engage your target audience effectively and even builds credibility. Use official social media handles of the cities you serve in your social media posts to promote your listings. If an official social media account picks up on your posts, they may re-share your post with their broader audience base, working wonders for your outreach.

Curate the Best Mix of Social Media Platforms to Suit Your Needs

The nature of the product or service being sold and the audience demographic must define the mix of social media platforms a realtor must use for marketing.

The wide variety of social media networks at your disposal may confuse you when it comes to promoting your real estate business. Choose social media avenues wherein your target demographics and persona are adequately represented.

For example, LinkedIn is an unconventional social network for real estate, with millions of users representing multiple demographics. Another unusual pick for real estate social media marketing is Pinterest. Most Pinterest users use it to explore, and realtors must feature beautiful pictures of their portfolio properties to draw the user's attention on the channel. Make it a point to share your contact information on all social media handles to promote direct communication. Additionally, you can also engage your audience by sharing valuable home improvement and interior design tips.

Be Consistent with Real Estate Social Media Marketing

Social media channels often boast of subscribers that range in billions and include celebrated brands and businesses and the general public. Most popular brands have a strong social media presence of these networks and overshadow the presence of small companies trying to build communities of followers for themselves.

Budding realtors can establish an influential social media presence by consistently publishing relevant and relatable content of their social media handles. All social media channels have an ideal number of posts per day; real estate business must use this knowledge for their own advantage. Regardless of whether it is Facebook, Twitter, Instagram, LinkedIn, or Snapchat, publishing consistency can help you win followers and create engagement. It is best to come up with a pre-planned content calendar for all the channels you wish to leverage.

Monetize Your Real Estate Social Media Marketing Campaign

In the past, real estate businesses enjoyed great success using social media to publish both paid and organic content. Realtors must optimize their social media posts and ads for the best results. Social media ads are a dynamic way to reach out to your target segment through social media networks. With high algorithm formatting, social media ads can educate real estate business owners about how their advertising should be targeted.

Leverage the Power of Social Media Analytics Tools

Real estate businesses must monitor data and analyze results to brush up their social media strategy. Social media analytics can help realtors keep a strict track of the performance of the content they publish. They can develop insights about what kind of content works for what kind of audience, what's the best time to post content on different social media platforms and what maximizes audience engagement. In short, leveraging social media analytics helps them see which social media channel is of most value to their business.

Results from the analytical tools can help real estate businesses improve both their organic and paid social strategies. Businesses can tailor future content and messaging for their real estate social media marketing in a planned manner to maximize their outcomes.
Conclusion
We live in times when social media has the power to influence decision making in incredible ways. Activities like real estate reviews from previous customers, online collaboration campaigns with authorities and experts, live streaming house tours, and virtual open houses through a real estate social media channel can build credibility for your real estate business. As long as realtors focus on generating end-user centric content, results will keep pouring in.
Get Started: To know more about social media marketing strategy for real estate, get in touch with our real estate marketing experts.