The Internet has changed the way of marketing and advertising as more people trust the brand or the business according to their online reach and engagement. The change in customers' buying behavior and multiple online platforms has provided great opportunities to the business of almost all sectors, including real estate. Realtors are now realizing the importance of online presence and thus giving more preference to digital marketing over traditional marketing.
This article will help real estate agents know the crucial advantages and tips of inbound marketing to be relevant and gain more leads.
How Inbound Marketing is Different from Traditional Marketing?
As more people are researching products online and making their buying decisions according to it, traditional marketing is becoming irrelevant. In traditional marketing, marketers promote their brand by buying ad space on tv, newspapers, radio stations, or hoardings, posters, and pamphlets. In traditional marketing, the advertisement reaches both interested and non-interested audiences.
The other way of conventional marketing or getting leads for the business is cold calling and emailing, which comes under the outbound strategy that targets both interested and non-interested audiences.
In inbound marketing, marketers only reach or target the audience who have shown their interest in their product or service on the Internet. The main difference between inbound marketing and traditional marketing is targeting relevant and interested audiences. Inbound marketing only focuses on the audience who are looking for the same product or service or have shown interest, whereas there is no target audience in the outbound strategy of traditional marketing.
Why Realtors Should Start Inbound Marketing?
Real Estate agents or brokers who are still relying on traditional marketing strategies need to adopt new and better marketing methods. Some of the major reasons and benefits to start inbound real estate marketing include: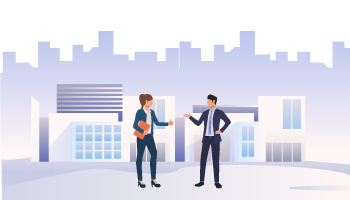 Compared to the outbound marketing strategies, inbound marketing is better for accountability and tracking the campaign's progress. In inbound marketing, Realtors can easily get more insights and data to know about their marketing campaign better and make changes according to the needs of the target audience and competition.
As you get more insight and customer feedback in the inbound marketing campaign, you can use it in your other digital marketing strategies and smartly spend your money on keywords, ads, listings, etc.
Inbound marketing for real estate can generate more qualified leads than traditional marketing. Here you do not spend a lot of time convincing random prospects to buy the property or make any other deal. All the leads generated through inbound marketing are mostly genuine clients who showed interest in your ad or post.
With the professional approach of handling inbound leads, realtors can achieve more sales for their business with fewer efforts and time.
Another primary reason that makes inbound marketing real estate a better option than traditional marketing is its lower cost. With a good plan and an effective strategy in inbound marketing, realtors can get more leads and growth for their business.
Tips to Make Inbound Marketing Effective
With all the remarkable benefits and advantages of inbound marketing, realtors can achieve even more benefits with a smart and effective strategy. With a good plan and strategy, the outcomes of inbound marketing will help the brokers to beat the competition and grow their business in the specific locality.
Here are some of the best inbound marketing tips for real estate agents that can make their business grow rapidly
1.

Search engine optimization for more leads
According to the statistics, around 53% of the overall website traffic comes from organic and unpaid search. As there are more possibilities of getting leads on search engines, you should optimize your website in a better way to get ranked and come on the search engine results pages.
It is always good to hire a real estate marketing or digital marketing agency to handle your website and keep it relevant.
2.

Be active on social media
Social Media is one of the most powerful tools you can use to increase your brand awareness and reach online.
Being active and consistent on social media platforms and uploading relevant content to target homebuyers is another effective way to make your inbound marketing strategy successful.
3.

Be quick and organized
The real estate industry is one of the most competitive industries as homebuyers and other customers contact or reaches multiple brokers or developers to buy or rent the property. In this massive competition where everyone is using online platforms and knows digital marketing, it is crucial to respond or follow up with the clients in a quick and organized manner.
Apart from the marketing tips and strategies, it is crucial to provide a good service to the clients to gain their trust for future deals and references.
Conclusion
All the tips and advantages of inbound marketing mentioned above can make real estate brokers of any scale achieve their goals and make their business successful. To make things easier and effective for your business, you should hire a good digital marketing agency that can handle marketing campaigns and provide you with excellent outcomes.
Amura is the leading real estate marketing agency in India that can be your one-stop solution for all digital marketing services. So make a wise step and contact Amuratech to kill the competition and achieve incredible business growth.