The phenomenon of gamification has heavily disrupted the marketing paradigm in recent years. And it's not just about the leaderboards, the point system or other gaming elements either! What makes gamification so effective is its strong emotional quotient. Emotions help in engaging your audience better than anything else. In the 8-point framework of gamification that was conceptualised by Yu-Kai Chou, emotions and meaning are at the very top!
For Indian Realty Flash Sale (IRFS) 2016, we adapted the psychology behind the Octalysis Framework by Yukaichou into elements or "baits" to incite certain pre-defined actions from users.
Our goal? To generate maximum leads i.e. to get maximum people to register interest in the properties on the site.
Here's the framework we followed: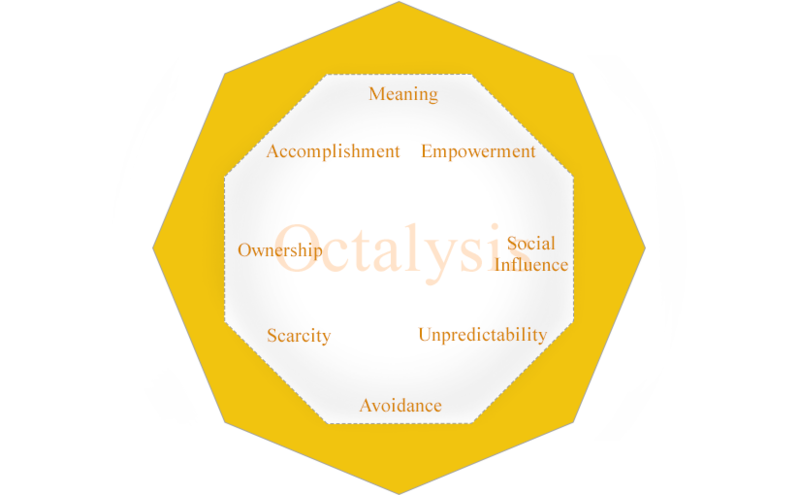 1. Meaning:
A home is where our life establishes a foothold. It is the hub from which all our daily experiences extend. It is the foundation of our family's shared sense of purpose.
In turn, buying a home is a defining point in an individual's life. It's this momentuous purchase that is the driving force behind IRFS. IRFS caters directly to the interests of home buyers by bringing them together with developers, with exclusive offers and best prices.The exclusive offers make for an empowering home buying experience, which leads us into the next point of the framework.
2. Empowerment:
One of the most exciting game elements is the sense of empowerment. The objective is clear and awaiting – in this case, to get your dream home at unbeatable prices – and all you need are the special powers! At IRFS, these powers find you in the form of exclusive discounts. Only here will you find the difference-making discounts on your favourite projects. The aim here was to maximise savings and empower users to buy their once-in-a-lifetime home.
3. Social Pressure:
In this age of social media, it's extremely important to leverage pressure efficiently in order to make the best out of the campaign!
The #RukaTohGaya social media campaign was designed to incorporate all the above elements into a perfect blend. It consisted of 2 levels.
1) Photo-based digital campaign
2) Crowdsourced Interaction Contest
With the contest going viral on Twitter and 549 number of total entries, the brand name and hashtag leveraged a significant amount of pressure among the target audience.
Our campaign ads also ran real time numbers of people who had registered for offers, in order to influence newer registrations.
4. Unpredictability:
For IRFS, not only was our goal to reward our users with something they don't expect, but with something they truly need as homebuyers. The coupon "frenzy" brought in the element of unpredictability – one hour where users would could log on and stand the chance to be the lucky user to receive a free coupon. Users would be notified at the start of the hour via SMS – this activity (executed twice) was conducted to re-engage the leads and get them back on the website.
5. Avoidance:
This core drive is one of the most important aspects of the gamification module. The drive uses the theory of risk aversion to incite action. This creates an unmatched sense of urgency because if you don't act immediately, the opportunity is lost forever!
#RukaTohGaya was created to cultivate this very sense of urgency. With exclusive offers available for just a limited period of time, IRFS witnessed an online traffic of more than 1 million people! This culminated into 35,516 direct enquiries as well.
6. Scarcity:
This core drive is to push people towards something that is hard to get. It is about setting the objective straight and making it attainable only after completing a challenge or a task. At IRFS, the premium offers were available only to the users who registered online. This led to over 17,500 sign ups!
7. Ownership:
The feeling of ownership is extremely important to create a hungrier and more eager customer base. When a person or player feels the ownership or entitlement of having acquired something, it makes them want to strive for more! At IRFS, people who registered with us got special reserved coupons to access additional offers.
8. Accomplishment:
This drive refers to the feeling of having accomplished something – an emotion that was propagated with limited period offers and the coupon frenzy hour. With the psychological factors behind gamification pushing it forward, IRFS 2016 garnered 35,516 leads for over 600 projects. Plus, the number of downloads for paid coupons reached as high as 10,000!