Creating an online presence is one of the most important marketing strategies for companies in the post-pandemic world. As most companies worldwide have switched to online and digital functioning, it has become increasingly important for insurance companies to buckle up their social media presence. Almost every other day, digital trends are changing and thus, SEO for insurance companies can help optimise and rank well on search engines.
The insurance industry is highly competitive. It is important for insurance companies to never miss an opportunity that can help them to generate more leads and elevate sales.
Here is a comprehensive guide to SEO for insurance companies:
1.

Need for on-page, off-page and technical SEO
The content on the insurance company's page must contain keywords, headings, titles, and descriptions related to the industry's most used terms. As search engines are always looking for relevant pages with a specific keyword; therefore, it is essential to use these relevant terms for on-page SEO.
Off-page SEO is usually backlinks or other links from other sites to the insurance company's site. Having more such backlinks increases the authenticity of the company. Finally, technical SEO is necessary to make the website crawler-friendly, take less time to load and have an SSL certificate.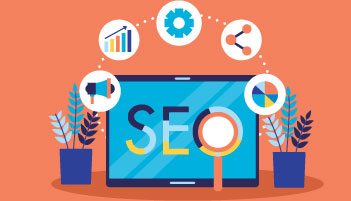 2.

Do the right keyword research
Using the right keywords to optimise the company's page is the foundation step to compete against the other brands. Every industry has its respective keywords, and the insurance industry is not an exception to this. Thus, an expert digital marketing agency can help research and find the right insurance SEO keywords such as 'best insurance companies', 'insurance schemes', 'trusted insurance brands', etc., that rank high in search volumes.
3.

Getting authentic reviews
Reviews are one of the best ways to gain customer confidence. Thus, reviews are an essential part of insurance SEO guidelines. Reviews on websites, testimonials or other pages regarding your insurance company can help get the attention of your target leads. Insurance marketing companies can help get the right reviews from customers as well as experts.
4.

Building a rapport through Email marketing
Unlike any other online strategies, email marketing is the best way to develop a relationship with your audience. Email marketing is a good way to personalise messages and update your leads as well as regular customers regarding new offers or schemes. Email marketing with good content can help insurance companies to scale up their business overnight.
5.

Regular content for your audience
The myth that using keywords is enough to get a good rank in search engines needs to be busted. Though adhering to the right SEO practices is always necessary, companies need to post new content regularly on their pages to get wider reach and impressions. This will organically allow the insurance companies to become visible to the targeted audience.
6.

Analysing the competitors in the market
It is important to note that the best insurance agency SEO practises are incomplete without competitor analysis. With the use of certain tools and by conducting in-depth research, SEO experts can know what the competitors have been using or strategising. This will help your insurance company produce better and more unique content than its competitors.
7.

The right website design
The right website design will make your company's website more user-friendly and become an eye-catcher to your target audience. This is important to receive more traffic on your website and backlinks, or else keywords alone cannot be enough to amp up your website's aesthetics.
8.

Quality content is a must
A common practice that is widely observed these days is the scarcity of good content online. In terms of insurance marketing, publish content on industry-specific terms such as insurance schemes, policies, etc. Therefore, one of the most important SEO guidelines is to enrich high-quality and authentic content with keywords and strategies for the company's optimum online presence.
9.

Being available to your local audience
SEO experts have always been emphasising the need for insurance companies to opt for local listings. This is because local listings will help your company be available and visible to the people in a specific region. Through local listings, search engines are able to provide the audience of a particular region to find your business and put forth the information of your company.
10.

A thorough site audit
A site audit can help SEO experts understand the loopholes of your company's online presence. Conducting a site audit is of the utmost importance to know if there are any shortcomings in the website, analyse the broken links on the company's page, determine what needs to be improved and various other points of consideration.
The points mentioned above can be well-executed by SEO experts that know the inside-out practises that will work best for your insurance company. If you aspire to boost your company's digital presence, then inquire now for insurance SEO services and find the best strategies that will work best for your brand.
To get in touch,
email at vikram@amuratech.com.