Selling a house using traditional advertising methods is history for real estate companies. With today's generation spending a lot of their time online, that's the place real estate companies should aim to connect with them to sell their projects. And with over 2.7 billion active users per month, Facebook is easily the best platform to promote your products and ensure a wider reach among potential clients.
You might argue that Facebook users generally visit the platform to connect with friends and track their timelines, but it is a fact that they also click on ads that are creatively constructed and placed strategically. It is only logical that you focus on creating a real estate digital marketing campaign on a platform on which users spend several minutes a day. The potential for driving high-quality leads is enormous.
Facebook is not only a highly visual medium but also provides vastly granular targeting options. Real estate marketers can leverage some impactful real estate Facebook ad ideas to reach the buyers they want to focus on.
Real estate companies and agents can certainly achieve greater success by running some well-designed Facebook ads for real estate buyers. How to do it right for maximizing gains? These five tips show how to develop Facebook ad tactics that can send buyers in droves to your business:
1.

Use Various Targeting Options To Zero In On Your Audience
For realtors, Facebook can be the perfect marketing platform, not only because of its popularity but the ability to target with greater precision. There are various targeting options available to ensure a more precise approach and ensure that your Facebook ads for real estate buyers reach the exact audience. You can target your audience through the following criteria:
Age Range
Income
Level of ownership (First home, holiday home, etc.)
Potential movers
Only Facebook allows you to target your audience in such a detailed manner. When the platform offers you the ability to zero in on your target with such precision, why not use the facility?

2.

Use Videos To Turn Viewers Into Leads
With more people watching videos on Facebook and native videos likely to achieve a higher engagement level than images or text is the best way to boost your reach. When native videos pass through a user's newsfeed they play automatically. This is great for increasing the engagement. And the bonus is that once you upload a video with the posts, it gets stored in the video library of your page for future visitors' attention. Let's look at some real estate ads examples, it is crystal clear that for realtors videos are next to the real thing and can provide the audience with a realistic view of the property and its salient features. If you want to make it more impactful create 360-degree videos that can give a virtual tour of your property with the USPs highlighted remarkably.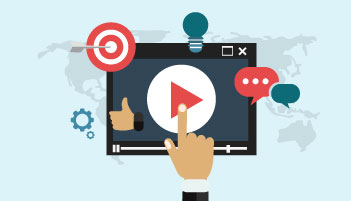 3.

Engage Carousel Ads For A Wider Display Of Properties
The Carousel Ad format of Facebook is truly unique and tailor-made for advertisers who rely on visual content for selling their stuff. When you look at some of the best commercial real estate Facebook ads, you will realize how marketers are using this format to entice and engage their audiences. With the Facebook Carousel Ad format, advertisers can showcase a series of images in the form of a catalog. Viewers can scroll through the ad to visit multiple images without having to come out of it. This can deliver a highly convenient and desirable user-experience.
You might like: 8 Most Effective Commercial Real Estate Marketing Strategies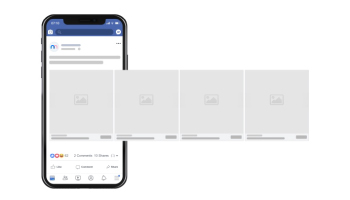 4.

Create A Copy That Stands Out
Without a compelling copy your other efforts at creating a wonderful real estate digital marketing campaign on Facebook cannot deliver desired results. You can create your FB ad copy in two ways:
Add copy within the post
Place copy on the image
Both options can deliver desired results. If you are placing the copy on the image, it should not interfere with the image view. Keep your copy simple, to the point, and easy to read. Avoid using long sentences, and do not pepper it with adjectives without reason. It will most likely put off the readers. Check if the copy provides all the information that buyers generally look for in an ad. It is a good idea to leave out some essential data such as price and unique features to drive action and make readers call you. Experts also recommend placing links within the post. Using URL shorteners can help save space in the copy. Check out some of the most successful real estate Facebook ad examples to understand the value of a good copy.
Interesting: Boost your Real Estate Sales with Digital Growth Marketing

Make sure your ad has a clear-call to-action and make it compelling too. The goal of your FB ad must be clear. List what you want visitors to do. Some of them can be:
Sign up for an open house session
Provide contact details
Click on listings
Engage on social channels
Call your executives
Marketing experts say that your CTA will be read by 90 percent of visitors. Also, personalized CTAs are likely to receive more clicks, and on Facebook, you can address anyone personally.Finally, get rid of all clutter so that there are no distractions in the CTA route.
Conclusion
These tips can help create a powerful real estate digital marketing campaign for your real estate enterprise. Don't forget to test your ads. Facebook encourages testing with a system that allows the running of two different ads. You can find out which one is more likely to resonate with your audience.
Amura offers 360-degree growth marketing solutions to businesses across diverse sectors. The company has an enviable track record of creating highly successful real estate digital marketing campaigns on Facebook for some of the top realtor brands.