The Indian advertising industry is anticipated to be the second-fastest-growing advertising market in Asia after China. According to WARC's latest Global Ad Trends report, Indian ad spends, growing at a rate of 11.9% is estimated to reach $9.3 billion in 2019. When we look at the digital landscape, the compound annual growth rate (CAGR) of the advertisement market in India is expected to grow at 33.5%, crossing the $3.8 billion mark by 2020. (Report by Confederation of Indian Industry (CII) and KPMG)
This rapid growth in the advertising sector can be attributed to the increase in the number of businesses contributing to the rising spends. In such a competitive environment, it can be hard for any business to stand out. To break through the clutter, you need to adopt a marketing strategy that goes beyond just customer acquisition; a strategy that's intelligent, iterative, engaging and creative.
Introducing Growth Marketing
You must have heard of the term 'Growth Marketing' at least once in the past few years. This increasingly popular marketing discipline, particularly in the start-up world, covers a gamut of customer nurturing techniques and tactics, designed with the single-minded focus to grow businesses quickly and efficiently.
Think of growth marketing as marketing 2.0. It is using traditional marketing as your base and adding layers of smart insights and well-tuned 'twists' that elevate every aspect of a user's experience. Doing so ensures robust and sustainable growth for any business.
In general, a growth marketer is a bit savvier than a traditional marketer.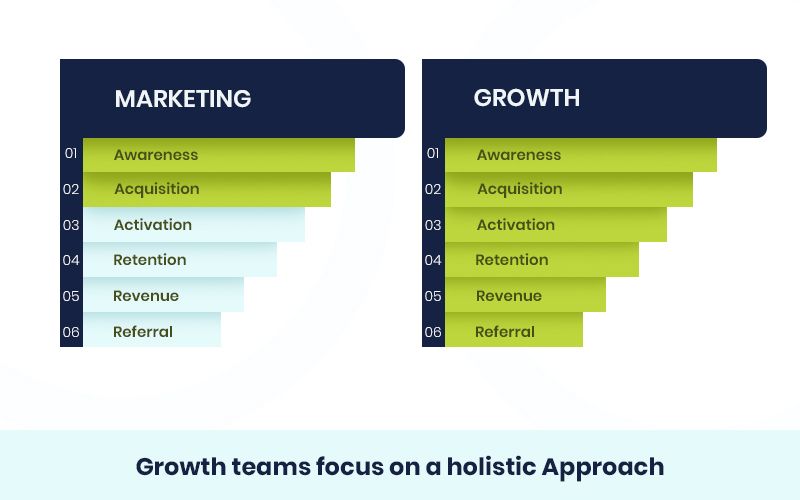 Gone are the days of 'Mad Men' when a marketer would present the creative message of the campaign to the client, wash his hands clean and pour himself a relaxing drink. What Don Draper lacked in thinking holistically, growth marketers take care of the entire customer funnel, not just the top.
Key Features
Growth marketers differ from the traditional "set it and forget it" attitude on the hope that things will work out for the best. Growth marketers are unrelenting in their pursuit to achieve growth through constant ad testing, website tweaks, and generating newer solutions. Know more about growth marketing vs traditional marketing.
Growth marketing involves adding value through customer funnel. In simpler words, growth marketing attracts users, engages and retains them with the intention of finally turning them into your brand champions.
The best growth marketers should be:
There's no guessing or gut feeling in growth marketing. They dive deep into the data and figure out strategies that are working, making use of all the modern analysis tools at their disposal.
When you are looking to grow, having creative ideas is a must. When AirBnB started, they provided free professional photography services to every person listing with them – which became a key driver for their growth.
As a marketer, your goal is not tricking people into buying something they don't want, but to communicate its benefits. To do that and eventually help people with your product or service, you would have to understand it better.
Trying newer things that fail shouldn't be a de-motivator. On the contrary, failed experiments are the quickest way to gain valuable information, eventually hitting the right chords.
An essential ability of a successful growth marketer is the ability to blend both qualitative and quantitative info into a compelling story that will resonate with your audience.
Data-Driven
Creative
Product/Service Understanding
Try New Things
Storyteller
Growth Marketing. Engineered.
According to Hubspot, by 2019, 51% of smartphone users have discovered a new product or company while searching online on their phones. In today's modern world, businesses need to be at the forefront of online traffic. Understanding consumer behaviour and effectively marketing your business require expert data-driven marketers.
Being a growth marketing agency for the past 10 years, Amura has been helping clients grow their businesses with a dedicated team of marketing experts focused on growth. Our highly involved strategies cater to the entire funnel; we try newer hypothesis, put them to the test and quickly zero in on what works. To see how we have helped reputed brands grow their business, check out Amura case studies.