61% of businesses feel that lead generation is their biggest marketing challenge- HubSpot's State of Inbound report.
While consumer behavior continues to evolve at a tremendous rate, it is always better to re-evaluate old strategies. Only by adapting your strategy and continuing to be relevant to the evolving trends, you can stay competitive in your industry. With the introduction of emerging technologies and new consumer insights, B2B marketers – more so than others - need to recalibrate their lead generation strategies to thrive in this ever-shifting landscape.
Drip marketing, today, addresses consumer concerns at every step of the buyer's journey. This has given rise to increasingly educated consumers, and with the advancement of technology, there is more pressure to deliver customer experience. In fact, by 2020, customer experience will surpass product and price as the key brand differentiator.
Many B2B marketers spend a lot of time focusing on generating traffic rather than fixing the marketing funnel itself. This result is inflated acquisition costs and sub-standard results. Inquiry forms are the filter that separates leads from non-leads. These forms have a huge impact on your conversion rates and in turn, overall lead generation results. Acquiring traffic through lead generation strategies should be pursued only after your funnel is well-optimized.
When it's time to acquire traffic which channels or lead generation strategies should you use?
Let's look at the top 10 B2B lead gen strategies for 2019.
1. Strategically Put Out Gated Content
Gating your content is one of the most effective ways to attract and identify leads who are genuinely interested in your business. Gated content, when done right, can provide you with increased leads and conversions. If you've already built a repository of relevant content that your audience will enjoy, putting out gated content would be a wise move.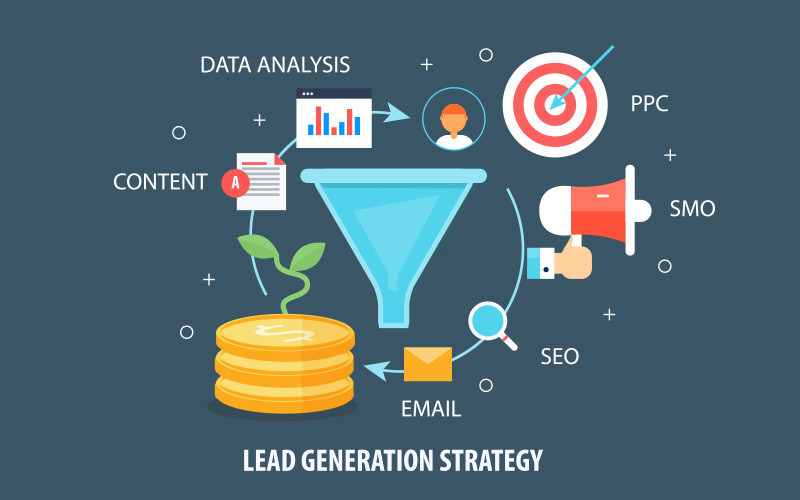 2. Ensure More Touchpoint Personalization
Personalization is the present and future of marketing. Users today crave for that human element while interacting with brands. This allows for the cultivation of a deeper connection and more meaningful relationships. Consumers are more than willing to share their data when it comes with personalized offers, product recommendations, and customized shopping experiences.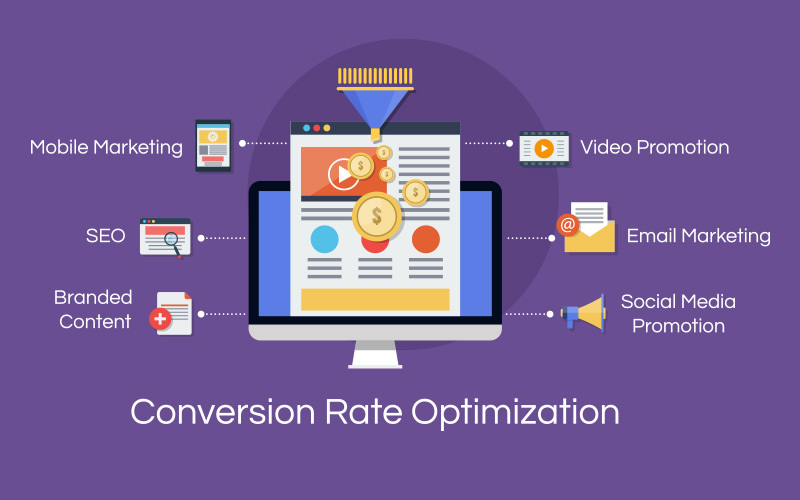 3. Focus on Creating High-Quality Content
Content nowadays is the currency of the web. Therefore, the regular content publication is important. But your content has to be high on quality as in it should provide value to your audience. This will help build your credibility as an expert and also increase your reach and exposure. Once they trust you, it's easier to convert these leads. Great content also works well with your SEO strategy and allows you to rank higher on search engines.
4. Build Social Media Communities
Social media presents a great chance to engage with your audience. The average person has somewhere around 7 active social media accounts, and you should reach them there. You can start a Facebook group, use relevant hashtags on Twitter and Instagram to connect with like-minded consumers or communicate with prospects on LinkedIn. Best results come by being active in your communities.
5. Optimize Landing Pages and CTAs
Landing pages form the link between your advertisement and your business offerings. Therefore it's important to think your strategies carefully. Optimize your LPs for more focused, user-friendly communication with a clear call-to-action. Focus on a single goal for each of your landing pages. Be clear with your CTA to convert your visitors into leads.
6. Cultivate Online Reviews
Most consumers refer to online reviews while considering a product or service. You could lose out on potential leads if your website lacks testimonials or reviews. It is important to urge your clients and customers to add reviews or testimonials to your website. Good reviews help build trust in consumers, improve your credibility and improve conversions.
7. Develop and Expand Your Online Presence
While your website and social pages are your online identity, your brand is not limited to them only. Grow your credibility by branching out to other sites through guest blogging, interviews, or answering questions on Quora. You can gain thousands of leads and present yourself as subject-matter experts through Quora if you answer as many relevant questions as you can in your industry.
8. Target Your Competitors' Audience with Gmail Ads
Email is undoubtedly the most popular lead generation channel. Gmail ads allow your Google Ads campaign to be targeted to people on your competitors' email list. You can leverage this opportunity to highlight what sets your brand apart from your competitors. Optimize your email layout and tell them why you are better than your competitors.
9. Use Videos in Your Marketing
The video presents an effective opportunity to reach the target audience. Video content is a major driver in the consumers' purchasing behavior. According to Animoto's State of Social Video study, 64% of consumers opt for a brand's product or service after watching branded social videos. It's safe to say that video is highly effective in attracting leads. A video on a landing page can result in more conversions, with YouTube being a major part in most brands' content strategy.
10. Adopt Marketing Automation
Marketing automation tools act as the connecting link between your CRM and automatically sending highly targeted and personalized communication to your leads. This ensures relevant and timely content being sent to the right prospects. In fact, you can increase your revenue by more than 100% through marketing automation. With a host of useful CRM functionality-integrations, it isn't hard to see why marketing automation is considered one of the best ways to generate more qualified leads.
Effective lead generation is a result of relentless willingness to experiment with and combine different tactics across multiple channels. Experimenting allows you to understand what's working and what doesn't. With this knowledge, using your time and budget more effectively becomes easier and in turn, achieve better lead generation results.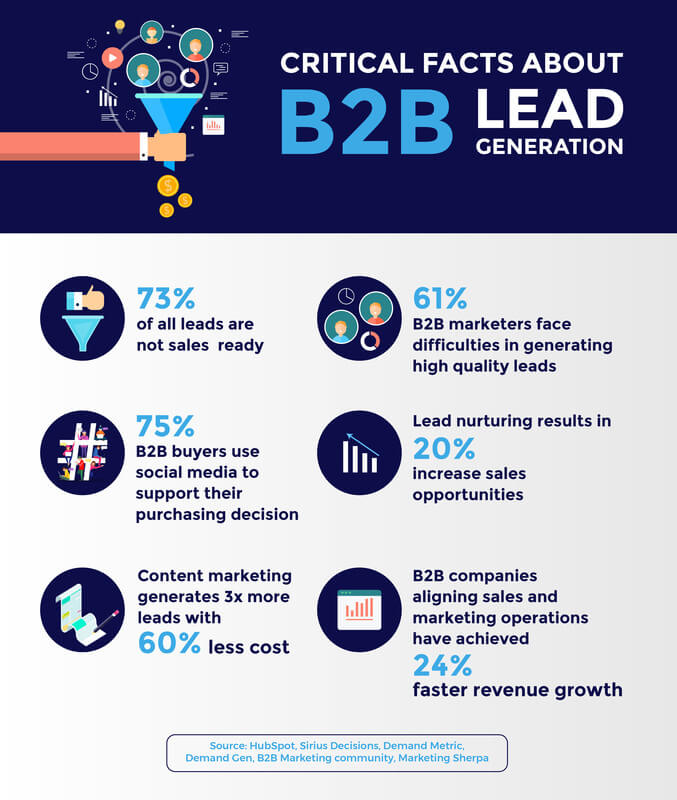 To capitalize on your lead generation strategy, consult one of the best digital marketing companies in India. With 10+ years of experience in performance marketing, we handle your social media marketing, search engine optimization, and overall digital marketing strategy so that you can easily achieve optimal conversions. Feel free to have a conversation with our team of digital marketing solutions experts. We've been using the same techniques to ensure successful conversions for our clients here at Amura for the last decade.