If you aren't living under a rock, you most definitely have heard of Google or used it to find things on the internet. In fact, if you are an average person, you would use it for 3 to 4 searches every day. Today, it's the go-to search engine and also most trusted as a source of information.
What will astound you, however, is the fact that, on an average day, over 63,000 Google searches are registered globally per second. That amounts to around 5.6 billion searches every day. With so many of your (potential) users searching for information on Google, you would want to be featured in their searches.
This is where Search Engine Optimization, or SEO, comes in. In a nutshell, it's the art of optimizing your website or landing pages for better search engine visibility. When you are featured higher on Google, you can drive quality organic traffic to your owned media like websites.
And technically, it's free! You don't need to pay for "organic" clicks via Google search.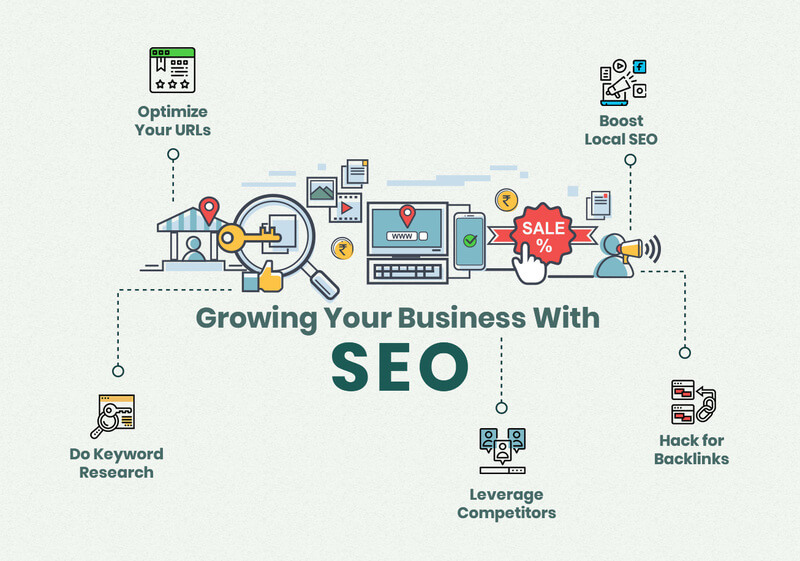 Growing your business with SEO
A lot of businesses have grown with SEO. In fact, many brands have centred their entire marketing strategy on it. A solid SEO strategy is an integral part of any effective growth marketing blueprint. There are numerous ways to implement SEO best practices and grow your business. Here are the five important ones:
Do Keyword Research
It sounds pretty simple but is one of the trickiest ones to nail. Most businesses make the mistake of picking the most popular keywords to target users. But it usually means more competition as well. The trick is to identify relatively high volume keywords with low competition.
Use long-tail keywords (phrases 3+ words long) designed to match your target audience.
After identifying some target keywords, use keyword research tools to cross-check their effectiveness.
Keep in mind, sometimes popular keywords are good choices too. If you are in real estate, keywords like "(No.) BHK in (location)" have to be targeted to some degree.
While the keyword might be quite competitive, it's still your niche and something you have to use to boost your SEO.
You can fortify it with more strategic, long-tail keywords specific to your offering like "Premium (No.) BHK in (location)" to differentiate yourself from your competition.
Optimize Your URLs
URLs are your webpage's address. And as you know, location is very important for any business, online or offline. URLs contribute greatly to Google rankings. Ensure you optimize it for readability. If it isn't legible to humans, it's not going to be legible to search engines either.
Google_does_not_identify_under_scores. So-only-use-hyphens.
Try to include keywords in the URL but don't go overboard.
Use shorter URLs if you can.
While changing URLs use a redirecting service, rather than creating a new one.
Make URLs mobile-friendly so that it ranks better on mobile devices.
Boost Local SEO
Usually, local SEO has lower competition. You can lower it further by using long-tail keywords niche terms specific to your locality. Include the name of the target city in your title tag, tags, headers, images, and URL.
Have your name, address and contact details on every page of your website. Make sure it's consistent across.
Set up a Google My Business profile to provide basic information and build on your customer reviews.
List your business on Google Maps and embed the API into your website.
Try to get more important information seen when your page is displayed in a search.
Identify niche opportunities for long-tail keywords that are specific to your industry or business.
Get creative while using keywords. Opportunities don't always come knocking on your door, you have to create them.
Leverage Competitors
Your competitors can be your biggest allies if you know how to leverage their efforts. You can always find out what keywords our competitors are targeting. This allows you to find loopholes and capitalize on that.
Find underutilized keywords that your competitors are missing out on. Leveraging these can make it easier to rank better.
Out-perform your competition by analyzing their content. If you can't edge them over, then replicate.
You can also redirect your competitors' traffic to your website but creating a listicle about some industry-relevant topics using your competitors' references.
Use guerrilla marketing to leverage your competitors' keywords to drive traffic to you.
Hack for Backlinks
Pay attention! This is the most important of all. Backlinks are the backbones of an effective SEO strategy. Without them, your website will never be able to crack the first-page search ranking. Not only will they help you get more direct traffic, but they will also boost your reputation online. Here are some great backlink hacks:
Internal linking: It never hurts to backlink your own content.
Ask for credits: If another article uses our reference, make sure you get the credits.
Give due credits where needed: If you use others' references, giving due credit helps build mutually-beneficial relationships.
Link your website wherever you use an online signature.
Interact with the community: Interact with users through blogs, social media and conventions. Engage them through contests and interact more.
Be sure not to overdo it
SEO can be quite effective but till the point where you start overdoing it. By keyword stuffing, you actually diminish your optimization. This will discourage not only readers but also search engine crawlers. Your ranking can take a hit in the process. Just remember to publish content that is valuable for both consumers and businesses alike.
When it comes to crafting effective growth SEO strategies, you need the pioneer of digital growth marketing in India - Amura. We specialize in effective growth marketing ideas that cater to launching or growing businesses across industries. By experimenting with multiple viable SEO strategies, we lock in the ones work best and scale it. This way, your business takes off on the path to growth.
Looking to get your SEO strategy sorted? Talk to our growth marketing experts today to know how your business can benefit from our services.