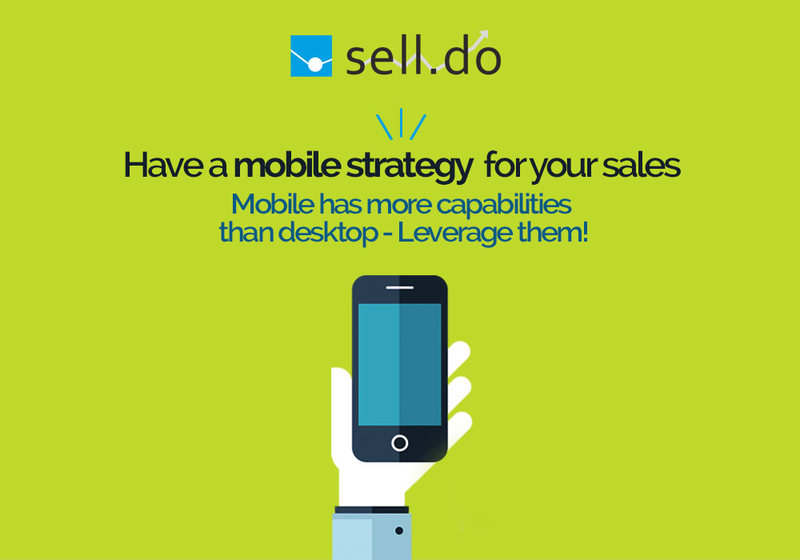 I recently met a Sales Head working with a premium real estate company in Mumbai, with a minimum ticket size of over a couple of crores. We discussed the role of technology in sales and the general direction in which real estate selling in India is moving. He happened to mention how customers have become extremely cognizant; where they compare real estate sales teams with any other B2B sales and expect clear documents, appointments, thorough research, knowledge of their expectations and require instant answers to their queries. Discussions with clients carry on for weeks and having all the information ready & accessible while meeting the customer has become a necessity. Our discussion finally led us to a conclusion:
---
Today's buyer expects better and faster service – Sales teams need to be equipped with technology automation & become mobile-ready.
---
So the next question is, what do you mean by making them mobile?
Merely having your sales team available on the go with a good smartphone doesn't make your team mobile-ready. As a sales leader, you need to realize that mobile or tablets are just a platform. You need to work on creating mobile sales tools that can be placed in your teams' hands. Having access to customer information on your mobile can cause a difference between winning and losing the deal. Realize that the mobile medium has become primary. In the same way that marketers focus on having mobile-ready web pages and target visitors via mobile channels, the sales team can perform 100% better with the right mobile tools.
Have a mobile strategy for your sales. Mobile has more capabilities than desktop – Leverage them!
a. Buy into a CRM or a Point of sale tool that comes along with a mobile interface.
b. Ensure all the customer information is easily accessible within the CRM mobile app.
c. Create a document share with easy access to brochures, price quotes, etc. This could be part of your CRM app or you could just use off-the-shelf services like Dropbox.
d. Having the capability to easily share driving directions to customers from their current location to your project site will go a long way.
e. Ensure your CRM provides for real-time push notifications that give you alerts for customer requests, appointment reminders and more, allowing you to respond immediately.
f. Move from a paper-pen based site-visit customer registration model to an app-driven one. Let the data move directly into your CRM.
A step further
Apart from real estate CRM, which comes with a fully featured mobile sales application, we at Amura have been experimenting with interactive tablet applications to help our clients create amazing customer experiences at project sites. After all, nothing feels better than an experience that delivers beyond your expectations. Take, for example, these tablet and mobile apps that maximized customer satisfaction & engagement for two of our clients:
Gyro-meter & Interactive touch interface:
You can make apps interactive with your iPad. We created one such app for Amanora – a township project, it has a number of clusters each with its own USPs and amenities. The iPad sales app allows the user at the site to easily view the landscape and the layouts of the township and its projects. We mapped out every development in the township so that the user can also navigate across all clusters simply using touch. They can also get an idea of how the entire township looks with actual-views from various locations (say, from the 20th floor of one of the residential buildings). With this simple sales app, we were successful in getting 60% more engagement from our customers at the project site.
Interactive project brochure with Microsoft Kinect:
Microsoft Kinect is an awesome gaming console that comes with motion sensors and can detect players' movements, mapping them to actions within the game. We worked with one of our partners to create a Kinect app which was used for a project launch in Pune. The app had all the information about the project and acted as an interactive brochure for the customers. Since it was a launch, we typically had 100-150 customers at the site at any given time. With the customers busy trying their hands at the Kinect app accessing information, the workload on the sales team was drastically reduced. In addition to this, the customers also had a never-seen-before experience, which contributed in improving the overall satisfaction and enthusiasm among them.
But remember…
Selling tools are just half the story. You need to ensure that your entire sales process and culture are modeled accordingly. Not just you, but your team also needs to believe in your mobile strategy for it to truly make a difference. Showing the results (faster conversions, higher client satisfaction) will make them believe & adopt your mobile approach.
Going mobile is essential to any real estate sales strategy today – so stay ahead of the curve and equip your team with the tools and know-how to make a difference! Introduce yourself to Sell.Do.
By