Digital marketing has forced industries to focus more on consumer behavior while prioritizing customer engagement through media. Pharmaceutical industries are not left behind in this and are trying to gain more insightful decisions by interacting with their customers more effectively and proactively.
Digitization has made it easy for doctors and patients to gather information through omnichannel marketing in pharma and make a secure connection between pharmaceuticals and various hospitals to manage operations hassle-free.
Some of the world's biggest corporations, like Google and Amazon, have been the game changers of the online market. They have used the technology to the fullest, thus paving the way for unmatched omnichannel customer experience.
Pharma and Life Sciences are looking forward to an Omnichannel approach, a perfect combination of channels, messaging, and tactics. Thus, it evolves the concept of Omnichannel marketing. Omnichannel marketing in the pharmaceutical industry is advantageous as all media channels are connected at a single place. The integrity of the content helps consumers by offering them an opportunity to get a personalized omnichannel consumer experience.
Omnichannel marketing strategy has become the top priority for pharma companies. Pharma marketing is banking on Omnichannel marketing in pharma for seamless and personalized consumer experience. For this purpose, the pharma industry wants an Omnichannel content strategy that allows consumers to interact from anywhere, anytime, and from any device to get any information they want. Now, that is called the perfect combination of human intelligence and AI. Such customers who effectively use digital resources and their time are called omnichannel customers.
Thus, pharma companies are now becoming more Omnichannel oriented by indulging in high-quality Omnichannel content strategy, thereby developing an Omnichannel strategic approach for achieving their targets.
Pharma practices are looking forward to bringing a change in their operations with an increasing demand for security of data and the ease of placing orders. The need for Omnichannel marketing in pharma requires the following measures to grow: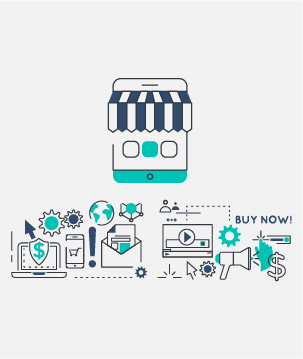 Interaction is the key:

Omnichannel marketing in pharma needs to provide an interactive platform to tap their customer's loyalty and reliability towards their products. It should also provide the ease of placing orders, 24/7 support on social media, and personalized live - chat experience to make customers feel valued.

Security and compliance measures:

If customers are not assured of data security, they will lose interest in the portal. Measures like Click to dial will prevent data leaks and ensure encryption of data, thus, relieving customers of discrepancies. It should be one of the critical features of omnichannel marketing in pharma.

Reduction in the waiting time:

Doctors and customers should contact any Omnichannel pharmacy to provide an immediate solution to their problems. Thus, it should be an excellent personal experience for customers to get routed to the right agent and at the right time to solve any query.

Real-time data analytics:

Customers should feel valued. If they are informed of their orders on time by Omnichannel pharmaceuticals, can track the delivery status with easy refund policies, and a 100% assurance of timely delivery, it will surely convert them into loyal customers. Constant notification alerts via several mediums ensure that they are essential for pharma companies. Also, in case of any delay caused in delivery due to any unavoidable circumstances, they can be notified before the date of the delivery, and thereby a no-show can be avoided.

Also read: Marketing Mix Models For a Successful Pharma Company

Listen to the customers:

A live chat or a toll-free call from customers to communicate towards imparting any medical information gives them the assurance that they are heading in the right direction. Sometimes in critical situations, customers may be looking out for a second opinion. Thereby listening to customer's problems and giving prompt responses will boost their confidence in the product converting them into loyal customers.

Focus on Market Automation:

There are chances that the customer may be using more than one device throughout the day. Also, there is no clear indication of the use of a device or channel to complete a purchase. Therefore, the best idea would be to cover all the options online and offline. Looking at an ever-increasing demand for consistency and convenience throughout the channels, an effort towards combining all channels will be helpful.

A marketing automation software is available to combine all channels, helping the marketeers maximize their engagement with limited effort and efficiency. Connecting the customer during the sale process and leading them to the end of the purchase process will help increase brand awareness and change the customers' perception of the company. Thus, with one platform controlling the business, Omnichannel marketing efforts and actions can be performed effectively across all channels. Saving a lot of time using this automated omnichannel Channel process will enable the marketing team to analyze or review the campaign's performance and make changes to optimize its strategy.

Leveraging the power of content:

Content marketing tactics include blogs, social media posts, webinars, videos, ebooks, podcasts, white papers, etc. Researching as to which channels need which type of content will enable appropriate content creation. Accordingly, the content has to be prepared and posted regularly. Content marketing for the pharmaceutical industry is successful only if it is consistent. Building a brand in this way will help the business to achieve its goals effectively.

Interesting: How Pharma Brands Can Be Built Digitally Through Content
Pharma companies are now moving towards a more customer-centric system by following the Omnichannel marketing in pharma through digital presence. By developing an Omnichannel marketing strategy, the pharma companies are sure to dominate digital presence.
If you have any queries about omnichannel marketing or would like to implement it for your pharma company, feel free to reach out to us at vikram@amuratech.com