Marketers have always faced challenges in optimising their content so their target audience can discover it. Methods used by traditional media include print advertising, largely through PR and paid content in magazines and periodicals. Understanding readers and subscribers as well as distribution networks helps traditional media houses choose content and publishers for exposure.
However, this medium is more of a push marketing medium and not entirely in tune with the content consumption behaviour of audiences today.
Content consumed today is largely digital and the consumer chooses to consume only what is relevant and interesting to them. This has given rise to "Content Discovery", the age of "I consume what I discover!"
It is thus necessary to put forth content marketing efforts in ways that are in line with consumer interests, can be found easily and then, can be consumed.
The increasing shift in digital media consumption as researched by Zenith Optimedia is below: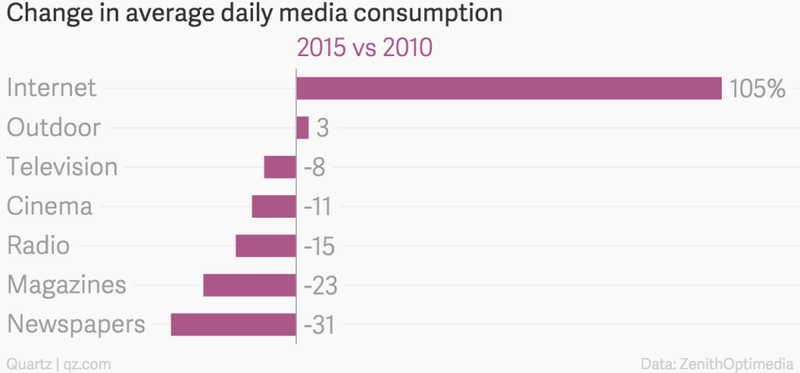 How does content discovery work? Here's a quick explanation :
• Making content discoverable via social media:
Posting and sharing updates on social media, sharing and interaction of content links, attractive tags and headlines, humour, news relevance, sport, you name it and there's something for everyone on social media. There is also interest criteria and relevance that prompts your content to be found by the right audience. Apart from organic and sponsored methods, the key to content discovery is not only in the headline but an evolved form of search on social media: "The Hashtag". Just as SEO works on search engines, the social search engine makes content relevant through hashtags and other keyword relevance.
• Making content discoverable via search engine (SEO):
Search engines are the go-to for any content seeker. I for one used Google to research while writing this blog. Now how does this work? Does my query just show up from some dump on the internet? How does the Search Engine or Google give me results? The answer to this question is relevant to the Google Algorithm, and yes, there's more than 1 algorithm for SEO.
• Content Discovery Platforms:
Consumption of content has become very convenient, and the number of people looking out for more has consistently increased. Making relevant content accessible is done via content marketing through discovery platforms like Taboola, Outbrain and others. Content suggestions are targeted towards target groups that are looking for similar interesting content.
How do I optimize my content marketing by SEO to make my content relevant, consumable and discoverable?
By optimizing content to be relevant to the following algorithms SEO can maximize content marketing reach:
• Google Hummingbird – Conversational Search Relevance
• Google Panda – Website Quality (Tags and Heading optimizations)
• Google Penguin – Quality Link Checker/ Anti-spamming link filter algorithm
• Google Pigeon – Local Search Result Relevance (Addresses, Contact information, etc)
• Google EMD (Exact Match Domain) – Domain name result retrieving query
Effective content marketing needs a robust SEO strategy. Tagging and keyword usage trigger both on webpage content and other search engine-relevant platforms, portals, forums and more, making SEO a given while marketing content.