In this era of digitalisation, hiring a digital marketing agency that can help you grow your business's digital capabilities may sound like a daunting task. As per the PR Newswire report, the global digital marketing industry is anticipated to flourish at a compound annual growth rate of 10.3% from 2020 to 2027 to grasp USD 640.2 Billion by 2027.
It depicts the immense potential of digital marketing in the future, and it becomes pivotal for every business to instil digital marketing in their strategic marketing plan.
If you are wondering how to choose a digital marketing agency, here is the rundown of the ten factors that can help you choose your trusted digital partner-
1.

Transpire the full-fledged digital marketing agency
Try to inspect the digital marketing agency's authenticity from both external and internal sources. Digital marketing agencies offer services like Search Engine Optimisation (SEO), Social Media Marketing, Pay Per Click (PPC), email marketing, etc.
Shortlist an agency that can cater to all your digital marketing needs effectively so that ROI is high and the cost is low. It's better to partner with an agency that has all the expertise under one roof so that you can enjoy better results.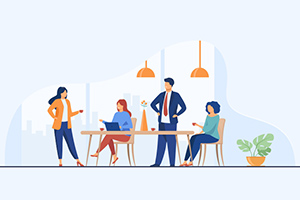 2.

Hover over to Specialisation and Expertise
Before hiring a digital marketing agency, look for an agency specialising in that domain or service you are looking for. An inexperienced firm can ruin the business demography and amplify the cost of service. For oral issues, dentists work better than general physicians. On such premises, specialised problems demand specialised digital marketing solutions.
3.

Plain-speaking or directness of speech
Some agencies follow the doctrine of giving late replies, rendering no information about the work progress and late deadlines. They lack direct response and are concerned about their clients.
So it is always preferable to do a SWOT dissection before fancying any agency. If it matches the philosophy and values of your organisation, then it is the right match for you.
4.

Apprehend their pricing policies
The moment you make a mistake in pricing, you end up eating your profits and reputation. The same goes while buying digital solutions for your business.
Chalk out which pricing policies expertly accommodate the financial framework of your business. As stated by the digital marketing agency, go through the pricing to ensure transparency and precision in work.
Timelines help know when a particular work will get executed. It states a sense of commitment and responsibility on the part of the agency towards their clients.
A well-crafted timeline of the plan can assist in a better understanding of the work. It helps in keeping both parties on the same page.
6.

Outsourced or In-house operation
Today, work outsourcing is a common phenomenon done by big companies. Sometimes outsourcing helps and vice versa. While hiring a digital marketing agency in Mumbai, try to know their work culture and how much work gets done externally.
While hiring digital marketing, be reasonable about the reviews too. Reviews are an important deciding factor for a few organisations to game the framework and devise counterfeit audits.
You can tap the commentator on many review platforms like Google and Facebook review and see what different scrutinies they have left. Do the surveys look genuine? Think about it.
Request for the execution plan of action that includes the type of digital tools used to accomplish the task. The list of accepted outcomes and their impact on the business dimension.
The digital marketing agency that follows this methodology impart quality work and assurance. It shows their ever-lasting dedication and good faith in the true sense.
Catalog their client base. It will help to get insights about the agency. Quality clients equal to the quality of the digital marketing agency.
Working with an organisation ought to be a relationship but rather, to a greater degree, an association, whereby the agency's objectives remain lined up with your objectives. For everything to fall into place, you both must be straightforward and open.
Before the final showdown, try to have a light talk with their digital marketing teams to observe the psychological qualities of how approachable and friendly they are towards their client.
Now you know how to choose a marketing agency that boosts your business operation and reaps maximum profit. Amura is one of the leading digital growth marketing agencies in India that offers expert solutions in marketing and MarTech. We at Amura, follow the data-driven marketing approach that focuses on the customer journey and results in long-term benefits for your business.
To get in touch,
email at vikram@amuratech.com.