Are you a doctor or any other medical professional who is struggling to ramp up the pace of your growth? If yes, then you are not alone.
The healthcare industry is only bound to grow as the years pass by. The year 2020 showed all of that even when all other businesses were at an all-time low, the healthcare sector will only go up! Although that is true for the industry as a whole, the same cannot be said for individual healthcare practitioners.
Unfortunately, many medical professionals face several roadblocks because, to grow, they need to do something out of their expertise and that is marketing. Even those who saw a speedy growth at the beginning would eventually find themselves in a position where their growth rate has essentially plateaued.
Therefore, healthcare marketing is the only solution to maximise footfall in your clinic. But what is it?
What is Healthcare Marketing?
Most doctors spend mountains of money on newspaper ads, magazines and much more, but hardly see any result. Its is because marketing is a very intricate process. Just like surgery, marketing also involves lots of planning and impeccable accuracy when executing.
Healthcare marketing refers to all the planning and strategies executed by an agency, like Amura, to attract more patients by making them realise that you are the best at what you do.
Here are the top 5 healthcare marketing strategies that you should employ for a boost in revenue and visibility.
1.

Optimise Your Website For Leads
Most medical professionals simply get a website done and that's it. Are you one of them?
A website is the backbone of a clinic in the digital world. As a medical professional you should invest in optimising your websites so that they generate leads and improve conversion rates.
You can do this by first redesigning your website's user interface (UI) to be more targeted to your potential audience and by including compelling copies.
Then, you can add value to both the patients and the search engines by putting out blogs, and whitepapers which are other educational resources. This is useful because, with the easy access of doctors online, many people are letting go of referrals from family and friends and doing their own research online for finding a good doctor.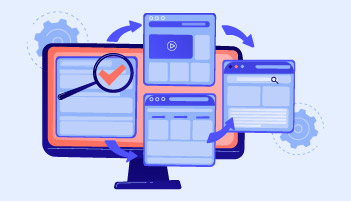 There is a stereotypical belief that healthcare is not fun and that social media is all about quirky things. The truth is that this is far from the truth.
Millions of people use social media every day. The potential to reach your intended audience is massive on platforms like Facebook, Instagram, YouTube and LinkedIn. So, how can a healthcare institute or a clinic leverage social media?
The answer is simple – create engaging content! Most hospitals and clinics lack the creative ability to know what kind of content should be posted on social media. As a result, they simply end up posting self-centred posts about themselves and their clinic, which add little to no value to the audience and drive them away.
Your social media strategy should include posting creatives that are audience-centric and provide valuable information to the followers.

3.

Create Campaigns Online
Rather than spending loads of money on offline advertising like newspapers and billboards, it is wiser and more efficient to spend money on online advertising on Google Ads, Facebook Ads, and more. That is because online advertising helps you filter out your audience based on demographics and interests. Thus, you can expect more relevant people to be exposed to your advertisement than ever before.
4.

Video Content Marketing
Videos are becoming an increasingly preferred way of consuming content for the masses. From the short 15-second videos on Instagram Reels to long tutorial videos on YouTube, video is dominating and dictating how content is consumed.
As a medical practitioner, you can create several types of videos such as:
How-to videos
Infotainment videos
Educational videos
You can also convert these videos into blogs to add SEO value on your website!
Email marketing is severely underrated in the healthcare sector. Patients expect empathy and care from their doctors. But how can you stay connected once their consultation is done without hindering your schedule? Email marketing is the answer.
Email marketing will help you connect and engage with your patients even after the consultation. Gradually, you will build strong bonds with them and they will come back to you.
Conclusion
Employ these 5 healthcare marketing strategies in your healthcare business and witness the growth yourself. You will be able to build rapport with your old patients and attract new ones very soon.
Contact us today if you want more help with healthcare marketing and attracting patients.