Most businesses struggle with targeting customers and making revenue at nascent stages. Factors like finances, the entrepreneurial prowess, and scaling speed define the rate at which they attain success. Marketing is another major factor that contributes to business success.
Does your business use the right marketing mix to create brand awareness and loyalty? Citing intense competition in the markets, businesses pour in a considerable amount of time and dollars on marketing efforts to capture their target market. With many marketing channels and strategies like growth marketing, growth hacking, and digital marketing, they find themselves confused while choosing the right marketing strategy. Knowing that an average target buyer is constantly bombarded with marketing messages daily, businesses need well thought out marketing strategies to scale their growth and operations.
There is always a tiff between the start-up's way of doing things against traditional project management of established businesses in the business world. In other words, its growth in marketing vs. digital marketing.
What is Growth Marketing?
Growth marketing is an all-encompassing marketing strategy that aims to acquire and retain customers by targeting all the stages involved in the buyer's journey through different marketing channels. The marketing strategy caters to unique wants, pain points, and questions of a user with creative and data-driven tools.
As a process, growth marketing ensues a complete reevaluation of how businesses access, convert potential customer base and retain existing ones.
Growth marketers focus entirely on business growth and apply out-of-the-box approaches to find novel ways to scale companies quickly. They use rapid recalculations for testing new buyer journey theories.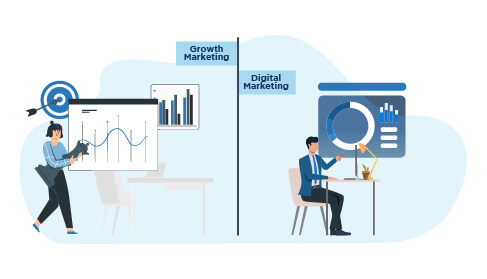 What is Digital Marketing?
Digital marketing involves marketing through digital channels like mobile devices and social media. The digital marketing strategy involves building relationship-building between brands and customers to boost conversions shortly. It consists of targeting and capturing new customers through improved brand awareness. Digital marketers focus on relevant content creation, search engine optimization, and multi-channel engagement to help businesses achieve their marketing goals.
Digital marketing expands the outreach of the products and services and creates a market for them. It primarily caters to the first stage of a sales funnel, often known as the awareness stage.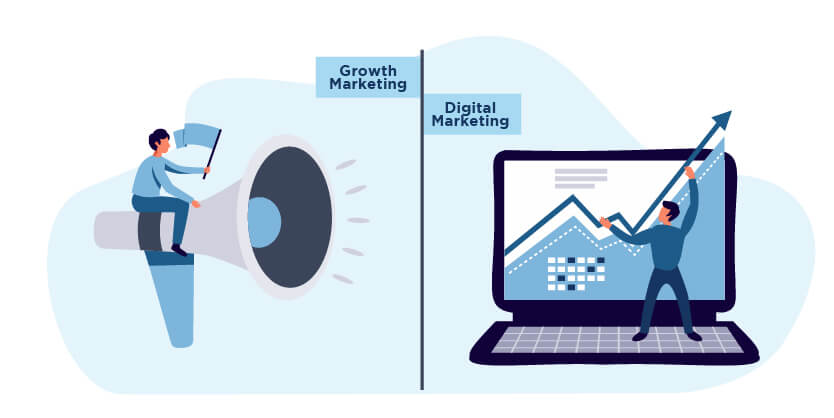 Similarities between Growth Marketing and Digital Marketing
Before we compare growth marketing vs. digital marketing, it's important to note that both areas of marketing have vivid similarities. Inarguably, both growth marketing and digital marketing are valuable tools for businesses because both ensure short-term and long-term approaches to client relationships and overall success.
Also read: How is Growth Marketing Different from Traditional Marketing?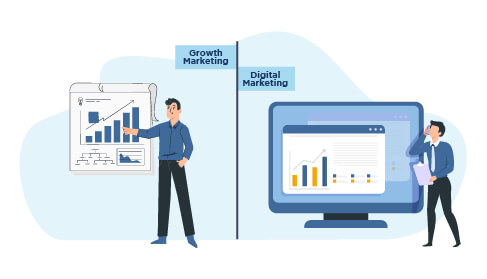 Growth Marketing Vs. Digital Marketing
In digital marketing, a business's focus is on capturing new customers, converting them, and engaging them effectively to boost retention rates for the company. However, growth marketing is also about how you can further use your existing customer base to drive referrals & additional revenues.

Comparing growth marketing vs. digital marketing, it's essential that digital marketing relies exclusively on digital channels for promotion. Say social media, emails, and search engines, growth marketing leverages a strategic mix of digital marketing channels, and traditional marketing approaches to retain business clients.

Traditional digital marketing features strategies that burn through a predetermined budget. For example, they involve Google Adwords and display campaigns with consistent basic ad copy. Digital marketing strategies can successfully spike online traffic and drive business to the top of the sales funnel.
By boosting the rates of awareness and user acquisition, it's not always full-proof. Growth marketing, on the other hand, ranges beyond the top of the funnel. It emphasizes the entire funnel. It can attract users, engage them, retain them, and even turn them into champions for a particular brand.

While doing growth marketing vs. digital marketing comparisons, it's important to note that growth marketing is highly data-driven when shaping strategies for the future. Growth marketers try experimenting with marketing techniques, may fail at times, and figure out what works with hit and trial.
At Amura Marketing Technologies, we truly breathe & talk the language of growth marketing with an added flavor of the required digital marketing tools & technologies. To know more about how we can help you leverage the same for your business, feel free to get in touch with us at vikram@amuratech.com