In the face of a recession, businesses often struggle to maintain their growth and stay afloat. With consumers cutting back on spending, companies need to implement effective marketing strategies to attract and retain customers. This is where growth marketing comes into play. By focusing on acquiring and retaining customers, growth marketing can help businesses survive and thrive during tough economic times. This blog will discuss some effective growth marketing strategies businesses can use during a recession.
The Importance of Growth Marketing in 2023
In today's digital age, businesses need to constantly innovate and adapt to stay ahead of the competition. Growth marketing strategies focus on driving measurable growth in all aspects of a business, from customer acquisition and engagement to revenue and profitability. These strategies often leverage data analytics, social media marketing, and other digital marketing tools to identify growth opportunities and optimize marketing campaigns.
During a recession, businesses may be tempted to cut back on their marketing budget, but this can be counterproductive in the long run. Investing in growth marketing strategies during a recession can help businesses stand out from their competitors, reach new audiences, and build brand loyalty. By focusing on the metrics that matter most, such as customer acquisition cost, customer lifetime value, and return on investment, businesses can make data-driven decisions that lead to sustainable growth.
Creating a Customer-Centric Approach
To succeed in a recession, businesses must adopt a customer-centric approach. This means understanding their customers' needs, preferences, and pain points and tailoring their marketing efforts accordingly. By putting the customer at the centre of their marketing strategy, businesses can create a loyal customer base that will continue to support them even during tough economic times.
One effective way to create a customer-centric approach is to leverage data to gain insights into customer behaviour. By tracking and analyzing customer data, businesses can understand what drives customers' purchasing decisions, how they interact with their brands, and their pain points. This information can then be used to develop targeted marketing campaigns that resonate with customers and drive sales
Investing in Digital Marketing
With consumers spending more time online, digital marketing has become essential for businesses to reach customers. By leveraging social media, email marketing, pay-per-click advertising, and search engine optimization, businesses can create a strong online presence that drives traffic to their website and generates sales.
With consumers cutting back on spending, they are more likely to research products and services online before purchasing. With a strong online presence, businesses can be visible to potential customers and compete with other businesses in their industry.
Using Creative Marketing Campaigns
Businesses need to get creative with their marketing campaigns during a recession. Instead of relying on traditional marketing tactics, they should explore new and innovative ways to reach their target audience. This could include developing viral marketing campaigns, creating interactive content, or leveraging influencer marketing to reach a broader audience.
Using creative marketing campaigns, businesses can stand out from their competition and generate buzz around their brand. This can lead to increased brand awareness, customer loyalty, and sales.
Growth Marketing Tips to Thrive in Recession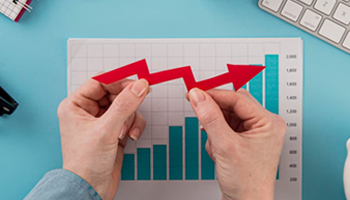 Emphasize Customer Retention: During a recession, acquiring new customers can be more difficult, so it's important to focus on retaining existing ones. Businesses can build long-term relationships and improve customer lifetime value by creating loyalty programs, offering personalized experiences, and providing exceptional customer service.

Optimize Social Media Marketing: Social media is an essential tool for reaching new audiences and building brand awareness. During a recession, businesses can leverage social media marketing to connect with their target audience, drive website traffic, and generate leads. Businesses can maximize their social media impact by creating engaging content, leveraging influencer marketing, and running targeted ads.

Invest in SEO: Search engine optimization (SEO) is a cost-effective way to drive traffic to your website and improve your search engine ranking. By optimizing your website for relevant keywords, creating high-quality content, and building backlinks, businesses can increase their visibility in search engine results pages and attract more organic traffic.

Offer Special Promotions: During a recession, customers may be more price-sensitive, so offering special promotions can effectively attract and retain new customers. By offering discounts, bundling products or services, and creating limited-time offers, businesses can incentivize customers to purchase.
Choosing the Right Growth Marketing Agency
While there are many marketing agencies, few are equipped to handle the unique marketing challenges during a recession. Amura Marketing Technologies is a growth marketing agency with a proven track record of helping businesses achieve their marketing goals and drive sales, even during difficult economic times.
With a team of experienced marketers skilled in developing and executing effective growth marketing strategies, Amura Marketing Technologies can help industries achieve their marketing goals and drive sales. They offer various services, including social media marketing, email marketing, pay-per-click advertising, search engine optimization, and more. With their expertise and experience, Amura Marketing Technologies can help businesses during a recession.
Takeaway
In conclusion, investing in growth marketing services and strategies during a recession can help businesses stay competitive and achieve sustainable growth. Choosing the right agency can also make a big difference. Amura Marketing Technologies is one of the best growth marketing agencies to help businesses navigate these challenging times. Learn more about Amura Marketing Technologies.