Technology has changed the way we think, and the B2B sector is no different. However, when it comes to growth market strategies for B2B companies, many such business owners make the mistake of treating their growth market strategies like it is still the late 1990's. Those B2B business owners must change this perception.
Below are some of the growth market tactics & strategies for B2B business owners:
AI and machine learning can prove to be useful growth marketing strategies for B2B brands to achieve their marketing goals.
AI can help businesses with challenges like high volume and high-quality lead generation. AI is a very important tool in collecting and analyzing a huge amount of customer data so a business can provide personalized offers and effective products.
Machine learning can lead to matching the leads for a business, and hence B2B businesses can distinguish between the inquirers and prospects who are ready to buy.
2.

Explore Methods Like Artificial Intelligence And Machine-Learning
3.

Social Media Marketing
Social media is a primary source of growth management strategies for a B2B business. Professional networking sites play an important role in the growth of such businesses, and more than 90% of B2B marketers use social media for content marketing.
4.

Consider Including Advanced Personalisation
More than half of the buyers want personalization from the business they deal with. B2B businesses should have personalization techniques such as Personalised Apps, Personalised Website, Personalised Email marketing, Personalised content, and Personalised offers. These techniques will make customers feel a greater connection with the company and hence generate high returns.
Every business needs research. B2B businesses should do all possible research from marketplace research to brand research, which would help them make informed decisions. By doing extensive research, businesses can get a more objective view of their marketing. They can know their clients better and hence they can serve them better.
7.

Testing And Optimisation:
A business is not only about research; it is also based on testing and optimization continuously and, finally, make decisions based on hard data.
8.

Analysis And Reporting
It is important to analyze the right metrics so that results can be measured effectively. Tools are required in place to collect accurate data, which may be from the business website to social media to SEO. An example is Google Analytics, which is an important tool for measuring and analyzing a business site's traffic.
Interesting: Growth Marketing Experiments: An Innovative Strategy for Better Growth
Analysis and testing can help businesses understand whether a technique is helping them.
9.

Client Review And Application
B2B marketing must be such that it is driven by data rather than anything else, as you are selling to business owners who are good number crunchers. Businesses would like to invest in an organization that has data-driven results. So, the best way to improve B2B business' digital marketing is through customer research and reviews. There should be strategies like feedback forms or including feedback through a feedback mechanism.
Successful B2B companies are increasingly launching their mobile-optimized website. Mobile apps are developed to provide a more enjoyable experience for users. One of the most popular technologies in mobile B2B marketing is text messaging, which many businesses use, such as cab services, electronic shops, etc. to inform clients about upcoming offers.
You might like: Growth Marketing Strategy for Businesses during COVID-19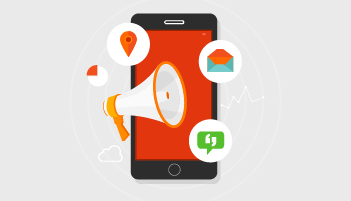 Using a Blog is one of the best growth management strategies for a B2B business. A blog is one of the best ways for a business to engage with its target audience. It is also the preferred channel for B2B businesses to communicate with potential customers. As per a Hubspot Study, " Businesses that have a blog have 55% more visitors to their websites."
There are many ways a blog can help a business as more indexed pages a business has, the more opportunities are there to be found by search engines, so there is more likelihood that it will appear when someone does related research. B2B companies that publish blogs have considerably higher traffic than those who do not indulge in blogging.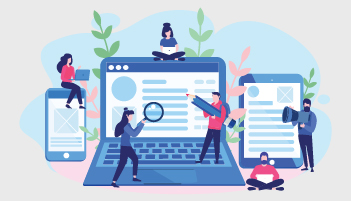 To remain competitive, a business must continuously assess marketing strategies and should find ways to improve. The online world is evolving at a high rate. Business owners should employ appropriate techniques so that their B2B business improves at an increasing rate.B2B business owners should understand B2B Businesses have to be run with a different strategy than B2C Businesses. A B2B business makes a profit or money by selling its product or service to another business, while B2C business sells to individual customers. Hence growth strategies would be different for both.
Amura is one of the leading growth marketing agencies in India, specializing in effective growth marketing strategies and ideas which cater to launching or growing businesses across industries. For your business growth related queries, get in touch with us at vikram@amuratech.com