Ever heard of digital marketing for the healthcare industry? Maybe; maybe not! Does it mean that your doctor will post pictures & videos of their patients on social media who may have made a remarkable recovery from some chronic ailment? Or is it about getting messages & emails as a reminder for your clinic trips? It can be both. Today, technology is ever-evolving; every day, new inventions happen. So, how can the healthcare industry be left untouched?
Let's have a quick look at how healthcare marketing has evolved. From hanging a signboard to using a digital marketing strategy for healthcare, we have come a long way.
Thousands of years ago, the clinical practitioners used to hang a signboard outside their houses or on their wagon, to let the local people know about them. Later came the typewriters & printing presses, which helped the doctors advertise in the newspapers, periodicals, or flyers. This era took healthcare marketing to a new level. With the beginning of the 20th century, radio broadcasting became a thing. Now, every medical practitioner got the advantage to broadcast personalized advertisements to reach their targeted audience. The invention of television pushed marketing to another level; people can not only hear the ads but also see them. It became easy to attract the right people with creative advertisements.
And, then finally, the internet era came and changed the game forever. Along with other industries, digital marketing in the healthcare industry became a revolution, and now everyone is focused on growing their online presence. The reason is simple—today, people use Google to solve their basic queries; seeing this as a great opportunity, every business is ready to adopt the digital marketing trends.
So, the question arises again—can the healthcare and medical industry be left untouched? To be successful online, everyone is focusing on digital marketing strategies for the healthcare industry. Let's see how a healthcare digital marketing agency is beneficial for organizations in this sector and some useful strategies.
To implement these strategies, it is essential to have a navigational & interactive website where you can introduce the services you provide and ways to contact you.
1.

Search Engine Optimization (SEO)
Search engine optimization, probably one of the common terms for a healthcare digital marketing agency, is one of the easiest and economic strategies. If you are well-versed with this technique, you can easily increase your online exposure. SEO is all about getting on top of the search results and driving traffic to your website, organically. But for this, the medical digital marketing specialist should have a thorough knowledge of keyword optimization, too.
2.

Social Media Marketing (SMM)
As an organization, if you are not present in any social media, you are missing out on a huge opportunity to connect with your targeted audience. SMM is considered one of the best promotional strategies, all you need is the understanding of your audience, the type of content to post (to create brand & health awareness), and the perfect keywords/hashtags. Just choose the right forum where your audience is present, and you are all set to march.
Pay-per-click (PPC) is a way to get traffic through paid ads. These ads are placed on top of the organic search results in search engines like Google. Each time a visitor clicks on your ad, you'll have to pay a certain amount. A good PPC campaign can be considered as a great start for your further digital marketing strategy for healthcare. Through these campaigns, you can measure your performance and analyze which approach is the best for you and work accordingly.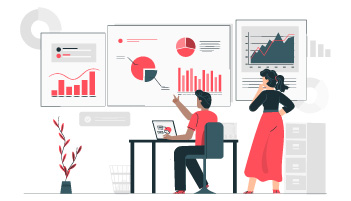 "Content is King." Heard it? Obviously yes. Today, content marketing is all about creating quality content for your users in blogs, infographics, e-books, and videos, providing value and solving their queries. As a healthcare brand, you can take full benefits of medical digital marketing, but how?
- By creating informative blogs
- By creating videos & infographics
- By posting testimonials
- By creating an FAQ section
So, these are some of the basic content marketing strategies through which you can increase your brand awareness.
5.

Excellent And Efficient Website
Having an excellent website for your brand will be like creating an excellent first impression. It's the responsiveness of your website that will decide whether someone will choose your services or not. So, be very sure about choosing the best healthcare digital marketing team for your website and post content that provides value to your consumers.
So, these were the top 5 digital marketing strategies that you can choose for your brand. Having Amura as your digital growth marketing partner can be a boon for your business. Get insightful healthcare digital marketing solutions for your healthcare company with the leading digital growth marketing agency. For any queries, contact us at vikram@amuratech.com.