When it comes to B2B advertising or advertising as a whole, there is no one-size-fits-all approach. Since each company has unique business goals, marketing priorities, and performance prerogatives, digital marketing agencies must synthesize their unique communication to persuade their customers. Advertising works differently for different brands. As per Insider Intelligence, in 2020, a whopping $22.14 billion was spent on business-to-business advertising in the US alone. While the advertising budget was hampered because of Covid-19, it's still massive, with businesses recovering from the pandemic hangover.
So, how can you choose the best-performing ad platform? Well, it turns out a lot goes into it. Over the years, demand-side platforms, channel-specific media vendors, paid media point solutions, and managed service providers have evolved and improvised significantly. Let's delve deeper into that.
1. Useful Considerations in Building a B2B Strategy

A. Understanding Your Business

More often than not, businesses fail to identify and analyse their business type. Hence, companies must ask fundamental questions to attain a clear business approach.

What is the type of your business?
Does your business provide online shopping?
Is it local or global?
Who is the target audience?

Furthermore, much like B2C brands, personalisation plays an important role. Naturally, you don't want your business to get lost in a large abyss of competing brands. Social media platforms can come in handy in creating your brand's personalisation. For instance, platforms like Twitter, Instagram, and Facebook make personalisation easy thanks to high visibility and quick connections.

B. Target Audience

Eventually, you're selling a product or service to someone. And after the audience has understood what your business is, you need to identify your target audience. You must analyse your current customers, their ages, genders, locations, and interests. Google Analytics is the best platform to help you with that. The course of action is to create an ideal customer profile interested in specific activities, products, and services.

Goal for Advertising Campaign

The selection of ad platforms directly correlates with your end goal of advertising. If you are targeting new people who might not be familiar with your product, then it is an awareness stage. That means you have to provide more and more information about your product or service in a detailed manner. On the contrary, if your brand is well-established, your goal should be to compel the audience to purchase your product, make an inquiry, schedule a call, or book a demo.

Now we have understood the key aspects of strategy, it is time to choose the best B2B advertising platforms. There are several platforms and different ad types to choose from, albeit not every platform would serve your business goals.
2. Choosing the Right Platform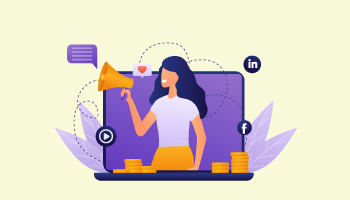 A. Google Ads

There are almost nine types of Google ads. From responsive to dynamic search ads, Google ads can help you achieve your business goals in many ways. And remember, Google is a search engine giant, with 93% of users worldwide using it. Moreover, Google ads work well when consumers actively look for your brand or product. Consumers who search on Google have a high level of purchase intent. They search either because they want to purchase now or in recent times.

Google Ads is a great choice for producing B2B leads since you can customise your campaigns to work for you, regardless of the amount of money you have available. While most advertising can be quite expensive, PPC is exactly what it says: you simply pay per click.

B. LinkedIn Ads

LinkedIn is a brilliant pick for B2B advertising. With over 590 million professional members, the platform is ideal for B2B organisations. If your company is one of those that provide goods or services, LinkedIn is the best option. The portal is visited by businesses, decision-makers, and professional services.

C. YouTube

One might not think, but YouTube offers plenty of opportunities for B2B companies to market their products and services. While it requires a different approach than B2C, companies can adopt a different approach to advertise better. Over the years, many companies have used YouTube to display their manufacturing processes, trade show participation, testimonials, and so on.

For instance, Salesforce, a cloud-based software company, used YouTube to focus on one of their particular clients, Barclays. The video portrayed Barclays' struggle, needs, solutions required, what worked and what didn't, etc. By emphasising so well what clients need, Salesforce displayed what they can do in a very powerful way.
Final Thoughts
Apart from the above-mentioned platforms, many B2B organisations have used Facebook and Twitter to market their business and achieve desired results. However, one thing is certain. While no magic bullet or single ad platform will work wonders for B2B companies, understanding the target audience and your business solutions can help you choose the best platform.
We at Amura Marketing Technologies have worked closely with B2B organisations, delivering them tech and data-driven solutions. As a leading B2B marketing agency, our analytical approach has helped B2B brands like Crelio Health, Novozymes, Alder Biochem, and many more achieve their marketing goals. Our full-funnel MarTech solutions, B2B marketing technologies, comprehensive strategies, and the right communication can help your business get desired results.