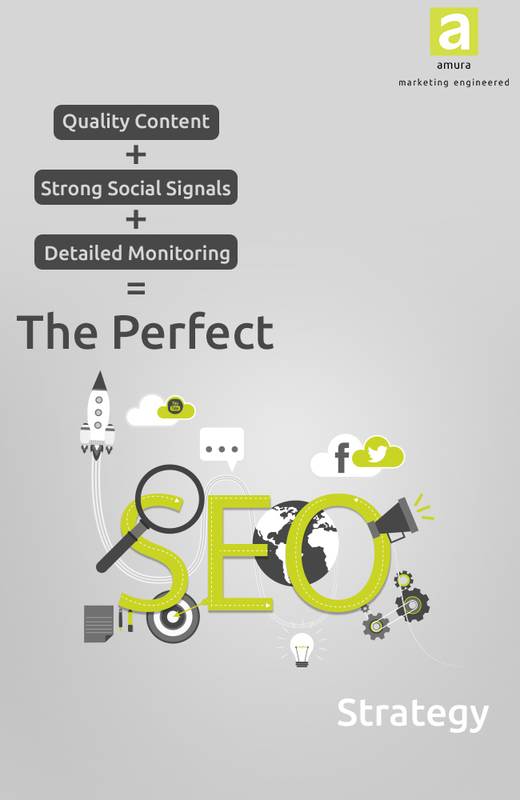 Search Engine Optimization (SEO) is the set of process employed for making your website accessible to search engines and making it more relevant than others in the fluctuating digital world. Up until now, SEO was all about page optimization, keyword stuffing, duplicate content development, etc., which has now become old school and is no longer effective for Google. Google's algorithmic updates in last 3-5 years (Panda, Penguin, Hummingbird) have redefined and reshaped the techniques carried under search optimization.
Until now, Content was meant for informing, Social for promoting and SEO was solely technical. However, SEO isn't technical anymore. The best way to get your website into the top ranks or in the index is to use a combination of content, social and SEO techniques.
A year ago, in January 2014, Matt Cutts, the Google head for search spam, answered a question about social signals as a ranking factor. He mentioned that Facebook and Twitter pages are treated just like any other indexed pages, ending his session by saying that in the future, he expects Google to be able to analyze who is writing content where and thereby place more importance on it. For the time being, however, Google has to crawl the web as it is.
According to a survey conducted by Searchmetrics, search engines are now also looking for social signals for website rankings.Thus, SEO, social media and content marketing come under the same umbrella. To make an effective search marketing strategy that works for your goals, it's important to know how the three segments can be combined and integrated.
Here's how you should incorporate these three segments for an ideal SEO strategy:
Content:
Content will continue to be king as far as SEO campaigns go. Write for people, not for search engines, publish quality content and develop engagement for the same on social platforms. You may be used to stuffing your pages/blog posts with keywords to optimize them. That's alright, but it is not the only focus anymore – the content has to be meaningful and focused on what matters to your viewers or users. As always, search engines are looking for content that is relevant and recent which can also be called conversational or semantic. Google's Hummingbird algorithm update factors semantic search heavily, so the best way to improve your ranking is to publish semantic content. In addition to this, don't forget to optimize your website with page relevant and semantic keywords!
Social Media:
A strong and active presence on one or more social networks serves to amplify your site's reach and visibility online. Social signals influence the organic search results through both, the number of shares as well as the relevance of the content. Make sure your business profiles are completely filled out on all social platforms and make sure they include organic keywords. The content you share on those platforms must be optimized too and also it should provide a backlink to your primary website. The more content you share, the better you look. One of your priorities should also be to maintain a well optimized Google+ page/profile, to help you to look better in Google. Search engines have started choosing social signals like tweets, likes, +1s, etc. as the natural way of getting links. Hence, they will rank your posts if they find it to be an informative source. Also keep in mind that sometimes, people simply use social channels like search engines to find what they are looking for.
Monitoring or Analytics:
Detailed monitoring is a must for any search strategy you make. You need to know where the traffic comes from, how you can track them and convert them into customers. Google analytics is the best and one of the major web hosting platforms which has inbuilt analytics and integrated features to monitor your traffic and website performance. There are also tools that will provide you with real-time search analytics for specific keywords across all major social platforms.
Lastly, SEO is not always about Google's algorithm updates, it has now evolved past that. Of course, the technical elements like optimizing the webpage for keywords, using the H1, metatags, title tags, SEO friendly URLs, etc., still matter when it comes to the ranking. However, promote fine quality work that delights your target audience, and the higher rankings and quality backlinks/traffic will come naturally.
By
Infographic : Dyaneshwar Maid