At Amura, what drives us towards our goals is our culture of innovation. This has helped us conceptualise & execute an array of award winning campaigns across all digital platforms. The same culture of innovation has also helped us give rise to a new epoch with Virtual Reality.
We are proud to introduce you to the first ever platform to enable virtual real estate sales.
For homebuyers, making the site visit was the traditional way of actually checking the property. However, for marketers, the biggest cost escalation when you run a campaign happens from lead to Site Visit.
Taking the user engagement to the next level
Imagine launching a Virtual site tour right from the comfort of your office, to any client in the world. At just the click of a button, you can bring your consumer into a more immersive world.
This is how we make it happen:
1. The VR sales staff - using a remote - can give an interactive demo of the whole site (actual or 3D) remotely without being present.
2. The sales staff can give a complete walkthrough of the site, talk to the customer and control the experience sitting at the office while the client is comfortably home.
3. Our software can integrate information pop-ups, floor plans, layouts, all into one software.
Make site visits more joyful
Virtual Reality will greatly supplement your overall site visit experience. Not only will it increase the number of site visits by delighting your audience but it will become a unique touchpoint for them.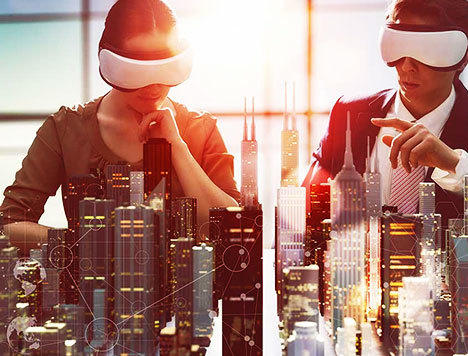 RERA Compliance
We'd like to highlight the fact that VR is created out of CAD software and it shows the real picture, thus making it RERA compliant.
Introducing Amura's VR partner Quark
Quark Experiences Pvt Ltd is one of India's leading data analytics-driven Virtual Reality (VR) companies. Quark provides engineering driven virtual reality experiences for its clients, thereby, using VR to create tangible value.
• Quark provides complete end-to-end solutions for VR and 360 content for real estate
• Platforms such as Oculus Rift, The Samsung Gear VR, Google Cardboard, Daydream VR, HTC Vive and much more are covered
• Quark also develops 360 apps for developers, which can be viewed without any headset
• Quark integrates existing sample flats on VR platform so audiences can visit your site right from their homes
• VR content can also be viewed on Facebook & YouTube
Be a part of this revolution!