The advertising ecosystem is changing day by day, and so is consumer psychology. Strategies that worked quite well earlier like mass marketing or push advertising are failing to keep up with the evolved consumer preferences.
Consumers today are researching online before buying any product, especially when they are presented with multiple options. Google provides the necessary research info while social media platforms offer recommendations from users, friends or family.
That's why inbound marketing is more important today than regular marketing. As a brand, you need to understand the level of awareness your customers possess and what you need to do to grab their attention.
What is Inbound Marketing?
Inbound marketing strategies involve creating practical value for your customers while differentiating yourself from your competition. It's about attracting the right consumers and creating a positive impact on them.
As opposed to outbound marketing, inbound marketing works more effectively as you're not forcing yourself to attract your prospect's business. Instead, you are trying to provide solutions to their problems by creating valuable content.
Effective inbound marketing strategies help in:
Attracting prospects
Creating trust
Building credibility
Improving sales
Growing consistently
How does Inbound Marketing work?
Inbound marketing helps your customers find you by developing an online presence for your company. The four main actions involve:
Attract Visitors
Convert Leads
Close Customers
Delight Buyers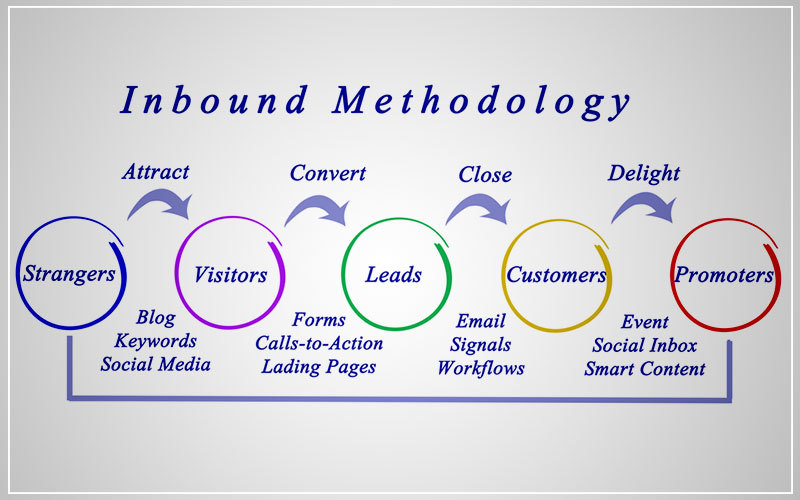 With a proper inbound marketing strategy in place, you can consistently deliver value at each stage of your consumers' journey.
Stage 1: Attract Visitors
By understanding who your potential buyers are, you can use inbound marketing tactics to serve them better. Targeted content not only educates your prospects but also provides them with the right solutions.
1. Start Blogging
Adding blogs to your website creates value and credibility for your customers. It helps attract your ideal audience. Data suggests that businesses that create regular blogs receive 77% more traffic to their website compared to those that do not.
2. Use Social Media
With more than 2 billion active social accounts globally, you have to be present where your prospects are. On average, these users are online 2-3 hours per day. This gives brands an incredible opportunity to tap into these newer channels in order to drive traffic and attract new customers.
Every social media platform will have specific strategies and can be used to target a specific audience. For example, when it comes to B2B marketing LinkedIn will be the more appropriate platform to attract new audiences.
3. Leverage SEO
As high as 93% of online experiences start with the search engine. That's why it's important to properly optimize your website and the content on it for search engines. Optimizing for keywords will help you increase your rankings and direct more traffic. For creating an SEO optimized, marketers need to develop a keyword optimization strategy and create content around it.
Stage 2: Convert Leads
After getting the targeted, interested people to your website, the next step is to convert them into leads. Get their contact information in exchange for offering them some form of valuable content.
4. Use Strong Calls-To-Actions
When you don't have any notable calls-to-action on your website, like 70% of businesses that don't, it becomes almost impossible to convert traffic into leads. By using the right call-to-actions, you can point visitors to where you want them redirected.
5. Develop Landing Pages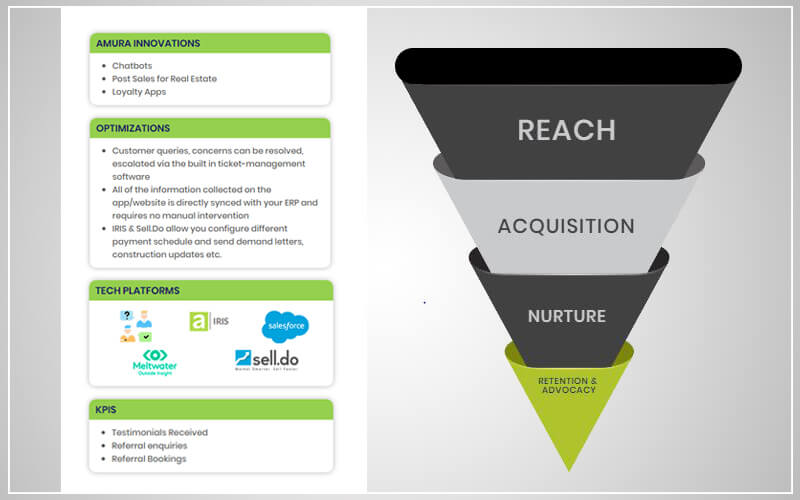 Did you know that 56% of all website clicks are directed to a landing page? Yes, the landing page and not your website homepage. The landing page should be focused on creating a seamless user experience and making it as interactive as possible. Highly interactive landing pages lead to increased conversions. By delivering premium content through your landing pages, converting visitors into actionable leads becomes easier.
Stage 3: Close Customers
The next step is to convert the new leads into prospects by nurturing and pushing them further down your marketing funnel. The whole idea is to get them closer to sales conversion.
6. Use a CRM System
A Customer Relationship Management (CRM) system helps businesses stay connected to customers, streamline processes and improve profitability. When used effectively to track and nurture leads, a CRM system can boost business revenue by 41% per salesperson.
7. Send Regular Emails
It's an accepted fact that email marketing is the most effective marketing channel. Drip marketing campaigns can get you an average return of almost 400% of your email marketing spends.
8. Set up Marketing Automation
Automating your entire lead nurturing process has many benefits. Not only does it eliminate the scope for errors, but the targeted messages can also help boost your company revenue by almost 10% or higher in just 6-9 months.
Stage 4: Delight Buyers
An effective inbound marketing strategy involves going beyond closing the sale. The ultimate step includes giving your customers a memorable experience even after they have bought your product.
9. Customer Support
With a strong customer support team in place, makes it's easier for your customers to address their queries. Data shows that 65% of buyers have opted out of repeat business because of poor customer service experience! Happy customers easily turn into brand ambassadors, spreading positive views about your company.
10. Collect Reviews & Testimonials
As mentioned earlier, consumers today look for reviews and testimonials online before deciding on buying a product or opting for a service. In fact, the percentage of people who rely on reviews is 70%. So, asking your existing customers for reviews will help create brand advocates, and in turn, result in new customers.
Inbound Marketing Strategy
This new era of marketing focuses on hyper-personalized communication. Formulating an effective inbound marketing strategy begins with effective planning. You can start by setting the right goals and also tracking your progress at every step.
Remember, all your efforts in generating traffic and converting them into leads/prospects will be useless if you don't nurture your leads effectively. It's the final piece of your strategy that helps complete the puzzle.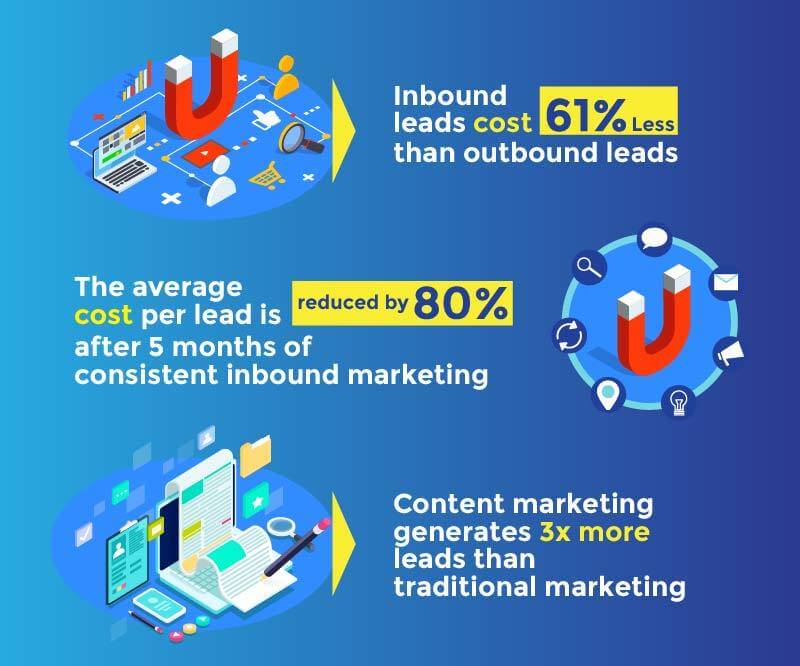 Start by answering the following questions:
Do you have a reliable benchmark to measure your efforts against, or are you aiming in the dark?
Do you measure the relevant metrics, or should you redirect your efforts in a new direction?
If you aren't entirely convinced on why you need an inbound marketing strategy, feel free to have a conversation with our team of digital marketing strategy experts. We've been using used the same inbound marketing techniques to market successful businesses for our clients here at Amura for the last decade.
Get in touch today!