Although traditionally used as a networking platform for professionals, LinkedIn offers a great platform for marketing and growing your business. By the first quarter of 2019, the social platform has more than 590 million users with around 44% monthly active users. It is estimated that 2 new users are added every second. With such a healthy user base of professionals and businesses, it makes sense to market and grow your business as well as improve your brand visibility through LinkedIn.
What B2B marketing on LinkedIn achieves
B2B marketing is different from B2C marketing because your target audience is businesses as opposed to customers. Marketing your business through LinkedIn has many benefits such as building targeted connections, generating higher-quality leads, reinforcing relationships with prospects and greatly improving your brand visibility.
By analyzing several successful B2B marketing examples on LinkedIn, here are some tactics to include in your marketing strategy to grow your business:
1. Leverage Targeted Content to Grow Your Presence
Unlike other social networking platforms, LinkedIn goes beyond the concept of just adding friends or followers and aids the formation of professional networks with members that work either alongside or within a specific industry.
By producing and sharing content that will appeal to your niche network, your connections will find them more relatable. This way they are far more likely to engage with and share the content with their connections. When viewed by people outside your immediate network, that shared content becomes more valuable in the sense that it is being consumed and shared organically by even total strangers. This will result in more reach and influence on LinkedIn, opening up avenues for newer connections and opportunities.
2. Create Emotional Bonds through Storytelling
In the world where an average consumer goes to billions of ads online every year, it is important to stand out and create that bond with your customers. Over the course of a day, the average person has to processes more than 100,000 words. The number might seem very high but compared to the galaxy of ads hovering online, it is a mere speck of dust. So naturally, you have to do something more through your ads to grab and retain attention.
Rather than trying to sell through every communication, use your profile or page to tell an engaging story about your brand. Move beyond texts and expand your content marketing strategy to include images, video, infographics and data to share stories that truly capture people's attention. This will help you stand out from the competition, capture more attention, qualified leads and opportunities when your prospects start comparison shopping.
3. Keep Up With the Industry Trends
LinkedIn is the No. 1 channel for B2B marketers, used to distribute content at 94%. LinkedIn makes up more than 50% of all social traffic to B2B websites & blogs. More than 90 percent of B2B marketers currently use LinkedIn to share and distribute content.
With so much content marketing taking place over this social platform, you can closely monitor the latest marketing strategies from your competitors or industry thought leaders. By being in the know-how of how they're using content, what have they been accomplishing, how engaging they have been, can help you identify trends and marketing opportunities to grow your brand and work on a new marketing strategy.
4. Increase Your Brand Visibility Organically
Brand pages and posts are indexed by search engines like Google. You can tremendously boost your organic search visibility by optimizing your company profile and posting regularly. Linking back your distributed content to your landing page will also lead to an increase in unique visitor traffic and relevant referral traffic when you.
Page administrators can view metrics and insights like the engagement level of posts, follower demographics, page traffic and activity on your company page. Many of these insights are also available for personal profiles, with advanced data metrics only available to premium users.
5. Grow Engagement with Groups
LinkedIn groups also provide quite a few benefits for marketers. You can engage with existing groups to gain new connections. You can even launch your own company group your company to improve visibility and authority in your industry.
Being active in relevant groups is actually a smart way to market your business on LinkedIn. Without directly promoting your products or services, you can achieve awareness among other players in the industry. Reply with answers, spark up debates and discussions, and use content marketing in groups to position yourself as a thought leader. That influence is carried over to your brand through the connections you make.
6. Transform Your Sales Team into Thought Leaders
If you have a sales team, encourage them to become content marketers. Through sharing of relevant content with prospects and customers, your sales team can greatly expand their personal influence and authority.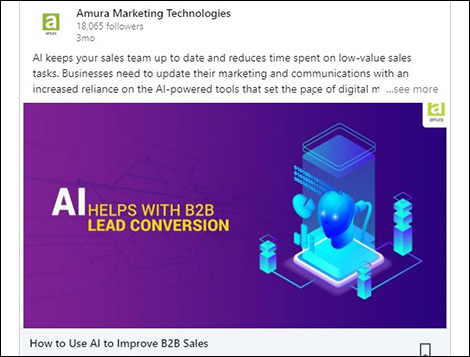 This way your prospects will feel that your sales team is genuinely helpful, further building more trust in both the individual and the organization. The window from lead acquisition to close will shrink.
7. Become More Human
Consumers are more likely to do business with your company if they can put a face to it and not just be another faceless brand. The best way to do that is to offer a glimpse into your company culture with some behind-the-scenes images and team photos. They not only add personality to your brand but also set you apart from the competition.
Make your employees the face of your brand and let them represent the human side of your marketing. These glimpses of helpful contributions to the community will help you maintain a positive perception around your brand.
8. Identify the Decision Makers
LinkedIn offers a lot of data. Use them which to find and engage the right audience. Whether you engage in organic content promotions or use the paid promotional tools for sponsoring content, LinkedIn gives you the best opportunity to reach the decision-makers in every campaign you run.
This will not only help you identify the concerned people who are the decision makers for their business but also communicate your proposition to them accordingly.
9. Populate Your Email List
Grow your email list by reaching out to your existing connections on LinkedIn. Leverage the trust you have built through direct engagement and regular content-sharing. Your followers would want to keep getting their hands on even more valuable content.
Reach out to your entire network and prompt them to join your email list so that they can receive updates when you publish new content. Directly asking your ardent followers can yield tremendous results.
Owing to the direct access to a huge pool of professionals and businesses, LinkedIn is a must for any savvy B2B marketer. Creating a LinkedIn marketing strategy is relatively easy if you stick to posting relevant, well-timed content, optimize your business profile and commit to building and nurturing a strong network.
Know more on how to leverage LinkedIn for your business and use our data-powered insights and solutions.