The writing's always been on the wall - lead generation is not as simple as it once was. In fact, a finding by HubSpot highlighted how nearly around 60% of marketers struggle with lead generation activities. And regardless of how complicated it may get; it continues to form the very backbone of all sales and marketing activities. After all, a healthy pipeline is a sign of a healthy organization, right?
The issue gets compounded when you carve a niche for yourself in an already saturated market - such as technology. While there isn't much that companies can do about the intense competition, a little planning can help them overcome the lead generation issue. The following are some effective strategies for giving your B2B technology lead generation efforts a much-needed uplift.
1.

Build an Engaging Website
In this digital age, it would be criminal to miss an opportunity to double your website as a B2B lead generation platform for technology companies. However, directing traffic to your website is just half the battle won. The struggle lies in keeping the visitors hooked to the point that they willingly share information with you.
Make user experience a priority while optimizing your web pages. For starters, ensure that the website is highly responsive, loads quickly, and is compatible across multiple devices. At the same time, design the landing pages to be hyperfocused on dedicated campaigns and collect lead information accordingly. And while it is ideal to capture as much information as possible, know that overwhelming the visitor with a barrage of empty fields will only dissuade them from signing up. As such, collect only what is necessary for the initial stages and set aside the rest for the lead nurturing stage.

2.

Up Your Social Media Game
Since we are already on the topic of polishing your online presence, it is worth mentioning how you can leverage social media to your advantage.
Traditionally thought of as a B2C-leaning channel, social media offers untapped potential for B2B marketing. The reason for this is simple - regardless of the market segment, your customers are human, and as such, the engagement and interactions that they expect would also be human.
So, use it to establish deeper connections and engage with leads. You can use social media to establish your brand as an industrial frontrunner through thought leadership articles or earn credibility via social sharing.
LinkedIn is a great place to get started on this journey as nearly 85% of B2B buyers use it to discover products and solutions that meet their requirements.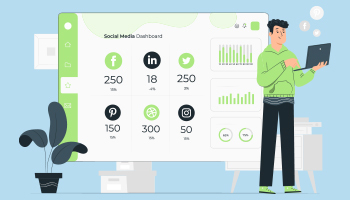 Having a website and sprucing up your social media are just the stepping stones to dominating the online B2B sphere. But merely existing will not make the cut - you need to make your presence felt. And to get your B2B tech business "out there," you will have to run an effective content marketing campaign.
Content marketing is proven to deliver stellar results for B2B lead generation for technology companies. It can help generate 3x more leads with a 6x increase in conversion rates. Plus, they can fetch you a bunch of added benefits. Blogging, for example, can help you rank on the SERPs, convert traffic into leads, and transform customers into advocates. Plus, you can repurpose content in the long run by changing formats or updating facts followed by remarketing it to align with the changing market trends and conditions.

4.

Host or Sponsor Events
Events are a great excuse for capturing lead information. One may think that the pandemic may have left a massive dent in this area; however, it would be far from the truth. On the contrary, the tech industry, in particular, has been extremely successful in pivoting the "new normal" as an opportunity to hop abroad the medium of online events and webinars.
Apart from the obvious of offering value to the participants, these virtual events are an excellent opportunity for businesses to interact with each other. And rather than being just a face in the crowd, you can take B2B marketing to new heights by actually hosting or sponsoring these events. It will grant you visibility, establish your expertise in the domain, and not even cost a bomb! Plus, you can transform a one-off event into a recurring one or a series that can earn you a steady stream of nearly qualified leads. Talk about a win-win in B2B technology lead generation!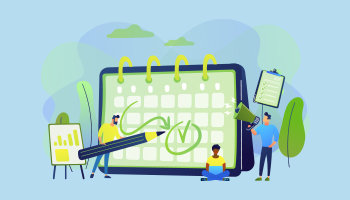 Referrals occupy the lion's share of 65% of total B2B leads, so why should you let the opportunity go?
Your existing customers may be aware of others looking for solutions such as the ones you present. And in most cases, their word-of-mouth referral will have a greater influence and bearing than even the best-orchestrated campaigns by a B2B digital marketing agency! Hence, harness it to collect more leads and offer rewards using an attractive referral program. Plan the incentives so that it motivates and justifies the efforts that go into actualizing the referral. And if necessary, build a dedicated page outlining this referral program to maintain transparency.
Needless to say, but for a customer to refer to your offerings, they must be satisfied with it in the first place. As such, make your customers feel heard and work relentlessly to improve your product or service.
6.

Automate, Automate, Automate
Lead generation entails a systematic approach to a flurry of inter-related and inter-dependent activities. And manually keeping track of all developments and responding to triggers would prove to be inefficient. In this aspect, automation can prove to be an instrumental piece of technology that allows your teams to operate like a well-oiled machine. Thanks to automation, whether you are responding to emails or following up on hot leads, you will never miss a beat!
Closing Thoughts
Taking charge of your B2B business' lead generation activities can be overwhelming. Plus, it can distract you from the core competencies of the company and undo all your efforts. On the other hand, outsourcing lead generation improves results by around 40%.
And so, finding a compatible marketing partner is the way to go.
Luckily, to put an end to this quest, you have Amura - a leading B2B digital marketing agency to supercharge your business. With our expertise in digital marketing combined with our experimental approach, we help companies hack their way to the top. From invigorating the sales funnel to transforming the end-to-end marketing cycle - our data-driven efforts deliver results.