Digital growth marketing is a constantly evolving landscape, and businesses are always looking for new ways to stay ahead of the competition. Artificial Intelligence (AI) is the new buzzword in the world of digital marketing and for good reason. With AI-powered tools, businesses can optimise their strategies, enhance customer engagement, and drive conversions.
AI-based Tools for Digital Marketing
You are a digital marketer working for an e-commerce brand, and you want to increase your sales. You have tried different strategies like email marketing, social media ads, and influencer collaborations, but you are not seeing the results you hoped for. This is where AI-based tools come in. AI in digital marketing can be a game changer. By using various available AI tools for content creation, social media strategy and management, SEO activities, paid media campaigns, and analytics and monitoring activities, you can take your marketing efforts to the next level.
But wait, what exactly are these tools, and how can they help you achieve your marketing goals? Let's dive in and find out!
ChatGPT: The first thing that comes to mind when you hear AI
Today, when anyone says AI, the first thing that might come to mind is ChatGPT. And rightly so, as it is one of the most popular products of AI in recent times. But did you know? Apart from ChatGPT, there is a wide range of AI tools available that can actually be used to enhance your digital growth marketing efforts. But before seeing which are these tools, let's understand what AI marketing tools actually are.
What are AI marketing tools?
AI marketing tools are software applications that use artificial intelligence to automate and optimise marketing tasks. These tools can help curate content, aid in the design creation process, analyse large amounts of data, identify patterns and trends, and make predictions based on customer behaviour. For example, an AI marketing tool can analyse customer data to create personalised product recommendations, optimise email marketing campaigns, and improve website user experience, among other things.
Broadly, some popular AI marketing tools include chatbots, which provide instant customer support and help businesses handle large volumes of inquiries; recommendation engines, which use customer data to suggest products or services; and sentiment analysis tools, which analyse customer feedback to identify areas for improvement. By using these AI tools for digital marketing, businesses can improve their marketing ROI, enhance customer engagement, and gain a competitive edge in their industry. Now let's take a look at our comprehensive Artificial Intelligence tools list based on their use cases.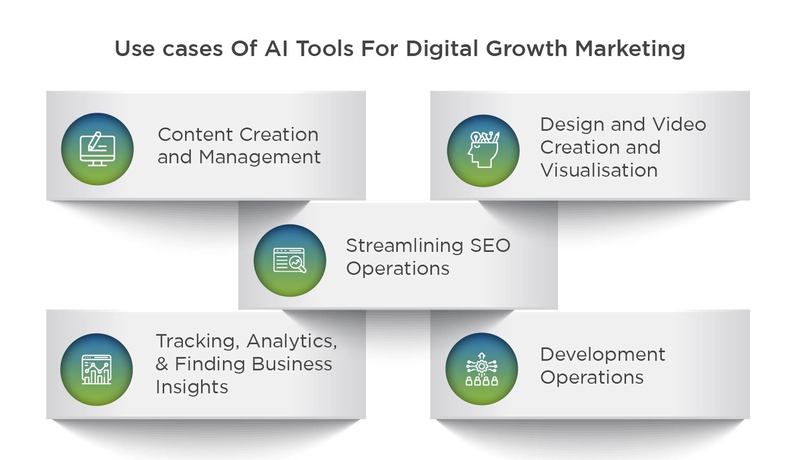 AI Tools for Design
Creatopy:-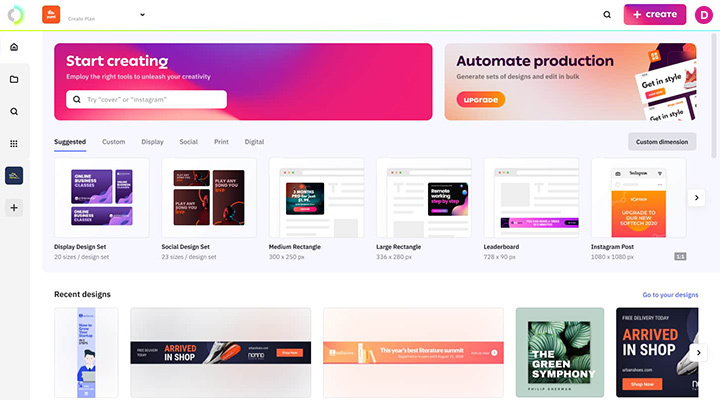 Creatopy is an ad design automation platform that allows businesses to create professional-quality graphics and designs and curate custom ads for various industries. This tool is designed to help businesses save time and effort by automating the design process. With its extensive collection of templates and design options, it allows businesses to automate and scale up their ad production and delivery process.
Creatopy's ad creator is easy to use, providing customisation options for motion, creative elements, HTML5 animation, and workflows. This enables businesses to create ads of different sizes and types. The tool streamlines the ad design process, making it efficient and effective in engaging target audiences. Creatopy also offers collaboration features that enable multiple team members to work on a design project simultaneously, ensuring seamless communication and coordination.
Pictory:-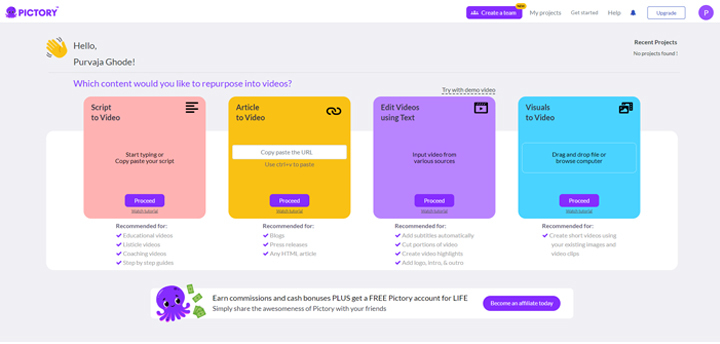 Pictory is an AI video generator tool that allows easy creation and editing of high-quality videos. The tool does not require any prior experience in video editing or design. You can create a video by providing a script or article and use it for social media or website engagement. Pictory works on any computer, and you can edit videos using text, making it ideal for editing webinars, podcasts, and Zoom recordings. The tool provides professional results in just a few minutes and allows automatic captioning and summarisation of videos. Pictory is a great tool for creating shareable video highlight reels, which is perfect for trailers or sharing short clips on social media.
AI Tools for Content
Jasper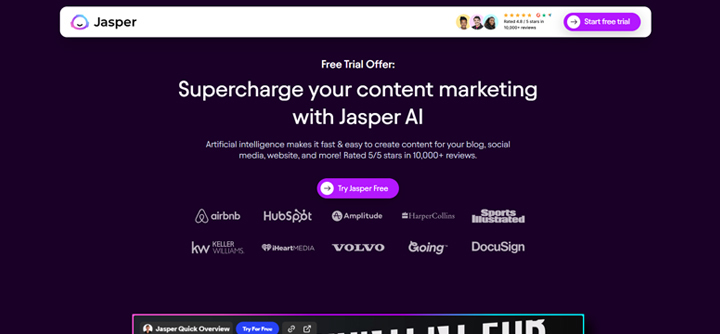 Jasper is one of the best AI tools that can be used to automate your content marketing strategy. This advanced tool, previously known as Conversion.ai, is capable of generating high-quality ad copy, emails, landing pages, articles, and social media posts that sound human-written.
Jasper uses OpenAI's GPT3-model and comes equipped with built-in templates like AIDA, Feature to Benefit, PAS, and Before-After-Bridge Framework. With Jasper, adding your brand name or product is all you need to do to generate high-quality copy. E-commerce shops can also benefit from Jasper as it is capable of generating product descriptions, Amazon product bullet points, titles, and meta descriptions in just one click.
Grammarly:-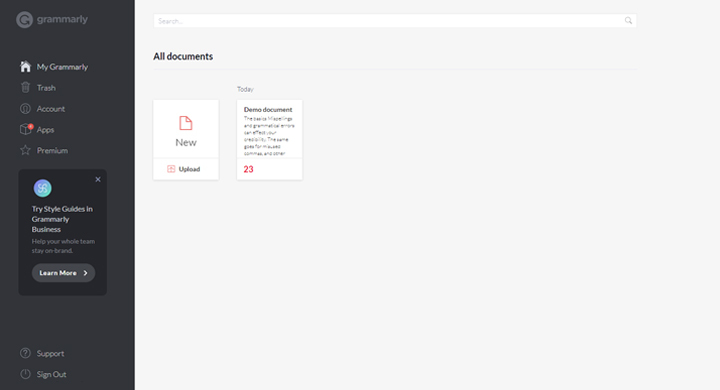 Grammarly is an AI-powered writing tool that can be a valuable asset in digital marketing . It can help marketers improve the quality of their content by ensuring that it is grammatically correct, free of spelling errors, and easy to read. The tool can also help optimise content by suggesting better words or phrases to improve readability and follow the best writing practices.ions partner. Before selecting a partner, consider the level of support and communication you require.
Additionally, Grammarly also has plagiarism-detection capabilities that can help marketers ensure that their content is original and not copied from other sources. This feature can be extremely useful in digital marketing, where creating unique and engaging content is essential for standing out from competitors. Finally, it can streamline communication by ensuring that emails, blog comments, and other communications are clear, concise, and professional.
Quillbot:-
QuillBot is an AI-powered paraphrasing tool that can be a valuable asset for digital marketers. It can help create unique and engaging content by providing multiple variations of the same sentence or paragraph, improving SEO rankings, and saving time by automating the paraphrasing process. With QuillBot, digital marketers can ensure that their content is not flagged as duplicate by search engines, and they can generate unique versions of product descriptions, social media posts, or any other type of content. Overall, QuillBot is a powerful tool that can help digital marketers create high-quality content and streamline their content creation process.
AI Tools for Development
GitHub Copilot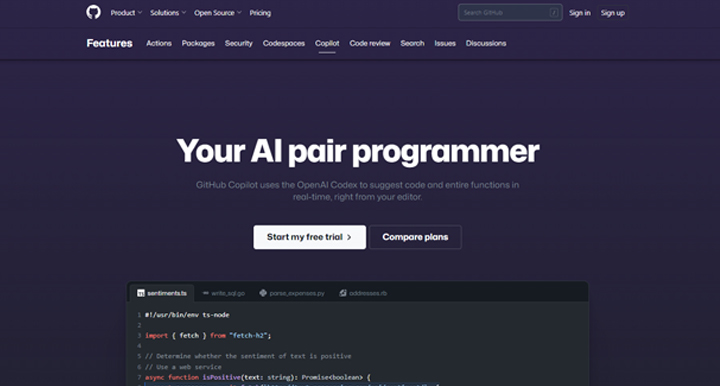 GitHub Copilot is an AI-powered code completion tool that can be an invaluable asset for developers. It uses machine learning models trained on vast amounts of code from open-source repositories to suggest lines of code that match the developer's intent, helping to write code more efficiently and accurately. With Copilot, developers can generate code snippets, debug their code, and learn new programming languages and frameworks. This can save time, reduce errors, and help developers become more proficient in their craft. Overall, GitHub Copilot is a powerful tool that can help streamline the coding process and improve the productivity of developers.
AI Tools for SEO
Alli AI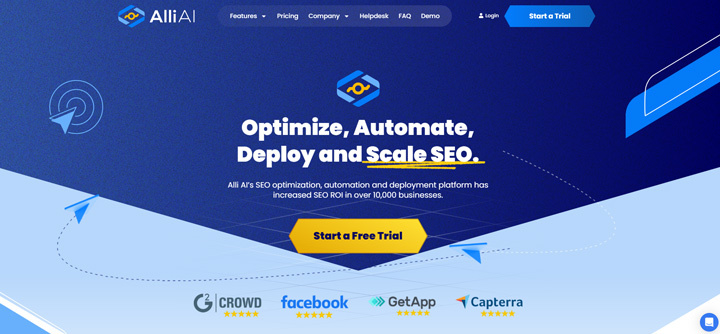 Alli AI is an SEO platform that's created with the aim to optimise, automate, deploy, and scale SEO strategies for businesses. Using Alli AI, businesses can improve their SEO ROI through a variety of features. The platform includes an SEO audit tool that can identify areas for improvement and optimisation in a business's SEO strategy. The platform can also automatically optimise website content and metadata, generate new content ideas, and analyse competitor data to inform SEO strategies. Additionally, Alli AI includes a dashboard for tracking SEO performance metrics and can integrate with other SEO tools for more comprehensive analysis and reporting.
Pro Rank Tracker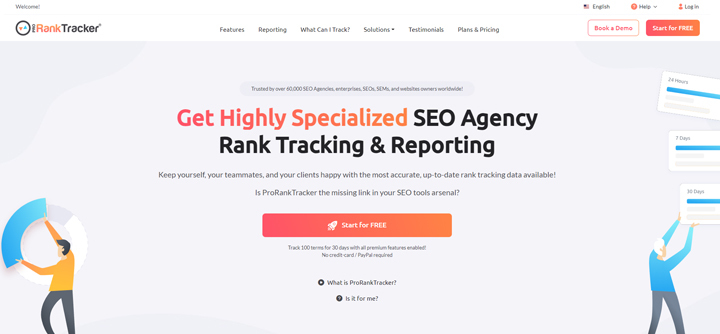 Pro Rank Tracker is an essential SEO tool that provides real-time tracking of your website's ranking, allowing you to quickly identify your current position in search results. Unlike manual searches, it eliminates the risk of personalised and localized results that can lead to a false impression. With its powerful tools, you can get reliable rank tracking from anywhere using any device. Its rankings analysis feature provides online views, data visualisations, and charts that enable fast analysis of ranking progress, allowing you to make informed decisions based on insights. Additionally, it offers the ability to automatically generate and send customised, white-label reports, making it easy to share data with potential investors, clients, or internal team members.
Analytics Tools:
Tableau
Tableau is a user-friendly data visualisation and analytics platform that does not require coding knowledge. It allows users to create and share reports across desktop and mobile platforms. With the support of VizQL query language, Tableau translates drag-and-drop dashboard and visualisation components into back-end queries, and little end-user performance optimisation is needed. It is cloud-based or on-premise, and supports complex computations, data blending, and dashboarding, and quickly creates interactive visualisations. Tableau is easy to implement and can handle large amounts of data.
Microsoft Power BI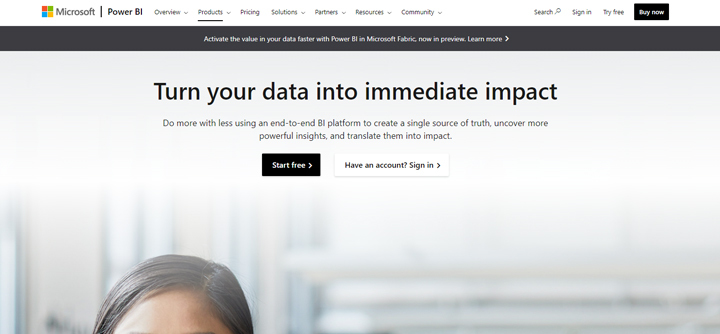 Microsoft Power BI is a business intelligence platform that allows users to import data from almost any source and build reports and dashboards. The tool supports machine learning models and AI-powered features for data analysis. It integrates well with existing Microsoft applications, making it easy for businesses to adopt. With Power BI, users can create personalised dashboards, publish secure reports, and work without memory and speed constraints.
Final thoughts:
In conclusion, digital growth marketing can greatly benefit from the use of Artificial Intelligence tools. These tools can help streamline processes, analyse data, and improve overall performance. By utilising these AI tools, businesses can stay ahead of the curve. And to further enhance your marketing efforts and remain competitive in an ever-evolving digital landscape, you can partner with a leading digital marketing agency like Amura Marketing Technologies.
At Amura, through our data-driven MarTech solutions and cutting-edge tech stack, we ensure that your brand gets a digital edge with growth marketing . With over 15 years of experience, an on-time delivery record, extensive market understanding, agile processes, and a team of 150+ digital marketing experts, we can be your ideal digital transformation partners. Ready to leverage the MarTech power for upscaling your business online? Get in touch with us today!