There are a plethora of ad formats within the realm of Google Adwords and the Google Display Network - some well-worn, some in beta stage.
In this digital age where every brand wants to capture maximum leads and brand awareness on the internet, it is imperative that digital advertisers are aware of which formats will work best for which platform and yield optimum results.
Here's a list of the best Google Ad formats that every advertiser and brand should know about:
EXPANDED TEXT ADS
Google went live with Expanded Text Ads in July this year. This new ad format serves as a new and improved version of the older Standard Text Ads, which has been in existence for the last 15 years.
Expanded Text Ads offered almost 50% more space, which allows copywriters to incorporate more creative elements and information, which gives them more room to include as many USPs of products and services as possible.
Since the ad format is contemporary, the ads are designed to ensure they enjoy maximum presence and optimum performance on the mobile platform.
Desktop:

Mobile:




Google even plans to discontinue use of Standard Text Ads from 31st January 2017.
Benefits:
• Ads are more creative, free flowing and informative.
• Google claims that it boosts CTR by 20%.
• Optimized and designed for mobile.
• Additional line over existing text ads on mobile.

BANNER ADS
Banner ads or image ads are part of the larger Google Display Network. They are one of the most effective ad formats for attracting potential customers. Their primary objectives are generating brand awareness and visibility.
They are also passive and use various targeting tools, in the sense that they will appear on the websites, forums, YouTube videos, and third-party websites, which a user is browsing in order to obtain details about the product or service he is seeking.
Sample ad: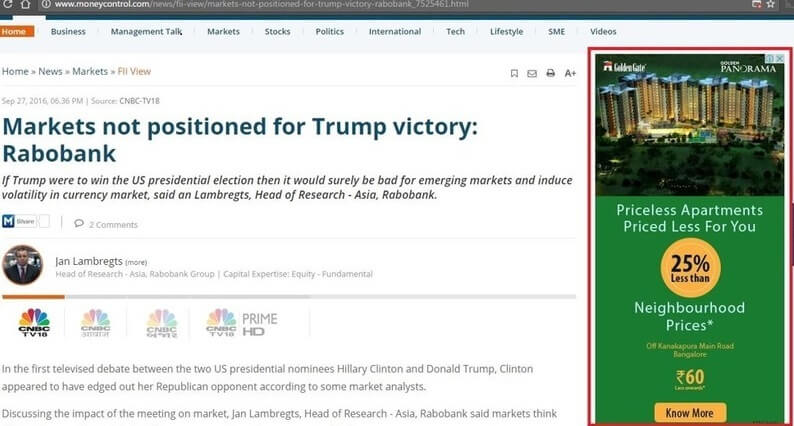 For e.g – If you do a Google search for the "best restaurants in Pune", and thereafter, you visit a food website that appears as one of the search results, Google will project the particular brand's Display ad inside that particular website.
For better targeting of customers, you can also choose the category your ad fits into – sports, entertainment, F&B, etc.
Benefits:
• Substantial surge in brand awareness. As per Google, ads penetrate through over two million websites and reach over 90% of internet users.
• Easier to acquire more leads. A significantly higher potential for designing creative and interactive ads over traditional Text ads means more chances of impressing users.
• Better understanding of people who show interest in your product or service.
• Banner ads assist in attracting a potential buyer earlier in the buying cycle.

GMAIL ADS
Whenever you sign into your Gmail account, you might come across one or two ads placed at the very top of your inbox. These are Gmail ads which are interactive and in a collapsed form. If you click on it, it will expand, opening in your inbox exactly how an email would.
Sample ad: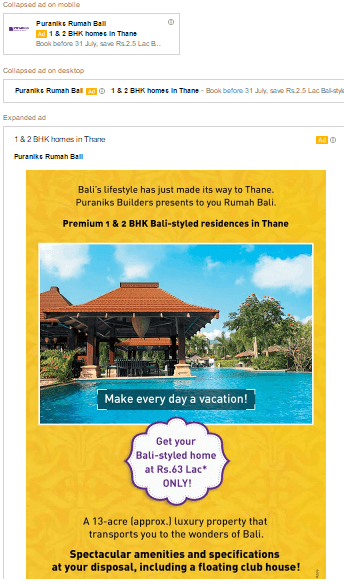 The expanded ads can effectively and creatively pitch your product or service with a lot of freedom.
With Gmail ads, you also have the option of engaging with the ad – filling out a form, playing a video, clicking on the CTA button, etc. making it ideal for direct response campaigns.
How it works:

Google uses Customer Match, which discretely examines a user's inbox, monitors his activity, studies his email content, and ascertains what his preferences are, primarily by extrapolating from the keywords that the user enters. It will also identify a user's preferences based on historical data - the kind of emails he is receiving and sending.
Using this information, Google will start pushing ads to cater to the user's choices.
Benefits:
• Connect with your target audience on a personal level.
• Obtain a massive reach due to the global penetration of Gmail.
• It is cost effective. One major financial advantage by using Gmail ads is that the cost-per-click (CPC) is significantly lower than other ad formats.

LIGHTBOX ADS
Lightbox ads are a subset of the Google Display Network. Lightbox ads carry expandable and rich media ads with a sole purpose of impressing and capturing potential leads.
The most beneficial quality about this ad format is that it is available in standard Interactive Advertising Bureau (IAB) sizes, which means the ads are automatically adapted to fit ad spaces across various platforms.
Sample ad:
Step 1 -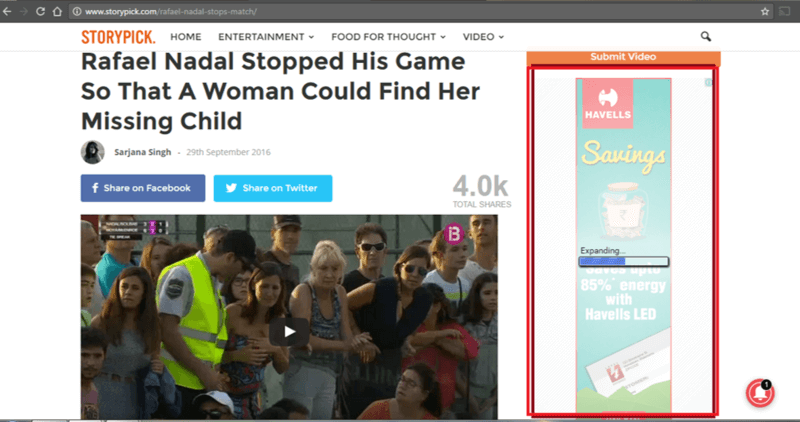 Step 2 -Once someone clicks on the ad, the video pops up: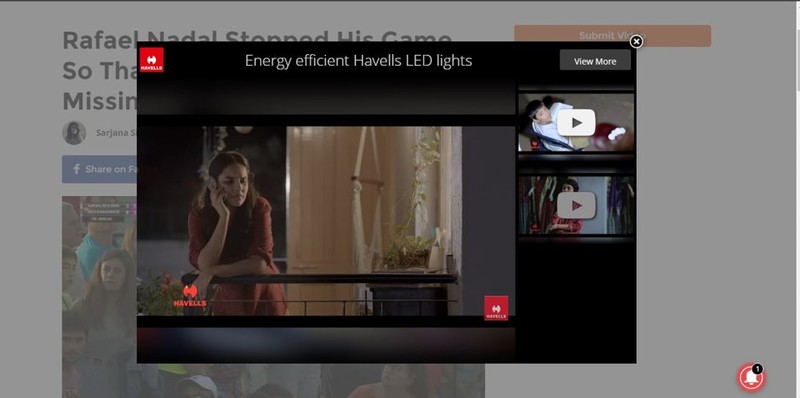 Lightbox ads have the capability to expand an ad to fill up the entire screen or display a set of images which people can tap through, or carry videos.
A brilliant aspect about Lightbox ads is that they get activated only if people hover their cursor over the ad for two seconds (in the case of computers) or tap on the ad (in the case of mobile), which means you can bank on the intent of the lead.
Benefits:
• Advertisers need only pay if people engage with the ad.
• Increase your engagement rate by almost 2%.
• Create more impressive ads and increase chances of acquiring leads.
• Widen your audience reach as automatic resizing is compatible with various platforms.
CLICK-TO-MESSAGE ADS
Marketers over the years have milked the SMS and other mobile messaging services for deriving optimum results. And naturally so, as text messaging is, hands down, one of the most preferred mediums to communicate in this day and age.
To leverage on this preference, Google has come up with an innovation in advertising and media - click-to-message ads, a mobile-only extension, that'll be incorporated into search ads to improve their efficiency.
Sample ad: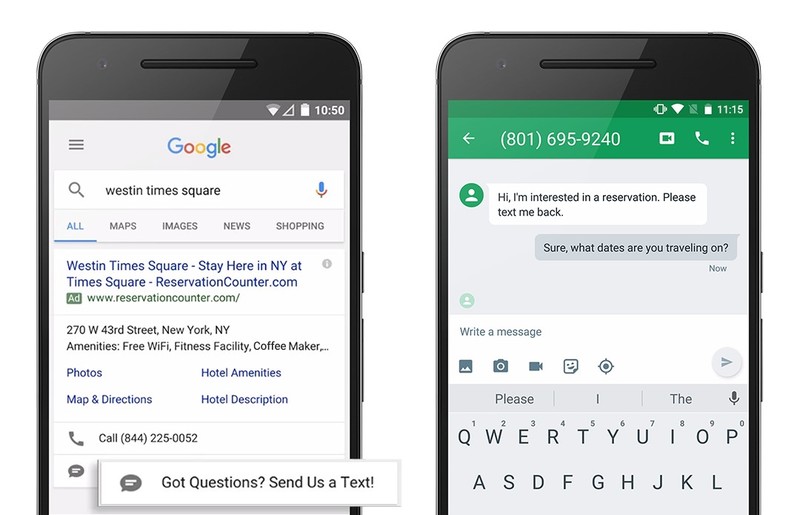 How it works?
First and foremost, advertisers must pay Google to enable this feature for search ads that match the advertisers' submitted list of keywords.
After a user enters those keywords, a text icon will popup on the side (right next to the current call icon) and a pre-loaded message (written according to the product or service) will be sent to a user's SMS app whenever that user clicks on the text icon.
The sales team and the user (who will become a lead) can thereafter initiate a discussion.

Benefits:
• This will help the sales team in acquiring good quality leads with a significantly higher conversion ratio, as the lead will be requesting the SMS.
• It makes for a faster, efficient, and more comfortable way for users and the sales team to connect with each other.
• It helps the marketing and the sales team gain better insight into their target group.

BUMPER ADS
On an average, YouTube ads are somewhere between 15 seconds to 1 minute long. As you must've experienced, YouTube gives the option to skip the ads, which appears as a pre-roll, after 5 seconds. Unfortunately for advertisers, most people prefer to skip them rather than sit through the entire duration.
And so, YouTube has introduced a new ad format for its own platform called Bumper Ads, which are 6-second-long videos that a user won't be able to skip. It has been created for the all platforms.
Sample ad:
Benefits:
• People won't be able to skip through your ads, thereby increasing brand awareness.
• Crisper ads can potentially have much more impact than longer ads.
COUNTDOWN ADS
As the name suggests, these ads are a subset ofGoogle Display Networkprimarily used to convey a sense of urgency to people.
Some classic examples being –
1.) 36 hours, 40 minutes, 4 seconds to avail this Diwali bonanza! Hurry!
2.) Hurry! Only 4 items left.
3.) Registration closes in 8 hours
Sample ad:

These ads are hyper-specialized, which means they will differ according to each search and web page.

You may also like to read about 6 Facebook Ad format every advertise should know : https://goo.gl/2weY6a
Edited by:Karthik Janakiram