The last 15 years or so has seen the rise of digital marketing, with newer technological innovations that have changed the marketing landscape. The exponential adaptation of marketing technology, the growing importance of content marketing, easy accessibility of digital advertising and a slew of other newer-age strategies have been at the forefront, driving this change.
With the start of a new decade, marketers around the world will start seeing all these innovations being used at their full potential. Technology-driven marketing went through a boom when it all started, somewhere between 2005 and 2010. Things exploded. Everyone started using newer tools and targeting prospects in seconds. Tech became the go-to word in marketing, newer tools were continuously popping up and everything was moving along at full throttle.
What seemed impossible at the start of the millennium, looked possible 15 years ago and conventional, 10 years back. Today, a level of maturity has taken over, which focuses on smartly doing things as opposed to just doing them. The marketing industry is moving to a 'thinking' mindset. Having set that, let's look at the top 5 B2B trends for 2020.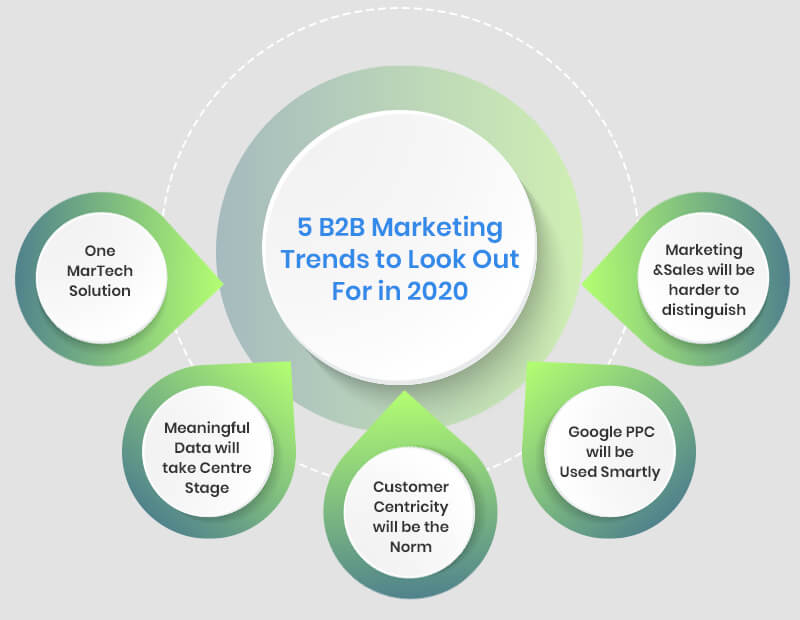 Trend #1: One MarTech Solution

2020 will be the year when all the different MarTech systems come together as a single solution. If you have too many technology systems in place for each stage of the buyer journey, this year will feature a trend of falling back on a single software that takes care of all your needs. This will help in focusing on what actually matters so that you can take business decisions faster and ensure quick turnaround time.

All-in-one providers that offer truly differentiated solutions will be at the forefront.

Trend #2: Meaningful Data will take Centre Stage

Data-driven marketers have become aplenty with a variety of metrics that are being studied and inferred upon. Most of the 'data' falls under the category of vanity metrics. Conclusions are being drawn on 'junk data.' As the B2B industry becomes more and more sophisticated, there is a clear push toward meaningful metrics. In the case of SEO marketing, the keywords that drive the most conversions at an acceptable cost-per-acquisition is more important than how many people saw your PPC ad.

Marketers and digital agencies will carefully choose the data to make decisions. The winning metrics are the ones that actually affect the bottom line.

Trend #3: Customer Centricity will be the Norm

Customers or other businesses, in case of B2B marketing, will be the focus of all communication in 2020. As the market becomes more and more customer-centric, communication that isn't being targeted to consumers will discontinue being meaningful. The only people who really matter are the people being marketed to. 2020 will continue the trend on focusing on delivering experiences and messaging that gets the attention and wallet share of potential buyers.

B2B marketing will prioritize the solution based marketing over self-fulfilment, thus focusing more on the revenue.

Trend #4: Google PPC will be Used Smartly

The Google PPC platform has become more user-friendly and intuitive today than when it started. The ads also have gotten really expensive. That means it would restrict businesses that bidding on keywords that have nothing to do with them. 2020 will see people change their bidding strategies to focus more on who their buyers are and what they are searching for.

Trends indicate that smart marketing through bidding strategies that are based around the problem that their potential customers are trying to solve.

Trend #5: Marketing and Sales will be harder to distinguish

The line between marketing and sales, especially in the B2B industry, will be blurred. The marketing realm is changing rapidly with more and more companies aligning their strategies that merge it with sales through sales enablement. Marketers would now be trained in a hybrid role where they would be nurturing prospects from their first interaction.

It's not simply handing over marketing-qualified leads (MQLs) to the sales team but understanding exactly what sales needs and help support their efforts too.
Stay on Top of 2020 B2B Trends
Now that you know the top B2B trends in 2020, you should align your marketing efforts to be a step ahead of these trends. If you are looking for a digital marketing agency in India to help you with your B2B marketing then look no further.
Being the pioneers of growth marketing in India, we have a team of growth marketing experts who have helped multiple businesses reach their growth potential in this ever-changing digital marketing landscape.