Imagine if - a few years ago - Coca-Cola would have said that it is one of the many cold-drinks that are available in the market and that the brand would be very grateful if you picked it up over the others. It would have certainly landed up as lost and unnoticed as the guy who quietly walks into the office party, sits at the corner table, talks to no one in particular and gets out!
Definitely a 'me too' brand communication. But instead Coca-Cola, a beverage brand that has traditionally faced tough competition in the Indian market, chose to go aggressive. They chose to kill competition by differentiation. They chose to blast the rural Indian market with the 'Thanda Matlab Coca-Cola' campaign. A mass actor (Aamir Khan), a rustic village setting (the target market) and a strong lingo: it was the perfect ideation recipe and stayed in the minds of people not just for days or months, but years! That, my friend, is the power of a good thought, a creative idea in a great marketing campaign.
Undoubtedly, this campaign went on to become one of the most successful campaigns in the history of the Indian beverage market. It reinstated the brand as the market leader, created a strong brand loyalty and of course seamlessly helped them launch the smaller SKU in market.
Why ideation is a good idea?
A creative idea works wonders with creatives. It lends a meaning, a sentiment to the USPs of the product. Creative ideation really puts a relatable context in the minds of the target audience.
It gives the brand communication a creative hook that becomes synonymous with the brand mind space. It creates a strong differentiator within the product category. This is especially crucial for a saturated product category like real estate where a strong campaign communication is half the battle won.
Things that define and refine creative ideation
Creative ideation is often regarded as random outbursts of creative capability. However, it is a little known fact that this random creative outburst is in fact the culmination of a very strenuous process and techniques that need to be applied in order to arrive to a creative that works the best with the brief. There is a very specific pattern in the creative chaos. Every creative ideation process undergoes numerous phases before actually arriving at the right creative idea. These are largely defined as knowledge accumulation or information, incubation or deriving insights, the idea experience or simply destruct-reconstruction process and lastly, the implementation phase lucidly put in as the execution phase of the idea.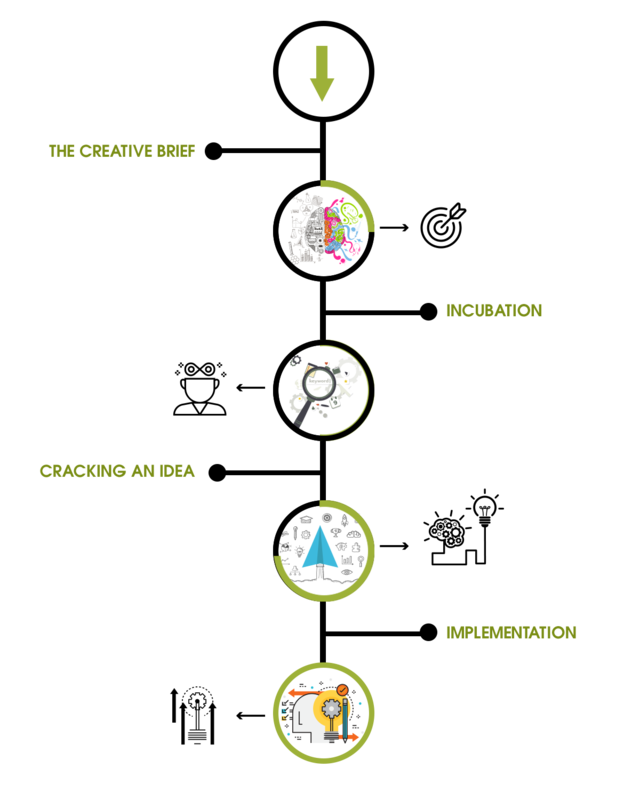 Here are the 4 Quick Steps for Ideation Process to keep in mind :
• The Creative Brief
All the required information and understanding of the primary target audience, product (SWOT analysis), the marketing objectives, the market research and competition analysis.
•Incubation
Read up, research and basically soak oneself into the creative brief and information until the Eureka moment happens, i.e. the creative insight is cracked.
• Cracking an Idea
For those who are new to creative ideation, there is actually a process where you jot down the first 5 ideas that come to your mind and simply strike them off. You begin the real creative ideation after these first thoughts.
• Implementation
The idea and the marketing objective should seamlessly come together to become the perfect communication for the target audience. It will be incorporated into numerous campaign collaterals that will be populated on various media platforms.
Brainstorming: The tornado that constructs the creative idea
Brainstorming is a term that is casually thrown around in any digital marketing agency. But when it comes to creative ideation, this term gets a whole new meaning. Brainstorming is a group creativity wherein everyone spontaneously lists down their ideas and then moves from a subconscious level to a conscious level in terms of creativity. It is very important to mention this process separately as it an ultimate step towards devising the right communication. Brainstorming is a crucial part of creative Ideation as different perspectives enrich a particular idea. There are various techniques that can be specifically used for brainstorming. These help in negating the non-working ideas to make way for the actual working ones.
Creative Strategy and Ideation: A match made in heaven or in an agency
Any serious creative ideation can hit the right target with a robust and thoughtful creative strategy and creative insights - which are taken care of on the part of client servicing executives. Creative Ideation and Creative Strategy stem from these insights and are often used interchangeably, but are actually miles apart..
Creative insight is derived from the available brand/product information as well as a concise observation in terms of the life insights, the need gap, the qualitative, quantitative and focus group research. Whereas a creative strategy is clearly the strategy into which the insight should be molded in order to form a pathbreaking piece of communication.
A creative strategy can be further simplified into 3 basic steps of research, creativity and strategic planning. A creative strategy is an important factor to consider whilst knowing about creative ideation as it is the format, the execution channel of any creative idea.
In order for a marketing campaign to succeed, it is important to consider creative ideation and the above mentioned allied factors as indispensable parts for a super successful brand/campaign.
Creative Ideation or Creative Communication is, in itself, a huge topic. In addition to the above-mentioned theories and definite factors, there are many intricate pieces that go into creating the masterpiece of communication. Various unquantifiable factors such a personal observation, drawing inspiration from everyday life, drawing parallels between consumer experiences/human insights, a natural trait of identifying the links and touchpoints within the milieu of the target audience are some such things that can only be achieved through actual hands-on ideation work experience.
Every brief comes with a unique set of challenges. And surely, every marketing challenge or problem exists with its rightful creative solution. It is a matter of cracking the right ideation / creative communication that makes all the difference for a specific brand or a marketing brief. It is therefore extremely important to consider and consult the right agency when it comes to brainstorming ideas to go about your next marketing campaign. Because the difference between brand awareness to consumer action for your brand or product lie in that one perfect idea.