As we move deeper into the age of digital marketing, the importance of customer experience has become more apparent than ever. In fact, 86% of consumers are willing to pay more for improved customer experience. With millions of e-commerce websites fighting for user attention, businesses must provide a seamless customer experience to stand out from the competition. In this blog, we will discuss the best practices for improving customer experience on e-commerce websites, and how they can help you grow your online business.
Imagine a customer walks into a physical store looking for a product, and no one greets them, or the shelves are disorganised and difficult to navigate. How likely is that customer to return? The same goes for e-commerce websites. If the website is difficult to navigate, the checkout process is confusing, or the website takes too long to load, it can leave a lasting negative impression on the customer. As a result, they may not only leave your website without making a purchase but may also share their negative experience with others, potentially damaging your brand's reputation.
To avoid landing in situations like these, here are the top 12 best practices that your business can follow to improve customer experience on your e-commerce website.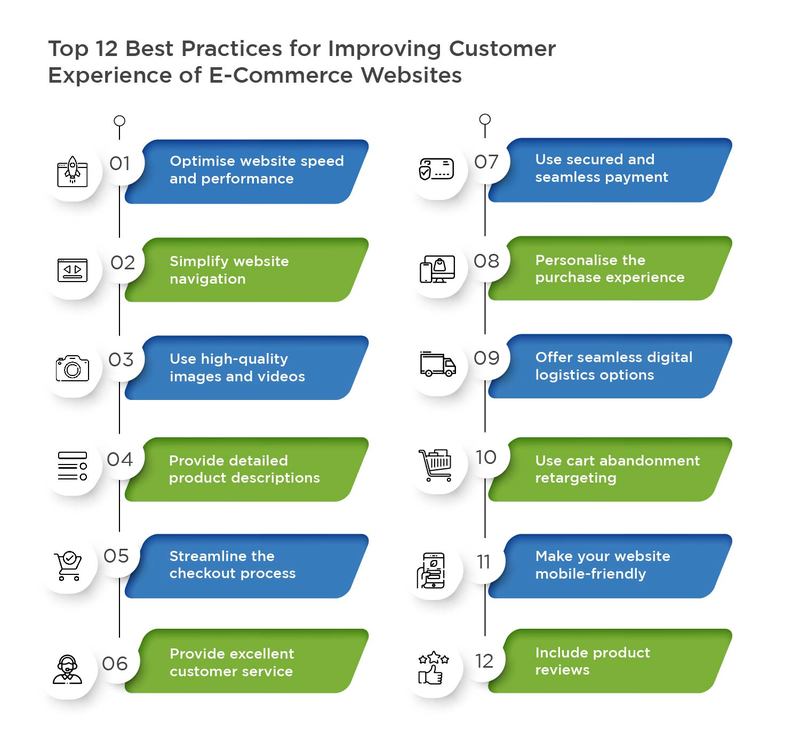 Optimise website speed and performance
53% of website visits are abandoned if a site takes longer than 3 seconds to load.
In today's fast-paced world, where people have become accustomed to instant gratification and immediate access to information, website speed and performance have become crucial factors in providing a good user experience. If a website takes too long to load, users are more likely to abandon it and seek out a faster alternative.
In times when users are accustomed to getting a lot done in very little time, website speed and performance are crucial to providing a good user experience. Websites that take too long to load can have higher bounce rates. That's because normally users are more likely to abandon a website if it takes longer than three seconds to load. To improve website speed, businesses can use tools like Google PageSpeed Insights or GTmetrix to identify areas where the website can be optimised. This could include compressing images, reducing the number of plugins, or using a content delivery network (CDN).
Simplify website navigation
79% of customers say that they're more likely to revisit or share a site if it's easy to use.
Complicated website navigation can be frustrating for customers and can result in them leaving the website. To simplify website navigation, businesses should ensure that their website's menu is easy to find, and the categories are clearly labelled. Additionally, businesses can use breadcrumbs to help users understand where they are on the website and how they can navigate back to the previous pages.
Use high-quality images and videos
Organisations that use high-quality images and videos get 94% more views than their competitors.
High-quality images and videos can significantly enhance the customer's experience on an e-commerce website. This is because visuals are often the first thing that customers notice when they visit a website, and they can help them understand the product better. Using high-quality images and videos can also increase the customer's confidence in the product and reduce the likelihood of returns.
Provide detailed product descriptions
87% of shoppers rate product descriptions as being crucial for making a buying decision.
Detailed product descriptions can help customers make informed purchasing decisions. Businesses should provide as much information about the product as possible, including its features, dimensions, materials, and care instructions. Additionally, businesses can use customer reviews and ratings to provide social proof and enhance the customer's confidence in the product.
Streamline the checkout process
17% of customers were deterred from making a purchase due to a complicated checkout process.
A complicated checkout process can result in customers abandoning their cart before completing the purchase. To streamline the checkout process, businesses should use a one-page checkout process, allow guest checkout, and offer multiple payment options. Additionally, businesses can use tools like abandoned cart recovery emails to remind customers about the items they left in their cart and encourage them to complete the purchase.
Provide excellent customer service
57% of customers are willing to pay extra for simpler website help and support experiences.
Excellent customer service is a critical component of a good customer experience. Businesses should ensure that their customer service is easily accessible through multiple channels, such as email, phone, and chat. Additionally, businesses should respond promptly to customer inquiries and provide helpful and personalized responses. Providing excellent customer service can increase customer loyalty and encourage customers to leave positive reviews and recommendations.
Use secured and seamless payment gateways
36% of global online shoppers prefer eWallets as a payment option.
Ensuring that payment gateways are secure and easy to use is crucial for building customer trust. It's important to offer a range of payment options that are both popular and secure. Additionally, businesses can offer features like saved payment information, one-click purchases, and automatic payments to make the checkout process even smoother for customers.
Personalise the purchase experience
49% of shoppers made impulse buys after personalised experiences.
Personalisation throughout the e-commerce customer journey can significantly enhance the purchase experience. Businesses can use customer data to personalize the website's content, recommend products based on previous purchases, and send personalised e-commerce marketing messages. By doing so, businesses can make customers feel valued, improve customer loyalty, and increase the likelihood of repeat purchases.
Offer seamless digital logistics options
82% of consumers say that it's important for e-commerce brands to update them during every stage of the fulfillment and delivery process.
Providing seamless digital logistics options can also improve the customer experience. This includes offering real-time shipment tracking, notifying customers when their order has shipped and when it's expected to arrive, and providing options for easy returns and exchanges.
Use cart abandonment retargeting
69.99% is the average e-commerce cart abandonment rate.
Cart abandonment is a common problem for e-commerce businesses, but it's also an opportunity to re-engage with customers. Businesses can use retargeting campaigns to remind customers about items left in their cart, offer incentives to complete the purchase, and showcase related products that the customer may be interested in.
Make your website mobile-friendly
Making a mobile-friendly website is crucial for improving customer experience in e-commerce, as more and more users are accessing websites through their mobile devices. In fact, 57% of customers won't recommend a business with a poorly designed mobile website.And 50% will stop visiting the website if it isn't mobile-friendly, despite liking the business.
A mobile-friendly website is one that is optimised for smaller screens and touch-based interactions, with a responsive e-commerce website design that adjusts to different screen sizes and orientations. By making their website mobile-friendly, businesses can provide a better user experience for their customers and increase their chances of converting mobile users into loyal customers.
Include product reviews
Including product reviews during an e-commerce website development can enhance customer experience and build trust in the brand. Customers rely on reviews to make informed purchasing decisions, and businesses should encourage customers to leave reviews by sending follow-up emails after purchase and incentivising them to do so.
Final thoughts
In conclusion, providing an excellent customer experience is essential for the success of e-commerce marketing. These practices can help businesses stand out in a crowded e-commerce market, increase customer loyalty and drive positive customer reviews, and ultimately, increase sales and revenue. But it's important to keep in mind that providing an excellent customer experience is an ongoing process. Businesses must regularly evaluate and improve their website's user experience to meet the evolving needs and expectations of their customers.
Moreover, while these best practices can help businesses improve customer experience, it's important to keep in mind that they are not a one-size-fits-all solution. If you are in search of tailored e-commerce solutions to improve your customer experience, you can partner with a leading e-commerce agency like Amura Marketing Technologies .
At Amura, through our data-driven MarTech solutions and full-funnel marketing approach, we ensure that your brand provides an enhanced customer experience and stands out in the market. With over 15 years of experience, an on-time delivery record, extensive market understanding, agile processes, and a team of 150+ digital marketing experts, we can be your ideal e-commerce transformation partners.
Ready to take your e-commerce business to the next level? Get in touch with us today!