From spam emails, display, and banners, which were the currency of publishers up until recently, digital marketing has come a long way.
Today, we can confidently say that display, in all its forms - banners, pop-ups, interstitials, etc. no longer have the same impact they did, a few years ago. One of the primary reasons for this phenomenon is the increasing desire for a non-intrusive and seamless internet experience.
For e.g - While reading a web article of the Economist on Donald Trump's shocking victory in the 2016 US presidential elections, would you be interested if an ad pops up informing about a random car sale?
The platforms/publishers which have adapted and understood this need of a seamless experience are the ones who have turned the tide in their favor ,primary amongst them are the following:
1. Google and Facebook - Most preferred platform for digital marketing
While Google is the gateway to the internet, Facebook has managed to significantly alter the online consumption patterns of users. The primary reason why they have established themselves as the leaders in their individual domains is their continuous focus on user experience. With this approach, they have ensured that they occupy a lion's share in the daily internet consumption of a user . This and first party data makes them a hot favourite for any advertiser.
Almost every quarter, we see both, Google and Facebook, conceive new ad formats that they offer to advertisers - be it lead ads, canvas ads, Lightbox etc. And with much more in the pipeline via beta stages, it will need a huge disruption to displace these two giants from their current position.
A good example of Google's focus on user experience is their decision to remove RHS ads in Google search ,this not only hepled uncluttering the Search results page ,ensured a similarity in the mobile and desktop search results and certainly must've helped their revenues with increased competition for the maximum visibilty top ad-slots .
2. Native Advertising
Using content marketing via native advertising, you get to embed your ads in the layout of the page and blend it harmoniously with the look and the feel of an editorial or a news snippet.What content marketing does esentially is bridge the information gap between user expectations and product offerings ,it ensures content consumption at the first touchpoint helping build a positive affinity towards the product.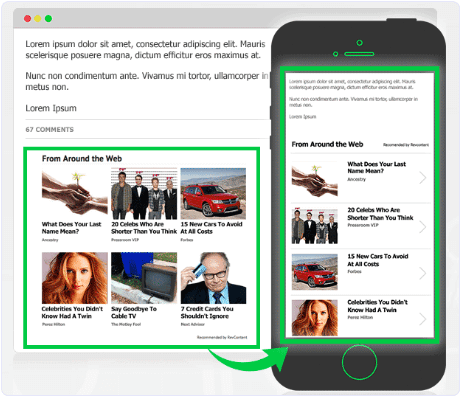 A recent case where this information gap was bridged via content marketing was during an ad campaign for homes which were built around the concept of a garden. Since a standard communication about the inventory and location wasn't going to cut it, it was decided to map out a garden-homes-centric communication and land the lead on the blog where the concept was thoroughly explained. This strategy increased the traffic considerably with higher time on site and an eventual surge in conversions .
3. Media buying changes when user behaviour changes
With every change, Advertisers and platforms take some time to change their strategy accordingly. For e.g - Digital campaigns are increasingly getting mobile-phone centric. The emergence of cheap smartphones and the availability of cheap high-speed data (like Jio) have resulted in mobile phones occupying the majority share in the digital spectrum.
Just to illustrate its importance, take a look at the last quarter of the calendar year at Amura.
Oct to Dec Quarter -
Desktop to mobile Ad Spends in
2015 - 70 : 30
2016 - 50 : 50
We have executed mobile-only campaigns for few of our clients and have seen remarkable results. It has not only helped us drive the costs lower, but also increased our coverage (reach) in the same cost. Focusing on mobile-friendly sites, and crisp communication helps the campaign in attaining better results.

4. Media buying and planning need not be a time-consuming process
Media buying and planning is an end product built over a considerable period of time through extensive research and exposure and experimentation.
However, what can expedite the process is quicker understanding of consumers & market conditions and their consumption patterns and faster adaptability (think of Paytm's marketing overdrive post demonetization).
A good hack is to interact with your users at the end stage of the buying funnel, probably giving them a questionnaire or asking them how did you find us, what are their broad-level interests. This information, when fed to the agency in-charge of the campaigns, helps them narrow their target audience and reach high-intent consumers with much more efficiency.
For e.g - Casually going through your parents, siblings, and office colleagues' cell phones will give you a sneak peek into their preferences.
Ultimately, daily optimisation and measurability are the beauty of digital, and a constant give and take of information is the hallmark of a successful campaign.