If you are trying to establish a powerful online presence, you cannot ignore social media as it is one of the key components of the success of your campaign. But why place so much importance on social media? These stats will reveal the answers.
Now that you know why you need a domineering social media presence to drive your business to greater heights and more profits, the next step is to find ways to make this happen.
Ask any growth agency, and they will recommend that you use growth hacks to maximize social media engagement benefits. Try these nine hacks to make the best use of social media channels and maximize visibility:
1.

Optimize Your Strategy
Social media is constantly evolving, and that's why you must continually optimize your strategy. The first step is to identify your objectives and goals for running a campaign on social media. Are you focusing on driving leads, achieving more conversions, or increasing brand exposure?
Social media strategy optimization involves deciding on which social networks you want to run your campaign. Identify the channels where you are more likely to meet people interested in your business.
You must optimize both original and curated content by testing what resonates best with your audience. A reputed growth agency can be hired to optimize headlines, images, keywords, and more using the right tools. Optimization can help you engage better with your audience. This can help guide them into performing the specific marketing actions you are aiming at.
3.

Create A Posting Schedule (And Stick To It)
Publishing is undoubtedly one of the most critical aspects of social media marketing. It is imperative to have a well-defined strategy for posting your content.
Remember, your audience is not always online. Find out the right time to post your content to maximize engagement. It will vary with the channels you are posting on. While some channels may provide the best returns on weekly posting, others may help your marketing cause with more frequent engagements. Some amount of trial and error is involved, but when you eventually get it right, it can pay rich dividends.

4.

Team Up With Influencers
Influencer marketing is the flavour of the season. It offers a highly effective way of driving social media growth by building brand awareness and strengthening relationships with customers. Influencers do not merely promote brands. They provide your audience with valuable information on various aspects of the product. They provide answers to all the questions that consumers might have to help them make the right purchase decisions
Hashtags are synonymous with social media. They are used for locating trending topics easily. Integrating hashtags into social media campaigns is regarded as one of the most effective social media optimization techniques.
With the right hashtags, your social media posts can get a broader reach and make it easy for readers to find your content. It can help you earn new leads.Use hashtags judiciously and never without purpose.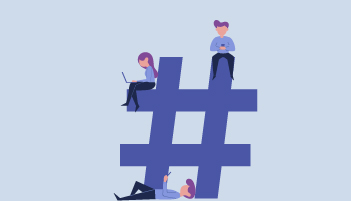 6.

Share Relevant Content
This is one of the best social media growth hacks. Create content that can be easily shared because sharing is a key element of all social media platforms. All relevant content must be shared with your target audience. One of the best social media marketing hacks is to strike a balance between your own posts and shared content. Sharing valuable content that can help address your audience's concerns is a great way of boosting the engagement factor. It can also gradually build up the trust level in your brand.
Do not just share text content. Mix it up with videos, infographics, webinars, and even live broadcasts.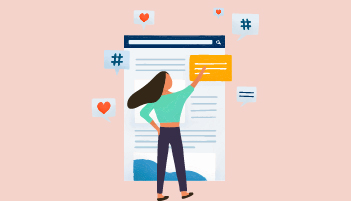 7.

Embed Your Blogs With Social Media Posts
This is a powerful social media growth hacking tip and a simple but highly effective way of boosting engagement with your visitors. When you embed high-quality content, it can also help improve Google rankings as your organic search factor improves.
Regardless of the channels you chose, the embedded content from these channels into your blog posts can help you boost engagement levels.
8.

Leverage The Power Of Interactive Content
The goal of any digital marketing strategy is to get your audience to act. This can be achieved with interactive content, such as contests, quizzes, interactive videos, games, and e-books.
Sharing interactive content can not only educate your audience but also make them a key participant in your conversations.
9.

Be Consistent With Your Branding Elements
Do you have a brand voice/personality already? Just make sure it is maintained across your social networks. Staying consistent with an established brand theme is important. Your audience identifies your brand for its distinct profile in terms of colour, design, and tone. When you use the same theme consistently across all channels, it can help build a very strong brand connection.
Amura is a reputed growth agency known for its innovative and proven digital growth marketing services and solutions. Amura has helped clients from pharma, real estate, FMCG, healthcare, and other leading industries establish a compelling social media presence with its unique strategies.