Amura has over 8 years of experience in digital marketing for real estate, with some of the biggest construction companies in India as clients. 8 years of running advertisements online, we realised, is a lot of data. So we recently crunched through all our numbers to analyse trends in the real estate advertising sector and optimise our ongoing campaigns.
Here's some fun stats we discovered about ourselves:
We have successfully run
1. Over 5 Lac Google AdWords campaigns
2. for 300+ clients
3. With 1.6M+ text ads performing the best in the market
And while we were at it, we also analysed these 1.6+ million text ads to compile 8 tips to optimise your search ad content for the best returns on your spends:
1. Be positive - it makes your ads believable!
Ad performance has always been based on the sentiment represented, be it an online ad or an offline banner ad. The advertising domain is based on the sole aim of engaging customers, and establishing the best connect possible. This makes sentiment analysis1 a good measure to calculate ad effectiveness. Upon analysis with sentiment dictionary and Natural Language Processing, we found that:
46% of ads our gave positive sentiment with an avg CTR2 of 7.85%;


12% of ads gave a neutral sentiment with an avg CTR of 5.6%


and remaining 42% gave negative sentiment with an avg CTR of 4.02%.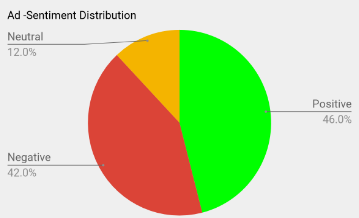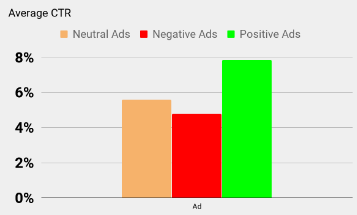 2. There is such a thing as best-performing words (and we've got a list of them)!
To find out which words really make an ad worth clicking, which words really stand out for users, we ran an analysis on ads that performed well, observing metrics such as CTR and clicks. By aggregating all words in the ad text and finding frequently used words that either made the ad perform well or poorly, we were able to compile a list of of must-use and must-avoid words.
These now form a checklist against which each ad copy is run.
3. Make your ads "optimally" readable for more clicks
"Content that people love and content that people can read is almost the same thing".
In the case of ads, it's more of "the content people can read easily is the content people will love". Readability scores play a large role in getting people to click on your ads and then stay engaged on your landing page. Using the Flesch Kincaid method3, we decided to run readability analysis on our ads and scored them between 0 - 100 in terms of readability. Upon analysing their readability and performance, we're able to recommend a readability range of 40-60 for your text ads - not idiot-proof, but not complex. Remember, readers don't like to be talked down to. For example, "Retire Carefree in South Carolina, tax haven for retirees. Here's how! Explore Active Living for Seniors" (Score 33) is much better than "We help you find and evaluate the best home for you for free! Buy a home with XYZ" (Score 100).

4. Check for lexical diversity in your ad copy
The lexical diversity4 of your ad is a measure of how many different words are used in the text, while lexical density provides a measure of the proportion of lexical items. By checking out trends in the CTR of different ads, compared with their diversity, we found a direct relation between them - the more lexically diverse your ad the higher the CTR. Diversity essentially helps you cover more unique words in your ad that eventually relate to your keywords, thereby increasing your quality score.

This is based on the research that reader interest level is maximum at the optimum level of lexical diversity. The reader tends to believe more in text with a lexical diversity of 60-80%5. An ad with poor lexical diversity equals a lower quality score.
5. Using numbers in your ad copy will affect their performance!
Numbers play an important role in ad text for the real estate domain, as ads are used to convey the offers and prices of properties. The reason numbers6 work in ads is that people like predictability and don't like uncertainty. Numbers help manage the expectations of readers so that they know exactly what they are getting into. During our analysis, we classified ads according to their performance. As per the industry standard for real estate, a CTR of 3% and above is considered good. So when we classified ads into performing and non-performing, we found that using numbers plays a very important role in boosting your clicks. In point no.8 of this blog post, we also talk about how the usage of % and Rs/$ usually used with these numbers contribute to a higher CTR.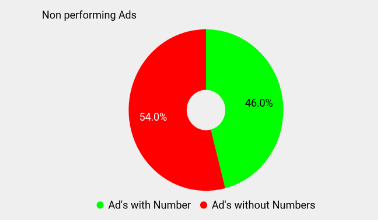 Performing Ads( CTR > 3% ) vs. Non Performing Ads( CTR < 3% )
6. Ensure your ads are personalised with pronouns
When targeting customers, marketers sometimes use pronouns that suggest a partnership between their brand and the people they're talking to. Think of "Together, we can make a difference". Such usage of 'you', 'us', 'we', etc. makes the ad personalised7, creating a better connect between the brand and the audience.
7. Use CTAs that will really work to get more clicks
The right CTAs will get you higher clicks and CTR for your ads. While sifting through our data, we were also able to use call action catch analysis to determine which CTAs really get people clicking on your real estate search ads!

8. Use certain punctuations to get a higher CTR
Exclamation marks (!) - 18% of Ads - 7% CTR
Percentage (%) - 10% of Ads - 9% CTR
Dollar Sign ($) - 1% of Ads - 1% CTR
Question mark (?) - 1% of Ads - 4% CTR
As you can see, exclamation marks and percentage symbols contributed significantly to the CTR. Using the right punctuation8 marks will make your ad appear structured and organized, making it stand out from the others and increasing clicks.
As you can see, each of these 8 tips is backed by a significant amount of research. And while your ads' performance is based upon a lot many other variables, effective ad copy is no longer a matter of guesswork or intuition!
For more inputs on ad copy that works, or optimizing & managing your search campaigns,