Real estate investment is an imperishable asset that has an increasing value with time. Over the years, real estate has witnessed a paradigm shift with the growing demand from the Millenials. With migration, today's youth is being more focused on secure living with every amenity and luxury in their vicinity.
Apart from real estate brokers, Millenials are enticed with the digital presence of the real estate venture, and the first step begins with online market research, where they can get a precise view of their future abode.
Hence, digital marketing is no longer a Hobson's choice; it is a necessity. From online campaigning to lead generation and successful sales completion, the realty sector relies heavily on digital marketing strategies to bolster their business growth.
Importance of Digital Marketing in Real Estate
Social media was the first game-changer that gave scope to the real estate organizations to reach out to their target audience using online media directly. With social media campaigns, various reality industries have leveraged their growth and became one of the leading brands with a booming business.
Hence the potential of real estate marketing plans is versatile and curates explicitly to instil business growth. In the real estate world, a goal without a plan is a dream, and digital marketing is the strategy that will turn this dream into reality. Unlike traditional marketing strategies, digital marketing has a far-reaching impact.
So here are a few ways to bolster a real estate digital marketing plan for an effective result.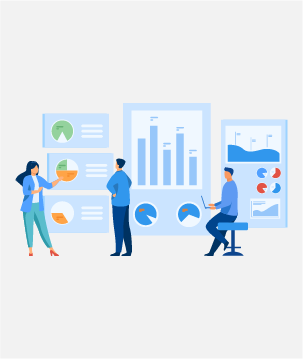 Create an effective Email Campaign

Even before social media came to play, email has been one of the best tools for real estate marketing. It aids in connecting to new leads and bridges the gap with past clients. Predetermined actions of potential clients are funnels through their previous business engagement and buyers profile. A well-formulated email campaign with relevant content curated for the target audience will entice them to give it a read.

Create a responsive and interactive website

It is highly imperative to have a well-designed, informative, and trendy web page that will drive clients' interest. For this, it is necessary to hire a professional web designer and have profound knowledge about the marketing niche so that the website is customized to cater to the needs of the target audience.

Besides, the website must be responsive and optimized for mobile browsing with lists of all the new offering and relevant content directed to real estate investment. The website must adopt a customer-centric approach by introducing a live chat feature with a 24*7 proficient customer care team to answer the queries of the clients.

Pay-Per-Click Advertising

An excellent strategy to boost digital marketing for creating brand awareness is Pay-Per-Click (PPC), under which new leads are generated every time a user clicks on a PPC ad. It is market-engineering strategies to drive potential clients that may have a genuine interest in the offering. The ads can be directed towards any individuals or target audiences who have searched for a correlated keyword on any search engine or Google.

Post creative Blogs

Blogs are one of the most creative ways to enhance real estate digital marketing plans. It aids in levelling up the SEO, creates a positive online reputation, and renders clients actionable advice on real estate investment. Without an apt, crisp, and creative content, any real estate company's digital marketing strategy is futile both on social media and on the website. It is necessary to add consistency to the blog's update so that more traffic is directed towards the responsive website.

Host Virtual Tours

Virtual Tours are a part of the successful real estate digital marketing plan that multiples revenue generation by 49% than traditional strategies. Leveraging the latest flicks of technology, a real-time tour of the real estate property will enable clients to have a precisely clear perspective about the offering and futures prospect. The tour must incorporate real-time footage with a 3D panoramic view of the surrounding. It must be interactive, responsive, and user-friendly.

Enable Social Media Marketing Strategy

With business becoming more global, it is imperative to have a full-fledged social media strategy to consistently handle real estate digital marketing plans and post advertisements on various channels. A rule of the thumb for an effective social media strategy is to share varied content in regard to the brand to entice potential clients. Apart from sharing new listings, the social media presence for any real estate industry must target a broad audience base rather than focus on lead generation for realty investment.

Focus on bolstering SEO

As a part of the real estate digital marketing plan, the focus should be on strengthening the SEO as this will drive the maximum lead to the website. By placing high ranking keywords relevant to the industry niche, location, and offerings, real estate organizations can gain more popularity on SERP rankings. A robust SEO strategy should further incorporate backlinks, social media pages, Meta titles and descriptions, and online directories as these are the valuable assets for a profound SEO strategy.
Bottom-line
For efficiently leveraging digital marketing strategy for the real estate sector, it is necessary to develop a buyer's profile to reach out to the target audience. Besides, effective content generation having high ranking keywords and a potential SEO strategy will enable the growth of realty business, drive potential clients towards a responsive website, and allow new lead generation and sales completion.
At Amura Marketing Technologies, we have delivered powerful results in the real estate digital marketing space. We are a growth marketing agency specializing in data-driven, technology-led, experiential marketing approach. For any sort of assistance, get in touch with us.