In the current digital age, communication channels are ever-evolving, but email marketing remains a steadfast strategy for businesses to connect with their audience on a personal level. HubSpot, a leader in the marketing automation industry, has taken email marketing to new heights, offering a comprehensive suite of tools and features to streamline and optimise marketing efforts.
In this blog, we'll discuss the benefits of email marketing, explore the various types of email campaigns, and unveil how HubSpot revolutionises email marketing with its robust capabilities.
Benefits of Email Marketing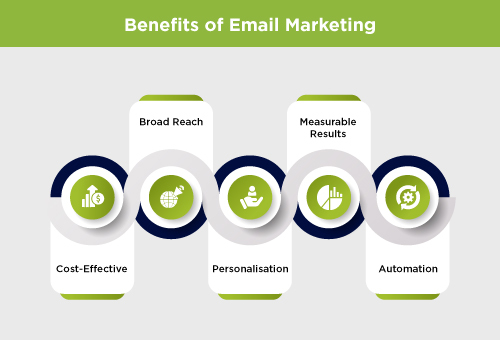 Email marketing is a tried-and-tested method that continues to yield impressive business results. Its ability to directly reach customers' inboxes provides a personalised touch that other marketing methods often need help to achieve. The benefits of email marketing are numerous:
Cost-Effective: Compared to traditional marketing channels, email marketing is highly cost-effective. There are no printing or postage costs, and designing emails is affordable with the right tools. According to a report by Litmus, email marketing yields a return of 3600% of the investment.

Broad Reach: With over 4.3 billion email users globally who send more than 1 billion emails every day, the potential reach of email marketing is unparalleled. It allows you to connect with your target audience regardless of their location.

Personalisation: Email marketing allows for tailored messaging based on customer preferences and behaviours. This personalisation enhances customer engagement and loyalty.

Measurable Results: Email campaigns can be tracked extensively, providing valuable insights into open rates, click-through rates, conversion rates, and more. This data helps refine strategies for better outcomes.

Automation: Email marketing platforms like HubSpot enable automation, making it possible to send timely and relevant emails without manual intervention.
Types of Email Marketing
Email marketing can be categorised into four different types:
Promotional Emails: These emails aim to promote a specific product, service, or offer. They can include discounts, limited-time offers, or new product announcements.

Transactional Emails: Triggered by a customer's action, these emails confirm transactions, order shipments, password resets, and more. They provide essential information and enhance customer trust.

Relational Emails: These emails focus on building a relationship with subscribers. They can include newsletters, blog updates, and curated content that provides value to recipients.

Re-engagement Emails: When subscribers become inactive, re-engagement emails are sent to entice them back. These can include special offers, updates, or reminders of the value you provide.
How Can HubSpot Help with Email Marketing?
HubSpot is a comprehensive inbound marketing and sales platform that offers a suite of tools designed to streamline and enhance your enterprise email marketing efforts. With its user-friendly interface and robust features, HubSpot is an invaluable asset for businesses seeking to maximise the impact of their email campaigns.
HubSpot Email Marketing Tools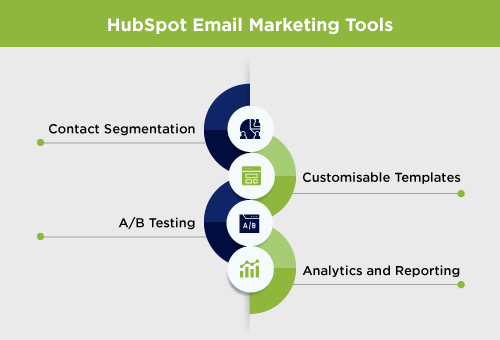 Contact Segmentation: HubSpot allows you to segment your email list based on various criteria, such as demographics, behaviour, and interests. This enables highly targeted and personalised campaigns.

Customisable Templates: Create stunning emails without any coding skills using HubSpot's customizable templates. These templates are optimised for different devices, ensuring a consistent experience for all recipients.

A/B Testing: HubSpot enables A/B testing, helping you identify the most effective subject lines, content, and calls-to-action by comparing different versions of your emails.

Analytics and Reporting: Track the performance of your email campaigns with HubSpot's detailed analytics. Measure open rates, click-through rates, and conversion rates to refine your strategies.
HubSpot Email Automation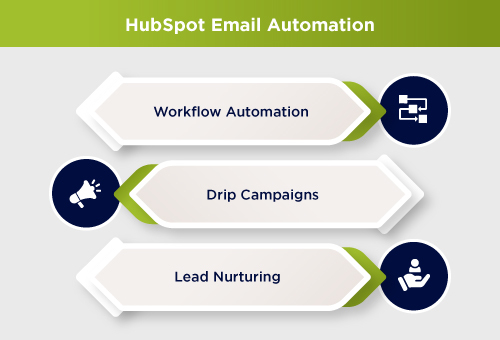 Email automation is a game-changer, allowing marketers to engage with their audience at the right time without manual intervention. HubSpot's automation features include:
Workflow Automation: Create automated workflows that trigger specific emails based on user behaviour. For instance, you can send a follow-up email to users who have downloaded a resource from your website.

Drip Campaigns: These are a series of automated emails sent at predefined intervals. Drip campaigns nurture leads and guide them through the customer journey.

Lead Nurturing: HubSpot's lead nurturing features ensure that leads receive relevant content at each stage of the sales funnel, increasing the likelihood of conversion.
Conclusion
In the world of email marketing, HubSpot stands as a beacon of innovation and efficiency. Its robust suite of tools empowers marketers to create, automate, and optimize email campaigns that drive results. From personalized email content to in-depth analytics, HubSpot covers all aspects of email marketing with finesse. As businesses continue to recognize the value of connecting directly with their audience, HubSpot's email marketing capabilities will undoubtedly remain a cornerstone of successful marketing strategies.
Incorporating the power of HubSpot email marketing can elevate your business's outreach efforts to unprecedented levels. Whether you're a big conglomerate or a small business owner, HubSpot's tools and features offer a comprehensive solution for your email marketing needs. As you explore the world of email marketing through HubSpot, you'll find yourself equipped with the tools to engage, nurture, and convert your audience effectively.
Despite HubSpot being a very intuitive platform, it can prove to be very beneficial for a business to hire a HubSpot partner agency to fully utilise the platform and take advantage of the several tools offered by HubSpot. Amura Marketing Technologies is one of the leading growth marketing agencies in India. We are a certified HubSpot Solutions Partner agency with over 15 years of experience in the market. We have helped companies from a wide variety of industries over the years, including manufacturing, healthcare, pharmaceutical, FMCG, construction, etc., be it B2B or B2C. Our team of 200+ experts are here to help you with any and all of your Hubspot marketing needs.