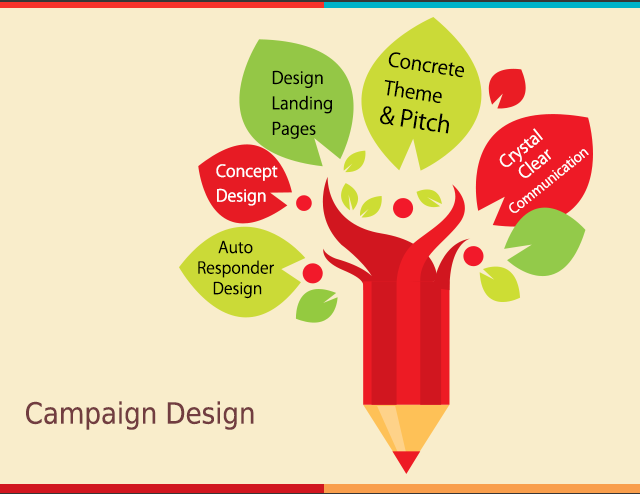 In our last piece we outlined the process involved in 'Campaign Planning', the very first step of the digital marketing process. In this article, we tell you how to go ahead with the next step – Campaign Design.
Concrete Theme and Pitch
Every campaign that is executed, whether it is offline or online, has an underlying key communication message. This message reflects the core value proposition of the product and in many cases, what the client's brand stands for. Though the campaign pitch may be tailored to address the TG and its subsets, the key message communicated in all interactions with the TG has to be kept consistent through the campaign.
Crystal Clear Communication
Communicating the key idea or benefit to the TG is the most important aspect of any marketing campaign. This benefit has to be clearly communicated to the TG at the right time and place in order to get a favorable response (which is, after all, the basis of any marketing campaign). The difficult part is identifying these critical parameters of what, how and when we should talk to the TG. Fortunately, Amura has developed solutions that help reduce the guesswork in communication planning.
Concept Design
The concept should be something similar to wire frames/flow charts that will explain your approach to executing the campaign. Explain how you have covered the Target Group, flow of customers on the website and how you are going to engage them, driving their interest to the product. The design concept for the campaign should not only be in-sync with the key message but also help augment the effectiveness of the communication overall.
Design Landing Pages
Based on concept, the landing page design is presented to the clients, explaining them the idea behind every single design aspect and its compliance with the brand guidelines(in terms of look, feel, brand colors) and the product offerings. Landing pages are designed taking into consideration the online and on-site browsing patterns of the Target Group; which also means the design needs to be suitable to be adapted across multiple screens/devices.
Auto Responder Design
Auto responders should match with the landing page design and communication. There should be some callback action to the customer in the auto responder
Stay tuned for the next article on: Campaign Execution
Credits: Vinayak Katkar and Siddharth Bhakay
Contributions: Sonia Phad, Vaidehi Mirashi, Ruturaj Mokashi and Jayanta Rudra
Twitter : twitter.com/amuratech
Like us on: facebook.com/amuratech
LinkedIn: linkedin.com/amuratech