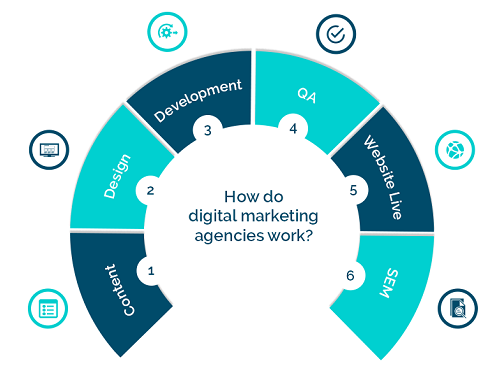 For some brands, digital marketing is still quite a relatively new concept - unchartered waters that seem like too big an investment, away from the familiar comfort of traditional marketing. For prospective digital marketers, it can be a little intimidating and a world away from the processes at traditional advertising agencies.
So in a bid to familiarize more people with the ins and outs of this not-so-new world of digital media, we thought we'd introduce you to how a digital marketing agency really works.
What does a project life cycle look like in digital agency?
Digital marketing agencies are very different from a traditional advertising agency because the processes take place much faster, in keeping with real time consumer behavior on the web. It's crazy, dynamic and innovative at the same time!
To understand how a digital marketing agency works, you should first understand what the various departments are:
1. Sales / Business Development Team:
This team does exactly the same thing as in every firm - it gets the company in touch with potential customers, brings new businesses on board and executes and handles contracts and SLAs.
2. Account Managers/Client Servicing Team:
They handle the company's clients/customers. Once the client comes on board - through the sales team - the account managers or client servicing executives coordinate client requirements on a daily basis. They then create strategies based on these requirements and get them executed from the company's different teams.
3. Copywriting Team:
The first step in executing a strategy for a client is getting the content/copy written - which can include blog posts, website content, nurturing emails and messages, social media posts, digital advertisements and more. This team generally works with the SEO team to write content with focused keywords.
4. SEO Team (Search Engine Optimization):
The SEO team helps improve the visibility of the client's website in search engine results. The target is to receive organic or unpaid visibility and attract more customers to the website. If preferred by the client, paid links can also be bought by the team to help the client's website rank better.
5. Design Team:
The design team takes care of the visualization for different elements - from blogs posts to social media posts and ads - including creating a friendly and effective UI for websites to get more leads for clients.
6. Development Team:
The development team takes care of the programming, creating websites that are easily to navigate, user-friendly and get clients the best returns on marketing spends.
7. Paid Media/Pay Per Click (PPC) Team:
Paid marketing gets the client a more prominent result across the web, on search engine results pages (SERPs), platforms such as Facebook & LinkedIn as well as across different publisher websites through Google, custom media buying and content marketing platforms. This is where clients get the fastest returns on marketing investment.
8. Social Media Team:
This team handles all the social media platforms to promote the brand and facilitate one-on-one interaction between the client, existing as well as potential customers and influencers. The team creates strategies, executes them and analyses brand engagement across different platforms in addition to social media listening and monitoring.
9. QA or Quality Analysis Team:
Every requirement generated by the client goes live only after a strict quality analysis of its efficiency. Content, design, navigation, image visibility, load time, etc. are checked by the QA team.
10. Accounts Team:
The accounts team provides the organization support by preparing and examining financial records, handling the company's transactions, etc.
The above teams work in collaboration, as opposed to the traditional agency format where a combination of writers, designers and account executives work on one account. In any digital marketing agency, each team is linked with the other and the performance of one affects the other.