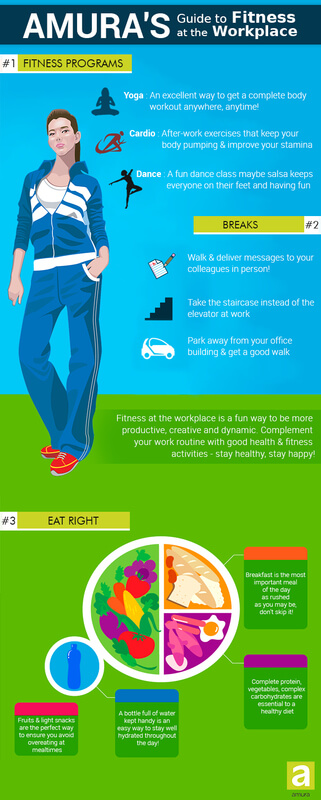 Amura truly believes that promoting fitness is essential to creating a healthy working atmosphere. Everyone seems to be using the "no time to exercise" excuse now more than ever, facing health problems from stress & anxiety to weight gain because of lack of activity and exercise. Besides preventing these problems, we also believe that fitness is a fun way to have a more productive, dynamic atmosphere at work, creating great teams that work together!
And while incorporating fitness in your personal time is important, we believe in fitness at the workplace too! Here are some suggestions for a healthy day, plus some ideas we implement at our workplace:
1: Eat right!
Average healthy male adult requires about 13 cups (3 liters) of total beverages a day, while women require about 9 cups (2.2 liters). A bottle full of water kept handy is an easy way to ensure you keep yourself well hydrated throughout the day!
It has been proven that eating 5 small meals a day promotes better health. This appears to be in part due to the fact that when you eat breakfast at 7:00 in the morning, you don't eat lunch until 1:00 in the afternoon, you are so hungry that you eat more calories that are necessary to help satiate hunger. Fruits & light snacks are the perfect way to prevent this. At Amura, we also provide a healthy lunch to ensure you get all the nutrients you need!
2: Fitness programs:
It's no surprise that sitting at a desk all day is not good for your health. When you have access to fitness at work, you have the ability to exercise before or after work, or during breaks. Instead of feeling fidgety or restless, group workouts are a great idea, depending on the space availability.
Suryanamaskaar

: An excellent way to get a complete body workout anywhere, anytime! The workout is quiet, simple, easy, and effective and doesn't require too much space. It's also a great way to get in a good stretch, leaving you tension-free and energized.

Table Tennis: A fun break from a stressful day, table tennis is an easy way to get in some activity without getting overtired. At Amura, we hold an annual table tennis tournament for some healthy competition!

Zumba sessions: Zumba is a dance fitness program that combines dance with elements of aerobics – a fun way to get in a workout!

Cardio sessions: We made it a point to also include sessions with exercises that keep your body pumping and improve your stamina – for those truly interested in keeping fit!

Dance lessons: A fun dance class – maybe salsa – keeps everyone on their feet and having fun! Plus, we found that it's a great way to liven up an otherwise-routine workday.
3: Breaks
You might not have the time for a scheduled activity or workout, but you can incorporate these easy tips to stay active and healthy:
Take a brisk walk after a meal

Take the staircase instead of the elevator at work

Park a little away from your office building to get in a good walk

Stretch frequently while sitting at your desk

Walk to deliver a message to your colleagues rather than emailing them
We are proud to say that at Amura, we have already incorporated a number of activities into our workday such as walking after meals, taking frequent breaks and stretching.
4: Team outings and engagements:
This practice is a fun way to promote fitness, especially when everyone is involved and enthusiastic. It also builds a healthy culture at work!
Rent out a bowling alley or visit a playground to play games or sports such as cricket, hula hoop contests, and more.

For the last 3 years, we have been organizing frequent outings for employees that involve spending a day together doing active team building activities along with swimming, zip-lining, playing

volley ball

, etc.

Our entire team has also been a proud participant in a marathon organized by Pune Running. They trained for over a month to run a distance of 21 or 10 kilometers. This team effort kept everyone energized while having fun!
Whether it's group programs, outings or simple daily activities, workplace wellness is really close to our heart at Amura. We truly believe that healthy people tend to be happier and more productive and that it's worth the effort to complement your work routine with a little fitness –stay healthy, stay happy!
By
Avinash Nikam, Priti Arwade & Vaidehi Mirashi