As a business, you want amazing customers who love your product or service and are likely to stay with you for a long time.
A B2B Lead Generation strategy alone may not necessarily be enough to achieve that. If you're looking to sustainably grow your revenue, a long-term account-based marketing strategy can help by consistently engaging and converting your best-fit customers.
This blog will help you decode, define, design and deploy a sustainable account-based plan for your business.
What is Account-Based Marketing?
---
An end-to-end revenue strategy that targets and engages specific high-value accounts, or a group of stakeholders within those accounts, instead of focusing on a larger audience. This data-driven targeting is followed by personalised marketing tactics at scale, measuring, and continuously optimising to drive maximum revenue.
---
ABM is a framework that is built upon a timeless business tactic of identifying key decision-makers and influencers within a target account, tailoring marketing messages and activities to their specific needs and interests, and nurturing those relationships over time to drive revenue growth and customer loyalty.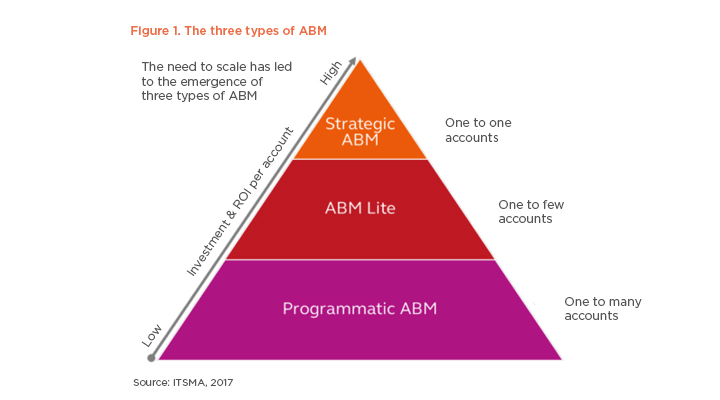 The ultimate goal of ABM is to build long-term, profitable relationships with key accounts by delivering personalized, high-value experiences throughout the customer journey. If you're used to the traditional performance marketing model, here are a few strategic mindset shifts that will help you start thinking about an ABM campaign and the value it can add to your revenue.
Flip the Funnel
While the popular "spray-and-pray" convergent Lead Generation funnel has its value, the flipped ABM funnel is extremely effective for converting high-intent, high Average-Contract-Value (ACV) accounts. This divergent cone starts with Identifying high-ACV accounts, nurturing and Expanding stakeholders within those accounts, Engaging each stakeholder with personalised communication, and Converting high-intent clients & building loyalty with them.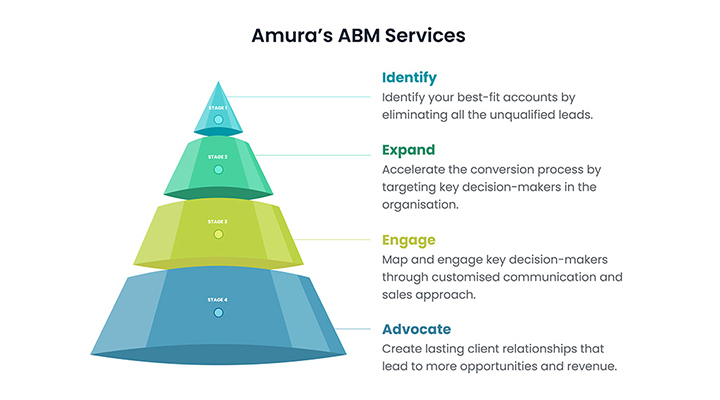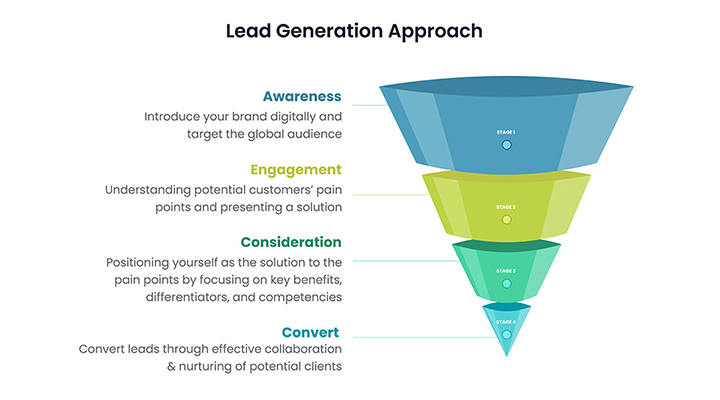 Source: getvoip.com
Think Revenue, Not Leads
"Lead generation" with traditional inbound marketing is a better fit for companies with lower-touch, lower-priced offerings pointed at a broader market. For companies with at least one high-involvement, high-touch, high-priced packaged offering targeted at enterprises, an ABM-focused "revenue generation" strategy is the key. While a lead generation strategy is also a part of an ABM campaign, the larger focus is on generating quality leads, engaging them and identifying selling opportunities.
Shorten the Sales Cycles
Businesses with a long Average Sales Cycle (ASC) are prone to facing friction between their Marketing & Sales teams. It creates frustration for marketing executives as their lead generation efforts amount to only a handful of qualified leads while sales representatives may leave ample room for lost opportunities because of a lack of enough pipeline data. By identifying high-intent accounts early in the buyer's journey, ABM shortens the sales cycle, earning you more MQL to SQL conversions and new business.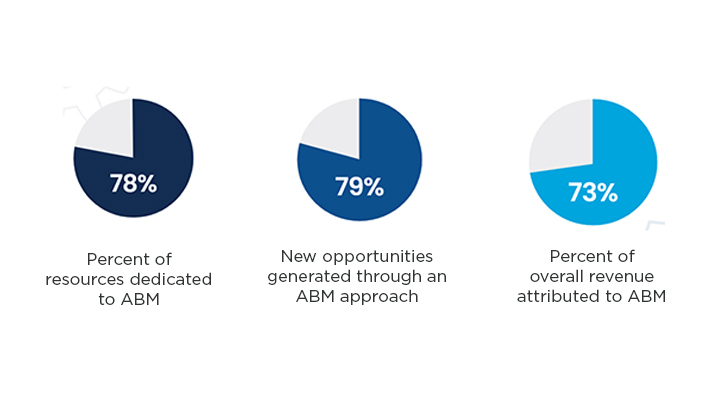 Source: 2020 STATE OF ABM REPORT | TERMINUS
Maximize Customer Lifetime Value
CLTV represents the net profit you expect from a customer over the entire lifetime of association with your business. CLTV data enables better account-based marketing, allowing you to drill down into account segments — say, in tiers 1, 2, and 3 — and better allocate your budget accordingly. By acquiring leads that are a better fit with what you have to offer, you can drive down your Customer Acquisition Cost (CAC) and maximise your CLTV.
Grow Long Term with Data
Intent data injects the much-needed insights into your ABM strategy that paves the way for informed campaigns. You can keep on personalizing your marketing efforts through the knowledge of what matters most to your prospects. Mature ABM campaigns return the most revenue, but it takes time to cultivate intent data and allocate prospects in different stages of your long sales funnel, and also, to not miss out on upsell and cross-sell opportunities.

Intent Data & How It Makes ABM Possible
The key to starting a successful account-based marketing (ABM) campaign is to define your Ideal Customer Profile (ICP) for your campaign. This is a prototypical entity that represents your perfect customer, the one that will benefit the most from your products and in turn, deliver the most revenue for your business.
To focus your efforts on high-value accounts that are more likely to purchase, you must find your engaged audience, prioritize them, and build an intent-based marketing campaign.
What is Intent-based Marketing?
How do you identify what your audience wants or needs?
How do you get in touch with them at the right time with the right message?
Intent Data helps you determine your potential customers, their interests and the likelihood to buy from you.
---
Intent Data is an aggregate of observed consumers' online content-consumption behaviour, collected through first- and third-party sources. With enough data points, marketers and business leaders can map out how certain buyer behaviours signals throughout the sales funnel.
---
Intent-based marketing is a strategy where user intent data is used to tailor marketing messages that align with that intention. This paves the way for effective, account-based marketing (ABM) and a content strategy that's better equipped to cater to the exact needs of prospective and returning customers.
According to one of the leading intent data providers Bombora, "Intent data has been making waves in digital environments by improving customer interactions from that phase of initial interest, all the way to becoming a converted account."
Intent data is fast becoming a critical part of B2B Account-Based Marketing strategies.
51% of B2B marketing leaders indicated that they were using Intent data as a tool to better identify and assess prospects in a buying cycle. They cited this in combination with working with sales leaders to ensure lead follow-up (66%) and using Sales/Business Development Reps to qualify leads (56%).
See the Bigger Picture
Intent data provides a bird's eye view into the most promising target accounts with precise information and greater conversion success. It's a more sustainable approach to email marketing, advertising, and demand generation by narrowing marketing's efforts down to a more concentrated pool of qualified prospects.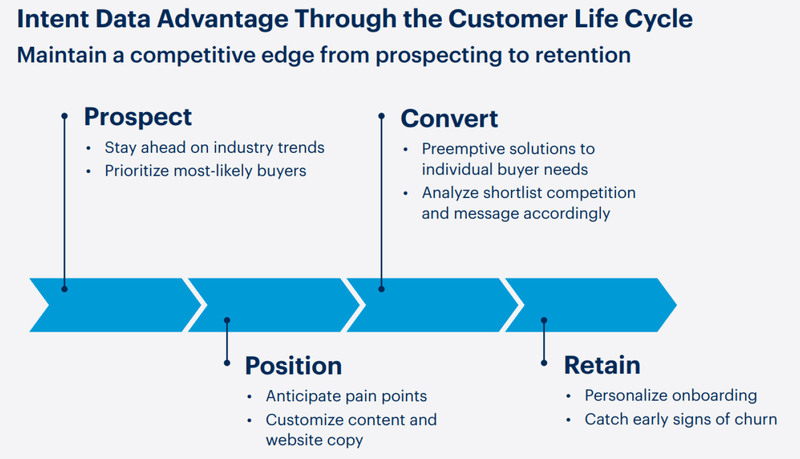 Source: Gartner
Intent Data will help you in:
Mapping Behaviour:

Identify organizations in active buying cycles before they even visit your website

Demand Generation:

Apply data-driven lead scoring to deploy personalized ABM tactics

Customer Acquisition:

Determine opportunities to close highly engaged accounts

Reducing Churn:

Request feedback from existing clients to identify gaps and reduce churn.
Know Your Sources
Search Intent Data

Keywords or phrases entered into a search engine help you identify the type of queries your target audience is searching for. Search Intent Data can be Informational, Navigational, Commercial or Transactional.

---

TIPS TO LEVERAGE SEARCH INTENT DATA

Research the popular keywords and use them in your website content, blogs and social media posts, among other online content

Use Google AdWords to run ads targeting these keywords

Use Google Trends to understand how the search volume for specific keywords changes over time

Monitor your SEO efforts to ensure your website appears on the search results for these keywords

---

Engagement Data

Reads, views, clicks, shares, follows, subscriptions or comments on social media, email marketing platforms and blogs help in understanding different levels of user engagement and how to push content basis that.

---

TIPS TO LEVERAGE ENGAGEMENT DATA

Monitor social media where your target audience is active, and look for opportunities to engage with them.

Use engagement data from email marketing campaigns to segment your list of subscribers and target them with relevant content.

Use social media platforms to run targeted ads for users who have engaged with your content in the past

---

Firmographic Data

Information about a prospective company - such as its size, industry, location and revenue - gathered from business directories, lead forms and third-party intent data providers can help you target your marketing and sales efforts at companies that are more likely to convert.

---

HOW TO LEVERAGE FIRMOGRAPHIC DATA

Use business directories to research companies in your target market

Use this information to segment your marketing and sales efforts

Create content that is tailored to the needs of specific industries or company sizes

---

Technographic Data

Information about a prospective company's technology infrastructure, like software usage, hardware and networks through surveys or questionnaire help in determining the best way to differentiate your offering and close more deals.

---

HOW TO LEVERAGE TECHNOGRAPHIC DATA

Use surveys, website scraping and questionnaires to identify tech stack

Use this information to better target your marketing and sales efforts

Create content that is tailored to the needs of specific industries or company sizes

---
Data-driven Lead Scoring
As intent-based marketing continues to become popular, lead nurturing based on behavioural-data-based scoring is fast becoming the new norm for pipeline creation. Intent data signals from a potential buyer can help businesses prioritize the right leads and optimize their marketing and sales resources.
Some critical criteria that can be used for lead scoring: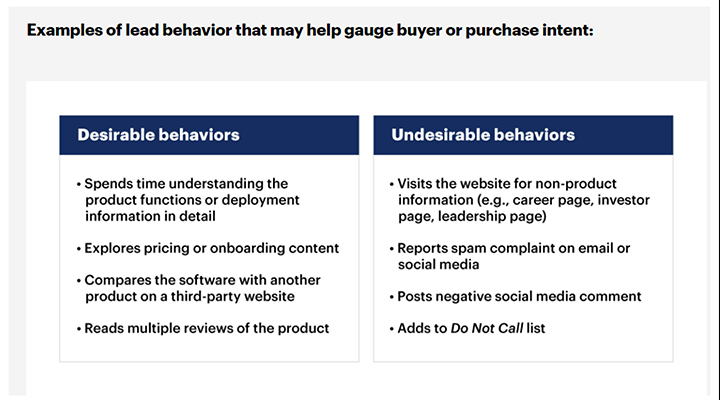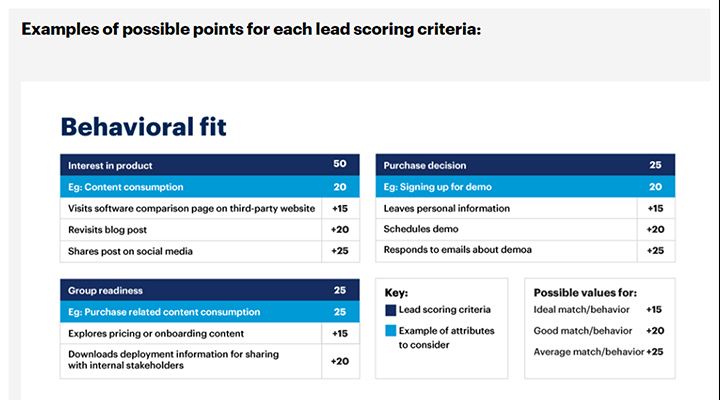 Source: Gartner
Intent-based ABM in Action
The value of intent data can be truly understood when you see real results. Buyer intent data, when utilised to laser-target content, campaigns, and conversion efforts, can help capture and convert the right audiences.
Leverage intent data to make your ABM Funnel a well-oiled machine.
Build Your Tiered ICPs
Start with a list of companies or organizations who are not yet customers of your product or service, but fit your ideal customer profile (ICP). You can bifurcate and refine the list into tiers based on their Intent Score, CAC, ACV, and CLTV.
Funnel Stage
What to Measure
Tools to Use
TARGET ACCOUNTS
- Number of targeted accounts
- Tiered target accounts (if applicable)
- Accounts with high intent scores
- Accounts with low CAC, high ACV & CLTV
6sense;
Leadspace;
ZoomInfo;
Mintigo;
Infer;
Lattice.
Bombora;
Madison Logic;
G2;
TechTarget;
TrustRadius.
Identify Topic Clusters
With first and third-party intent data you can generate a list of topics that are more likely to engage your target accounts. You can then divide those topics into clusters. Use these targeted topics to reach out to them with personalised messaging through any digital channel or personal communication.
Funnel Stage
What to Measure
Tools to Use
ENGAGED TARGET ACCOUNTS
- Web ad or email impressions
- View through visits and conversion
- Website visits and time spent
- Chat conversations on website
- Percentage of target accounts engaged
- Cost per engaged account
Demandbase;
Jabmo;
Optimizely;
Triblio.
MRP;
Terminus.
Idomoo;
SundaySky;
Vidyard.
Create Opportunities & Close
Use engagement data to determine revenue opportunities with any of your high-intent accounts. Focus on optimising your ASC to close accounts and turn them into paying customers for your product or service.
Funnel Stage
What to Measure
Tools to Use
OPPORTUNITIES & DEALS WON
- Opportunity rate with target accounts
- Target account pipeline
- Pipeline velocity
- Cost per opportunity account
- Size of buying committee
- Customers won from target accounts
- Revenue won from target accounts
- Deal cycle length
- Average number of sales/marketing touches per won account
- Cost per won account
Bizible (Marketo Engage); Full Circle Insights.
Retain & Expand Your Market (TAM)
Leverage resell & upsell opportunities by creating extra value of your product or service to improve ACV. Keep a lookout for opportunities to expand your Total Addressable Market (TAM) as new buyers show intent in your category offering.
Funnel Stage
What to Measure
Tools to Use
CUSTOMER RETENTION & EXPANSION
- Relationship score
- Renewal rate
- Average contract value (ACV)
- Total revenue won
- Net promoter score (NPS)
Hubspot, Salesforce
Source: Bombora
A Few Successful Examples
Leveraging the power of Intent-based ABM is really the secret to profitable B2B growth in 2023. Here are some powerful examples of ABM at work:
Salesforce improved ROI by 271% in paid social & reduced the sales cycle by 33%.
IBM reduced 41% in cost-per-registration while retaining high-quality leads.
Snowflake a data cloud company, grew by 300% in 15 months.
SugarCRM created a $2m sales pipeline.
Intent Data Trends for 2023
With the imminent economic slowdown looming large, 2023 might be the year where the B2B industry can expect a more unified team approach to resilient growth and churn reduction. It all goes back to alignment and being as efficient as possible. And here are a few ways intent data can help with that in 2023 & beyond.
Performance marketing campaigns powered by intent-data-backed segments across major social media platforms, community forums and search.

Sales teams equipped with better visibility of prospect or client intent to identify closure/retention/upsell opportunities.

Intent data usage to boost customer satisfaction, top-line revenue growth, and sales and marketing alignment.

Setting benchmarks to continually improve the overall performance of all sales and marketing activities.
Businesses, with their sights set on growth, will look to target accounts with the highest propensity to convert (or upsell and cross-sell). Intent data can help sales teams focus their outreach, get maximum return on advertising spends and figure out topics that help resonate with their ICPs. With intent-based ABM quickly moving from being just an option to being imperative for B2B companies, it's the right time to select an expert execution partner so that you can outgrow your competition with account-based marketing.