Here's everything that you'll need to know before setting off on your GA3 to GA4 migration journey.
If you haven't been living under a rock for the past year, then you must already know that Google is sunsetting Universal Analytics in June 2023. So that leaves you less than a couple of months to make the move to the new, upgraded version, Google Analytics 4 (GA4).
In today's digital age where data is king, the right analytics platform is the most powerful tool in any marketer's arsenal. GA4 is the most advanced analytics platform released to date by Google It offers benefits that can help businesses gain deeper insights into their customers' behaviour and improve their digital marketing strategies.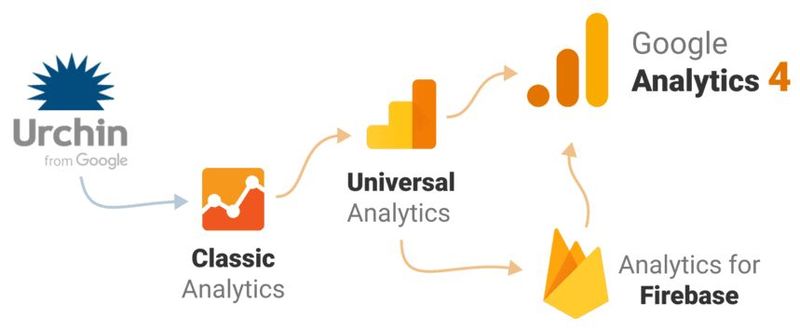 Not sure where to begin? This blog will guide you through the process of GA4 migration along with offering some tips and best practices to ensure a smooth transition.
What's New in Google Analytics 4?
Before diving into the migration process, let's first see why UA to GA4 migration will be a paradigm shift for marketers.
Enhanced User-Centric Data:

Designed to provide a more user-centric view of data, GA4 focuses on individual users rather than sessions. Enhanced measurements like scrolls, video engagement, and file downloads will allow businesses to gain a deeper understanding of their customers' behavior across devices and touchpoints.

Enhanced Cross-Device Tracking:

Now businesses can gain a more complete view of their customers' journeys since GA4 can track user interactions across multiple devices, including mobile apps, websites, and offline channels. GA4 uses cookieless tracking and is aligned with heightened privacy expectations with its built-in compliance, helping you make more informed marketing decisions.

Better Integration with Google Ads:

GA4 will let you create more targeted and effective ad campaigns with better ad integration. With better user behaviour analysis, GA4 can help you identify the most valuable audiences for your business. Life Cycle reporting offers you deep visibility into the stages of the customer journey – Acquisition, Engagement, Monetization, and Retention.

Advanced ML Capabilities:

GA4's advanced machine learning capabilities allows users to analyze their target audience better. With sharper insights and better transparency, businesses can identify valuable audiences effectively. A gamut of new visualizations and reporting functions now comes in-built with GA4.

Future-Ready Platform:

GA4 is the next generation of analytics solutions for modern-day marketers. With all of these advanced capabilities, GA4 ensures you don't leave business-critical insights on the table and stay future-proof. Welcome to the future of analytics!
What's going to happen after 1st July?
We understand that your analytics data is important to you. After July 1st, your previously processed data would be accessible for a limited time, beyond which you'll no longer be able to see your UA reports in the Analytics interface or access your UA data via the API.
We strongly recommend that you export your historical reports during this time.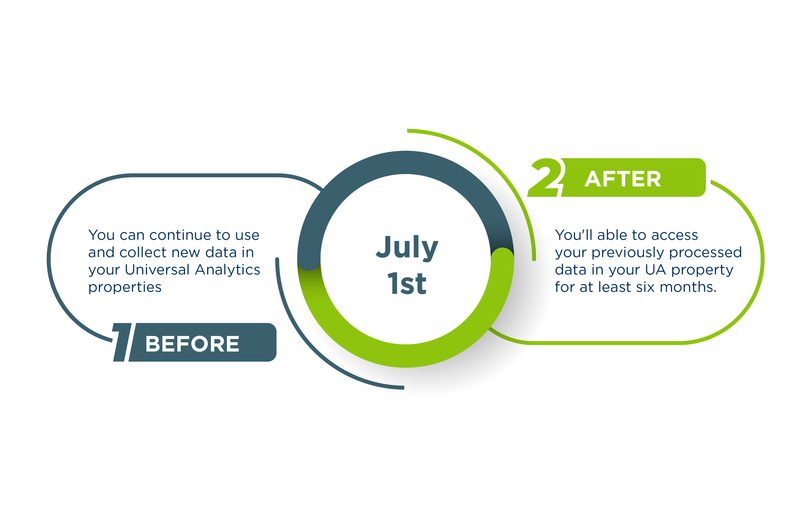 How do I transfer my data for UA to GA4 migration?
Since the two platform versions use completely different data models, you cannot directly migrate your data to GA4. Direct data migration is not likely to be a feature that we're expecting to be added in the coming months.
We know your data is important to you, and we strongly encourage you to export your historical reports during this time. To ensure access to your past data, you can:
Manual Export:

Start manually exporting your historical data from Universal Analytics.

Setup BigQuery Export:

BigQuery is a cloud data warehouse that lets you run highly performant queries of large datasets. You can export all of your raw events from UA properties.

Implement Dual Tagging:

Capture historical data in the GA4 property by enabling dual tagging. For every tag that currently exists in the UA GTM, set up a corresponding tag in GTM for GA4.
What are the steps for GA3 to GA4 migration?
Step 1: Create a New GA4 Property
Log in to your GA4 account and click on the 'Admin' tab. Select "Create Property" and choose "Google Analytics 4" as the property type. Follow the prompts to set up your new property, including adding your website or app information.
Step 2: Link Your GA3 and GA4 Properties
Once your new GA4 property has been created, link it to your existing GA3 property. To do this, go to the 'Admin' tab in your GA4 property and select 'Data Streams.' Click on 'Add Stream' and follow the prompts to link your GA3 to the new GA4 property.
Step 3: Set Up Item Import
This setup allows you to import key items into your new GA4 property. Evaluate what items are necessary, the items that you can discard, and also identify gaps that might exist. Some key items include Events, Goals (Conversions), Content Groupings, Referral Exclusions, Product Link Connections, Audiences, etc.
Step 4: Update Your Tracking Code
The next step in the process is to update your tracking code to ensure that your website or app is sending data to your new GA4 property. To do this, go to the 'Admin' tab in your GA4 property and select 'Data Streams.' Click on 'Tagging Instructions' and follow the prompts to update the code.
Step 5: Set Up Custom Dimensions and Metrics
Custom dimensions and metrics allow you to track specific user behaviours or events that are important to your business. To set up custom dimensions and metrics, go to the 'Admin' tab in your GA4 property and select 'Custom Definitions.' Follow the prompts to set up your custom dimensions and metrics.
Step 6: Test and Validate Your Data
The final step is to test and validate your data. This is important to ensure that your new GA4 property is receiving accurate data and that your reports are working correctly. To test and validate your data, go to the 'Reporting' tab and select 'Debug View.' You can test your data and ensure that everything is working correctly.
What best practices to follow for GA4 Migration?
Now that you have got a fair idea about the migration process, let's discuss some best practices to ensure a seamless transition.
Plan Your Move:

Before starting, take stock of your business goals and objectives. This will help you set up your new GA4 property correctly and ensure that you are tracking the right data.

Test and Validate:

As covered earlier, testing and validating your data is crucial to ensure that your new GA4 property is receiving accurate inputs. Test your data thoroughly before making any decisions based on your reports.

Train Your Team:

Migrating to GA4 may require some training for your team to ensure that they understand the new features and benefits. Be sure to provide adequate training and support to ensure a smooth transition.

Monitor Your Reports:

After migrating to GA4, it's important to monitor your reports regularly to ensure that everything is working correctly. This will help you identify any issues or discrepancies and make any necessary adjustments.
Parting Thoughts
GA3 to GA4 migration may seem daunting to you at first, but it's an essential move for every business in order to stay ahead of the curve. There's no need to panic. The steps and best practices outlined in this blog will ensure you're prepared for a smooth and successful transition.
Still not sure if you can handle the migration in-house, or don't have the bandwidth to undergo this extensive process? We can help! Being a leading digital marketing company in India, we can consult and execute your UA to GA4 migration easily.
Our team of MarTech experts will do all the heavy lifting for you and ensure you don't face any roadblocks in this migration journey. Let's get ready to uncover even deeper marketing insights and better audience understanding & tracking with GA4. Get in touch today!